*

I Have passed my 2nd semester a few days back,its 3rd semester going on these days & 4th will be the Last..hmm..
*

I have started teaching practice in a high school

just for 15 days

,as an internship program..its necessary in this semester!! so i am doing these days,daily from 9-12 i am in school & then from 2-7pm i am attending university classes..its not much hectic because i am having off days between from university schedule,I have one off day after each class,
*

I have received a beautiful gift from a lovely Turkish fellow blogger Fiamma , international mail is always late but look what i have received,
Eid Card plus a handmade cute Bracelet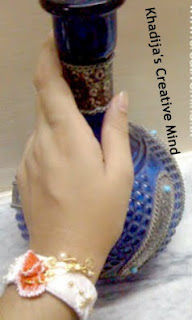 A good contrast with my wrist :)
*

My blog post about Pakistani Truck Art have been featured at Etsy Blog

  
 *

I was Guest at Whip-Up last month with the same post of Pakistani Truck Art
*

I won a giveaway of scissor holster..
You will see me in next post..first time i am going to share on blog.isn't it a cool update more then above all?? 
Have a Nice day!