Hey everyone! How are you all doing, It's raining here right now! I am going to publish the LAST article of this month June 2015..Let's talk about Creative Khadija's 6 months roundup of creativity during 2015. I enjoyed blogging during these 6 months even more.. Now year 2015 passed 50%. So many fun experiences during these months & Alhamdulillah so much success in online sales & work. I will not be saying time flies but it is the fact that time flies faster than we think..
Here I am going to share a recap of the half year 2015. So have a look again what I have been shared during this.. So if you missed something.. You can check again via the link I am giving.
Creative Khadija Round up of the year 2015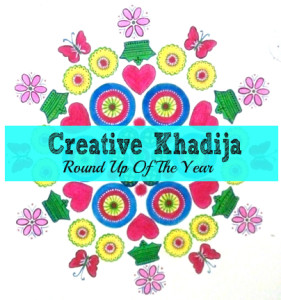 The first article I have shared on the blog was the Birthday of Holy Prophet Muhammad SAWW. So blessed to be HIS follower. Alhamdulillah.
And then in the month of January its my birthday too :) So January is special.. haha
I were having two sponsors during this month, Daraz.pk and Glassesshop.com
Street Graffiti Art Pakistan-2


Gift Packing Idea for Valentine's Day
Rhinestones on Shirt Embroidery
I also share about Multani ceramics art pieces!
Decorate Accessory Container with Collage Clay


Small Planter Pot GlassPainting
I also share a random article related Multani Camel skin lampshades And Spring in Pakistan
I write about my bedroom & art stuff in my surroundings!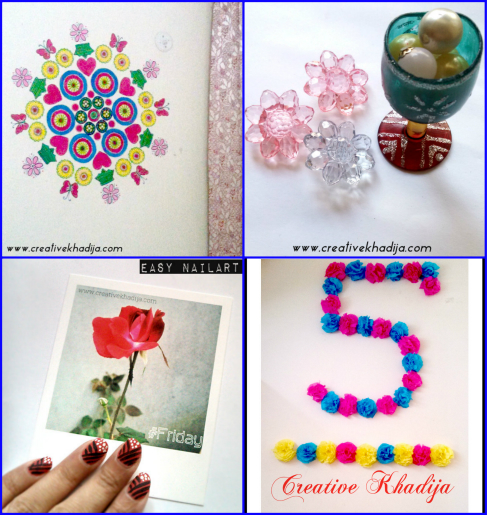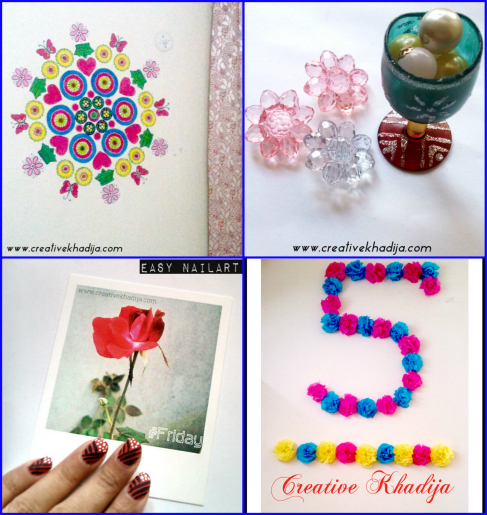 April was my favorite month of blogging.. I made a wall art on my craftroom wall which turned into my logo now! And in April.. Creative Khadija turned 5 Years old.. OMG.. I can't believe..I love it.. See here:
Spring Inspired Colorful WallArt DIY
Creative Khadija 5th Blogversary & Giveaway

Creative Khadija 5th Blogversary & Giveaway
Calligraphy WallArt Making for Mother's Day
I started a new feature on the blog with the name Creative Collections. I share Gift packing ideas in first article.


During the month of June, holy month of fasting Ramadan started.. So in my Creative Collections Feature, I share an article related food and recipes! I am glad that went viral then :) You can enjoy the Ramadan Recipes and Ramadan Refreshing Drinks!
I design a gift box with henna tattoo and doodles with markers. It was so colorful, I coat it with mod podge sparkle then!
Simply Design a Gift box with henna design
How to make colorful crepe paper flowers for decoration
How to design Anthro inspired chevron mug
I hope you already enjoyed these articles and my DIY ideas. These roundups and Recaps are very helping for me as well, I can easily stuff from my yearly recaps & mid year roundups. Have you done your recap of the blog yet? If yes, then feel free to drop the link in my comments form, I would love to see what you have been done during these months!
I hope you are having a good day!
Thanks!
Khadija ~