Giveaway
Happy Friday & Announcing Giveaway Winners
Hey Everyone, Happy Friday! Guess what? It's 10th March today & it's time to announce Giveaway winners now. Are you ready & excited? You should be excited for it. I don't usually host giveaways. I am very happy & thankful to see this wonderful response of my dear blog readers & social media fans & followers who made this giveaway successful. I got a lot of entries, tons of shares. Up to 1000 facebook shares & Instagram repost. You girls are the best. I wish I can gift each & every entry! My sponsors are already generous enough to decide one more special winner who entered giveaway & helped us spreading the word. TODAY WE HAVE 5 WINNERS. Yeah, You read it right, not 4, it's 5.
Ready Set Go….
Happy Friday & Announcing Giveaway Winners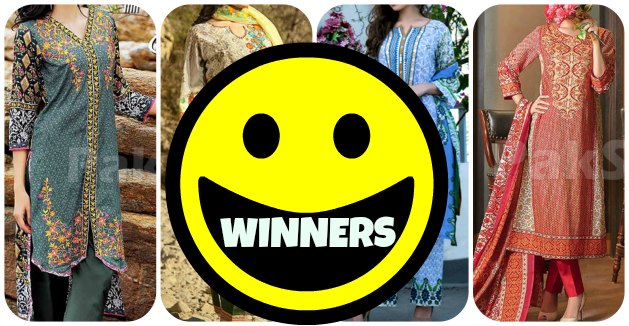 1- Tasneem won MTF Embroidered Lawn
2- Maham Waqas won Savanah Lawn
3- Faiza Saeed won Al Zohaib Anum Lawn
4- Towhida Sultana won VS Classic Lawn
5- Bisma Noor won Libas Lawn
Big CONGRATS to all of you lucky people. (I am envious of you all 5 lucky girls..haha)
(I am going to send you all an email right now, Please check & kindly respond with your details as soon as possible. If I will not be hearing from you in next 24 hours, Another winner will be selected randomly again)
But wait, What about those who are not winners today? Ummm… Let me think!
Okay girls, I have a good news for you all. Next month on 22 April, Creative Khadija Blog is turning SEVEN YEARS OLD Alhamdu'Lillah. My Blog's 7th blogversary is coming next month. I will be having another giveaway next month Insha'Allah. There I will be having 7 winners then. So don't worry & stay connected. My next giveaway will be INTERNATIONAL, So my wonderful international readers who missed this giveaway opportunity (as it was open to Pakistani residents only) will be able to enter next time.
Happy now? Let's see.
Thanks again everyone who participated in this giveaway contest. You all are valued, You are all amazing! Giveaway is just a thing, I value your presence on my blog & social media. Stay blessed everyone & don't hesitate to contact me if you have any question or suggestion. Feel free to use CONTACT US form.
You can also Buy Lawn Collection 2017 if you really love any dress & still want to get anyways.
Have a blessed Friday everyone!
Thank You
Khadija