Guest Post
FoodPanda's CEO just called half a million people on Eid
Press release By Food Panda – Soon after the Eid ka chand is sighted, your mobile phone starts to ring like crazy! Calls, SMS, WhatsApp. All of it gets flooded with lots of lovely Eid greetings from friends and family. Nonetheless, amidst all of these much expected wishes, this year people are getting one unexpected call. This one is a lovely call starting with a very cheerful voice which says:
Asalam o Aliakum! Pehchana mujhey?
That's when you start to think of all the people who could be so happy to call you on Eid Day but you be like 'Noo…'. Just then it turns out to be from a friend, a true savior who's always come to the rescue when you were hungry! Yes, this is a recorded call from foodpanda.
The CEO, Nauman Sikandar Mirza gets on the line, who is really excited to personally wish the customers a very happy Eid and put a smile on their face. He also adds a bit of lively humor to the conversation by reminding them of the last time when many of the customers actually replied to him thinking as if it was a real phone call.
That's not it. foodpanda has gone an extra mile to amuse their customers. A large number of customers have also received an envelope from foodpanda enclosing a vividly colorful Eid Card with a special, humorous Eid Wish which is hidden under a silver scratch line.
Upon further fact-finding, we came to know that as many as half a million people received this Eid Greeting calls. Yes! Half. A. Million. While the cards were posted to a large number of food panda customers across the country. And with all of them talking about it, the news of this unconventional way of sending Eid greetings is breaking the internet.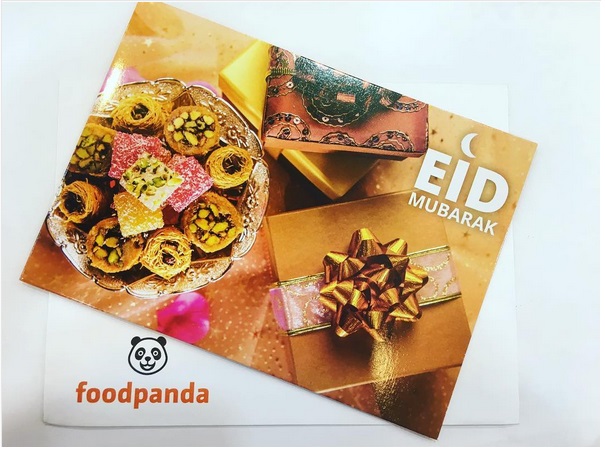 People are really loving the panda for making their Eid Day a great one. Were you also among the foodpanda's happy foodies who got the call or the card?
Share your reaction with #FPEidSurprise and let everyone know!
P.S – This post may contain affiliates links, Thank you for your support.