I am glad to see you here on my blog & visiting About Me page. Know more about Creative Khadija below!
Who I Am?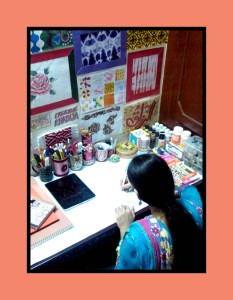 I am Khadija Kiran, Arty crafty girl behind Creative Khadija blog. I am blogging for more than 6 years now(2010-2016 onward). I started this blog by chance & I was not sure it will survive this long successfully! Lucky me :) Alhamdu'lillah. I am jack of all trades as well as master of SOME. I am a passionate artist & blogger who loves writing/sharing about art & lifestyle.
What I Share on Creative Khadija Blog?
I love sharing my arts & crafts projects tutorials! So I share loads of creative ideas on my blog, You can enjoy my 400+ DIY ideas here. I like making ordinary things beautiful. I create from very random objects, I enjoy making things easy for others, While browsing through my blog pages & posts, you will find nothing expensive or difficult to try. I specially like reusing & recycling old stuff!
You Will see these categories posts on my blog more often :
Home Decore
Recycling & Reuse
Paper crafts & Card Making
Jewelry Making & Accessories
Photography
Paintings & Wall Arts
Textile & Fashion Designs
Sponsors & Affiliates Spotlight Articles
What I studied?
 I did my Masters in Education, I also study Fashion & Textile design after my graduation. So Educating Creativity is my passion. I have successfully shared 350+ step by step tutorials on my blog & most of them have been featured & published worldwide in magazines & forums. I learned a lot via blogging in these past years, This online experience is just amazing!
How I Earn Online?
I Make & Sell my handmade crafts. From very tiny projects (like cards making) to some huge ones (like Wall arts & Murals paintings). As I ship worldwide, So I have some amazing clients from all over the world who used to buy from me every time when they need arts & creative things.
I am a Textile & Fashion designer, I have been working for some international & nation level designers & sold my designs to them. One of my recent fashion design project was a bridal lehnga designing for a UK based Fashion Designer which was an amazing experience.
I am also a Freelancer & content writer. I write for others too sometimes. I like helping people in doing the best in blogging via sharing my strategies as I have experience working on both platforms, Blogger & WordPress.
I am a digital marketer too. I can help you in promoting your product & brand via digital marketing. I can help you in improving your blog or shop SEO.
I advertise & publish via sponsors spotlight. I can help you in advertising your shop, blog or any kind of business. I would like to have your brand  affiliated with Creative Khadija Blog & my 9 social media networks.
I enjoy working with brands & PR companies. I like to promote their events happening in my city.
I can review your products/shops on my blog and social media networks. I share nice product photography clicks of the product as well.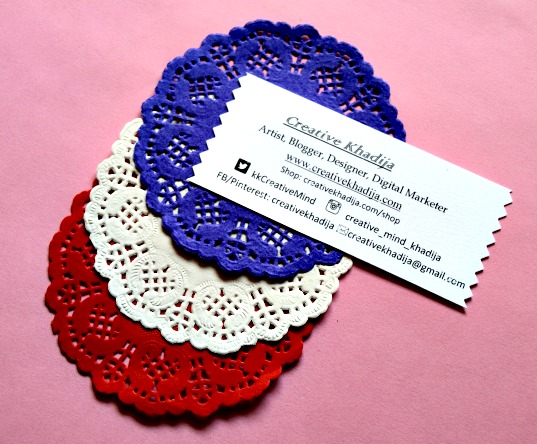 How You Can Contact Me?
I love reading your feedback. I respond every email. Feel free to contact me for any queries related work or blogging. I would like to hear from you & will try my best to help you. Use this contact form or drop me an Email at :
creativekhadija @ gmail . com
You can see my year 2016 blog recap HERE.
Stay connected with Creative Khadija :)
Thank you for reading!
Khadija ~