DIY
Spring Inspired Colorful WallArt DIY
Spring in Pakistan is blooming wonderfully these days, I love seeing beautiful flower buds. I hope you friends are also enjoying spring season at your end! In my previous post, I was sharing about a work painting sneak peek. Today I will show you how I design a wall of my craft room with spring-inspired painting. I hope you will enjoy seeing the process.
Spring Inspired Colorful WallArt DIY
This wallart making was not planned. Few days back, one day I were sitting in my craftroom & there I found a round object, So I draw some circles on the wall with led pencil & thought to remove these later, but as it goes on & turned into a circley design, So I started filling paints in the drawing. See more details of the process now!
I only plan to design some circles on the wall but when I add a other shapes there, it was looking good & leading towards some more shapes like a heart, flower, crown, six petal flower & a butterfly! all these designs objects are simply depicting the spring season!
I complete this wallart painting in five days only, 2 hours work per day!
This was the plain boring & simple wall of my craftroom before.
Here it is the after version. How is it??
This is not strawberry flavor icecream.It is the paint which I used in the painting at the very first day, actually it was getting dry so I added some mod podge gloss in it & mixed well, lumps went smooth & it work well for painting the wall.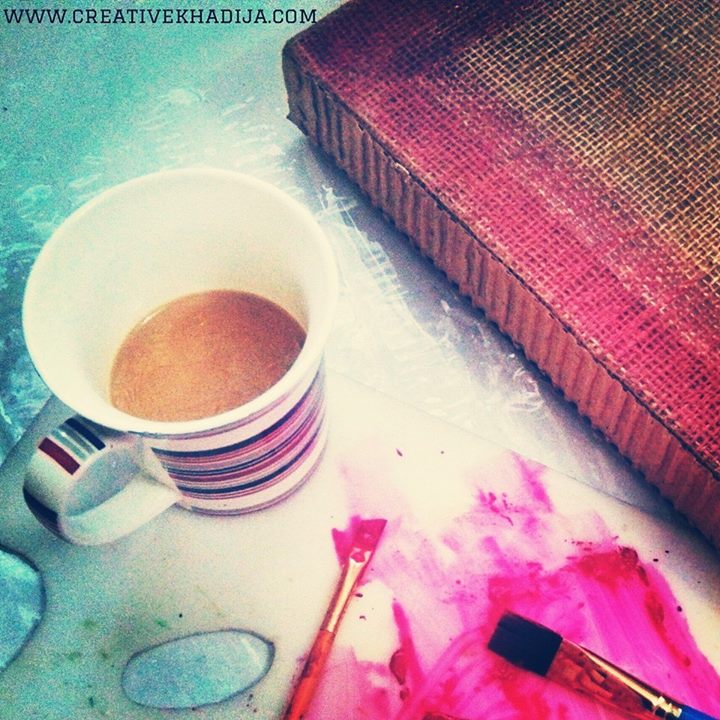 When I was done working with, there was some paint on my palette, So I applied those on a burlap canvas which was placed next to my craft table. My mind works in several dimensions. seriously! haha. It is suppose top be my next craft project actually. Many projects in my Creative Mind at the same time :)
I was unable to capture fine clicks, actually my working hours were sometimes in morning & sometimes in evening. Depends on the lighting, that's the reason I capture this kind of rough clicks sometimes. I hope you don't mind seeing :)

I used here flower stencil to draw the flower shape, first I tried to stamp on these but that was a fail attempt. I just draw the empty space by placing the stencil on the wall.
Here I was confused about what other colors I should be adding in it. My creative friend Ayesha Iftekhar ( yes the same super famous photographer from Islamabad) suggested me to add orange & yellow shades next.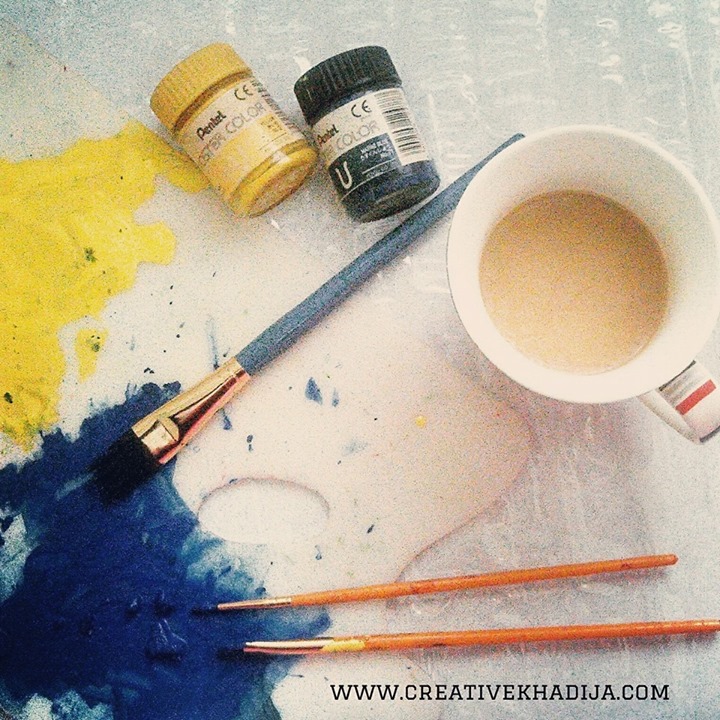 I added yellow & blue color.
Here you can see the step by step making of this wall art painting! I am sharing a video which I was going to publish at my instagram
wallart painting DIY ideas from Creative Khadija
I hope you like having a look at this video tutorial. Would you like to see some more video tutorials by me?? by chance if you are unable to see the video above, you can find it here too.
Here it is the final look. I am glad everyone liked & appreciated my work! YAY :)
My interview was featured in the UK recently & they wanted to see my craft room as well, I share a random click of this wall paint working on it!
I will be sharing my new craftroom clicks with the readers of Creative Khadija Blog. Hopefully very soon :)
I hope you enjoyed having a look at my wall painting DIY idea, let's try at your room wall & I am sure you will love seeing your art in your room!
Have a wonderful day!
Khadija