I am going to share some Monogram Wall arts in #CreativeCollections today! As I am getting more busy with my business & work, So I will be more into random blogging now! You will see inspirations & others work featured on & off. I am going to share 50+ Monogram Wall Art Decor Ideas #CreativeCollections

Wall arts are playing a big role in home decors since old era and as it's perception is growing more among people who love to decorate their houses, more & more different ideas has brought into existence. So the Monogram wall arts are one of them. These Monogram wall arts are one of those wall arts that inspires me a lot. I always find them very attractive. It catches my eye and forced me to give them a try.
 A few weeks back I visited a friend of mine, I saw a monogram on her living area's wall. That was a 'FAMILY' monogram made of wood and was painted in different colors, along with small photo frames hanging on each letter. I really liked that idea of monogram wall art. 
So after that I have been collecting some creative & beautiful monogram wall arts inspiration from last few weeks in my pinterest, today I am going to share some of my favorite monogram wall arts with you. I hope you will like them. And I'm sure these wall arts will inspire you too. Let's have a look,
Here are some pretty cool and creative monogram wall arts, these are easy too. If you are going to try one of these, it only need a little effort of yours.
50+ Monogram Wall Art Decore Ideas #CreativeCollections
 For those who love traveling.
A creative and easy map monogram.
Children wall art made with different buttons.
And here it is K monogram again :) 
Another wall art made with buttons and fabric.
Easy to decor your children's room with this simple idea!
Name wall art made with yarn.
 Simple and lovely monogram.
A yarn wrapped monogrammed letter.
These require a bit effort but the results are pretty cool.
Letters made with scrapbook papers.
Letters covered with yarn.
Aren't they seem easy?
Custom wooden name monogram.
This one is quite easy yet cute.
Wire covered with yarn. (wire hanger could be used)
This photo collage monogram needs a bit effort but it looks so much attractive.
Photo collage letter.
RENTER-FRIENDLY DIY TYPOGRAPHY WALL ART
Here are some more :
You may remember my Decoupaged Monogram wall art, It's placed at one of the glass shelf in my craftroom!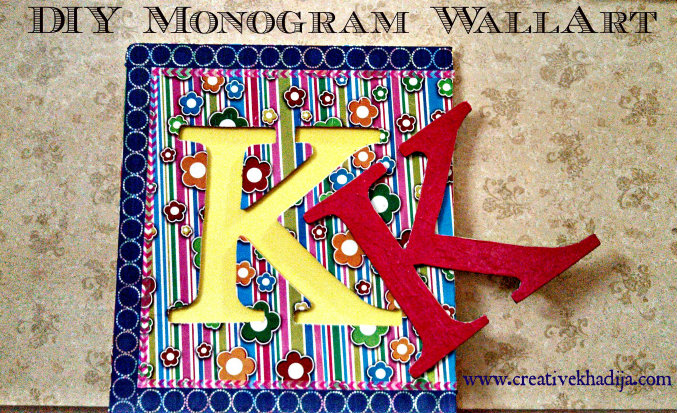 My name is Khadija Kiran, That's why K K  :)
You can see all these Monograms DIY details at my Pinterest board HERE.
You can also have a look at my previous Creative Collections articles!
I hope you will enjoy! be sure to follow me there at pinterest for some unique fun ideas & inspiration everyday.
Thank you for visiting & enjoying the article.
Khadija ~
p.s Images source – Pinterest