Broken Mug Recycling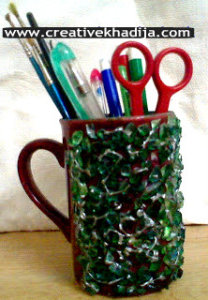 I DID SOME BROKEN MUG RECYCLING, THIS WAS A COFFEE MUG..I JUST PASTED CRUSHED GLASS PIECES ON IT WITH TRANSPARENT GLUE, AND THEN APPLIED GLASS PAINT AND SOME LED ON IT FOR DECORATION,AND IT CAN BE USED AS A SMALL CONTAINER…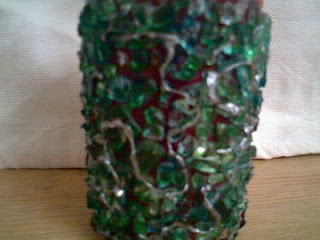 THIS IS A LITTLE ZOOM,YOU CAN ALSO MAKE THIS CONTAINER MUG WITH YOUR OLDER AND BROKEN MUGS…
WOULD YOU BELIEVE  MY THIS MUG WAS BROKE IN 4 PIECES BUT  I DIDN'T WANT TO LOSE  THE  MUG ,BECAUSE THIS WAS GIFTED BY MY SWEET SISTER; SO I TRIED TO SAVE MY MUG WITH MY CREATIVITY.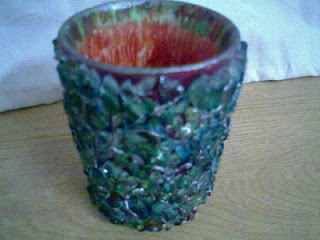 I USED SOME PAINT COLOR IN THE INNER SIDE OF THE MUG, SPECIALLY TO HIDE BROKEN CRACKS…AND THAT'S IT…
I hope you will like my easy idea of reusing a broken mug! You can see all of my Recycling ideas
I decorated some broken utensils, you can enjoy!
Have a good day!