After your appreciation for my Ist Accessory Hanger Tutorial ,i decided to make another hanger…its really interesting to make..whenever i am doing any type of recycling i feel good…because i am going to save garbage..hehe..one of my aunt always said, "Hey girl why you cant throw any thing in dust bin?"when she saw my Bottle Recycling she was shocked & said you cant throw anything even these ketchup bottles!!!oops…so i gave that bottles to her…I always try to use my creativity for a good purpose or a smart useful recycling…
Well check my today's recycling..
Accessory Hanger #2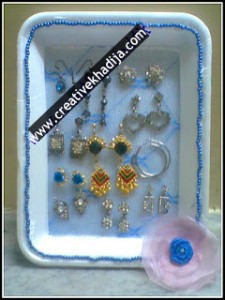 Do you know what is the recycled material..??
I take two disposable tray..
Now check out the tutorial…
You will need these things for this accessory hanger…
1-disposable tray
2-Net cloth
3-Some beads & flower
4-Transparent glue
1-Cut one tray's center sheet
2-Fix the net fabric on the other tray
3- Paste the frame of 1st tray on the 2nd tray
1-Then it will be like the above image
2-Paste the beads on outside border
Now hang your earrings on it & enjoy….
I hope you will like the tutorial…it was really so easy to create..a very easy creation, kids will have fun to create this hanger…
Thanks!