What do you think?what is this colorful round card..??
Dont have any idea..?OK..let me explain the whole thing..
I eat some sweets in a tin round box a few days back,it was like a lunch box..when i saw that box empty,suddenly i thought about making any FUN Creation with Mod Podge,so I start doing something interesting with this box..& at the end the result was pretty cool..(i think so..)
You can see what i have done with this box..
Check out the Fun Tutorial…
Mod Podge Gift Box
You will need,
1-Card Paper Strip
2-Round Card Paper(according to the box size)inner side
3-Round card for Outer sides
4-Scissor
5-The basic thing BOX  :)
6-Slim Strip for ruffles
&
The Mod Podge
Follow the simple steps now..
First paste the round card on top,then inside..you will need 4 round pieces,two for inner sides & two for outer sides..(front & back)
I make these paper ruffles with the same technique,which i have used in my Paper Quilling post..then add simply & let it dry for a moment
When it gets completely dry,i take some colorful markers & start making free hand geometrical designs..soooo soooory  i cant make all shapes perfect..some shapes are poor,,oops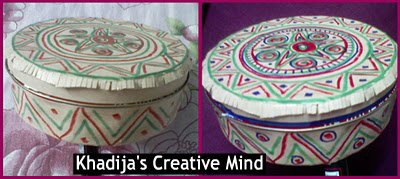 After adding blue color,now its looking so bright..hmm
Ruffles were getting disturb because my hands were gluey & ruffles were so intricate,so i did some poor job in fixing these ruffles nicely,thats why these are feeling up n down..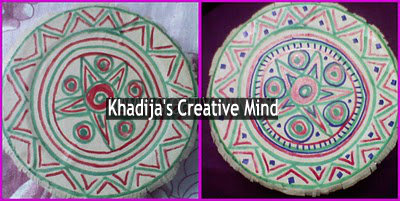 Well now i add some dots & lines with blue marker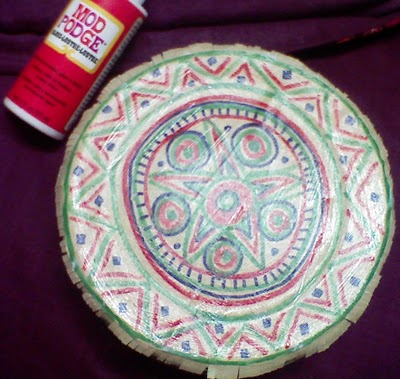 At the end i apply Mod Podge over it & its so shiny now….no one can guess that its any tin box..yap..i was doing recycling but i think its perfect as a gift box..I can add any jewelry or candies in it..Not bad i think so..
See my other Recycling and Reuse Tutorials