DIY
Organza Flower Tutorial & Pearl Necklace Restyle
I Love Aqua color..although i don't dislike any color but its among one of  my most favorite colors, I went for some shopping a few days back & i saw this aqua colored fake Pearl necklace at store..when i ask about its price so it was amazingly cheap…in 1$…awww..amazing..so i picked it happily from showcase..its a plain necklace,now i am going to make it a little bit more fancy..i learn fabric flower making from several blogs,but i didn't check any organza flower before,its my first effort but i love it & now will make some more flowers for other things!
Organza Flower Tutorial & Pearl Necklace Restyle
Isn't it simple and sweet..!!
catch its tutorial below :)
You will need;
Necklace, organza,scissor,a jewel brooch,two size cards as pattern of circle,needle n thread
& Mod Podge..For What??
lets see where i use mod podge..
I like my iPhone's camera result *(*
DO YOU??
Cut 4 strips of organza ,then place(or pin up) the cards over it & cut according to the pattern size.
First take the big sized pieces & fold the circle, make this bud then join other buds together ,after completing big petals then take the tiny ones & place these in the center..at the end you will stitch the silver piece in the center of flower.so the flower will be almost ready!!
Why i have Mod Podge here??
Aahaa..its unique..i bind the fray edges of the organza fabric with mod podge glitter glue..sparkle :)
so the glitter edges are looking great!!& no more threads out now!
How clever I AM…no doubt..hehe
I stitch all these pieces with needle n thread,you can use hot glue but i feel easy with thread. use a felt piece for the back side support,now simply its ready for joining with necklace!!
I also shop this machine embroidered cotton shirt piece,i love its color & embroidery combinations..Perfect for the Summer, this necklace will look nice with the dress(when it will be ready)
Well I hope you enjoy my shopping,& the tutorial of organza flower..
Oh Yes one thing more..What Do You Think About This Mattelic Cuff..????
Can You Guess Its Price..???..I think you can't..its price is beyond your thinking..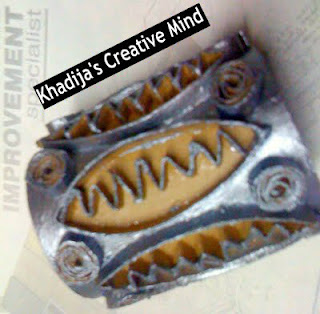 For the detailed answer & Tutorial of this cuff, Stay Tuned..its coming soon.!!!