My Today's article might be boring for some of you as its not a tutorial or DIY idea, here I am sharing some sneak peeks of my bedroom today. Its not something very unique or awesome,totally random though but I am glad its filled with my crafty stuff & handmade arts. I have a simple bedroom but I love the way it is.. For all of us, our bedroom is most relaxing & favorite space at home, isn't it? So design your bedroom the way you like!
What I Love About My Bedroom
I am glad my room is filled with natural light almost the whole day. I love waking up with the rays of sunlight..definitely during the winter specially! I capture this click at 11 day time while it was a sunny weekend!
At a question related a messy bed or neat one! It totally depends on my mood & my routine sometimes..Every Morning my first activity is to fold the blanket & make the bed nicely! but during the work & stuff sometimes it becomes messy & I dont mind if it is..but before sleep I make it clean properly with all of its textile accessories.
As my nieces are toddlers & they both love making mess on my bed when we play, the doll you can see in the image is also one of hers..Any place can bright up some more with the giggles of little kids.. They both girls are my cutie pie friends :)
My bed is sometimes my niece's play ground as well.. fun times :)
This baby pink bedsheet is designed by me with needle punch wool embroidery! These contrast throw pillows are stitched by me as well & here the wall art you can see is also designed by me. Its a batik technique wall art with antique wooden frame. My bed is simple but having a touch of metallic color & motive at headboard..well.. There is probably my Bed which is not designed by me though..haha.. otherwise most of my room accessories are designed & created by me! I love decorating my room with home accessories & wall arts.
While discussing about the theme & color of the room.. So here as every girl, I love pink & with a contrast of meron mostly! I mostly have dark colors bedsheets but sometimes pink & white shades are refreshing though.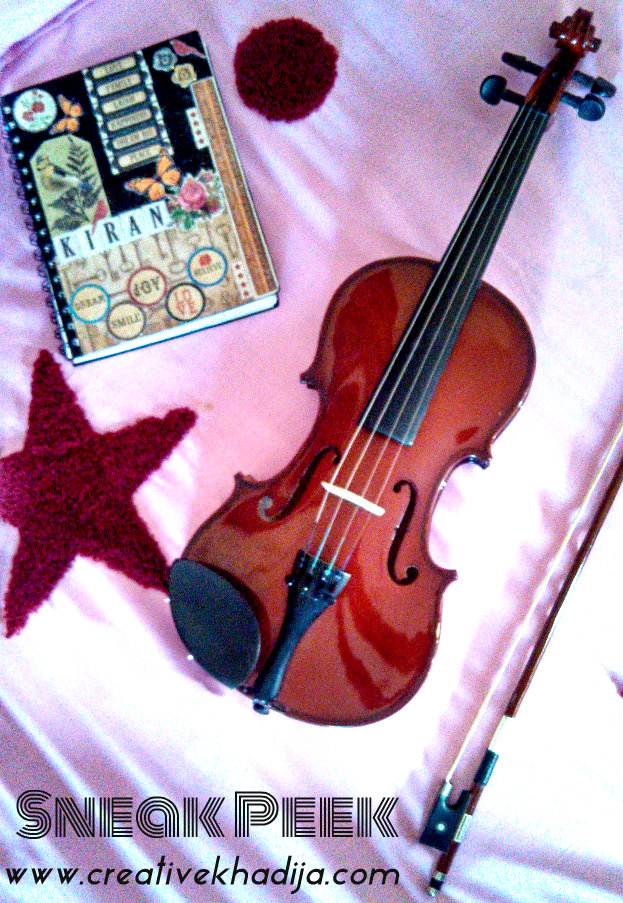 My favorite job to do while I am sitting alone in my bed is reading & writing specially! I have my gadgets also around which is simply fun! I write my future plans in this planner & read a lot of books through my iPad sometimes! This Violin is also one of my favorite gadgets..I usually try to play it fine.. ahem..
While answering about the most relaxing thing in my bedroom..I would like to share this crafty corner & this creative wall filled with my own designed wall arts. The floor cushion is stitched by me as well with the pair of 5 throw pillows. Nothing else can make me happy enough else seeing my handcrafted items around me. A beautiful room filled with some artistic stuff.
I hope you enjoyed knowing some more itsy bitsy fun about me.. I am a simple person with an ordinary life style.. Less is more for me seriously! I love the way I live & I am enjoying my life while thanking God Almighty for HIS unlimited blessing upon me.. We can see many people who spend their day & night without a cozy bed & peaceful shade of their home. May Allah Almighty bless everyone a happy & relaxing life.
Enjoy your life but don't forget those who are facing difficult times in surviving..
In chance if you want to learn Needle Punch Embroidery, you can see my tutorial, I made these sunflower design on pillows.
You can see more about my Embroidery & tutorials HERE
Thank you Parachute Home for suggesting me about this article & asking these interesting questions. I enjoy sharing this with my readers :)
Have a good day!
Khadija