DIY
DIY Easy NailArt Design
In my previous post, I share a tutorial on how to decorate a glass, There you may notice my nail art design, Today I will be sharing that nail art DIY with you dear girls, It's super simple and easy idea on how to have pretty nails with a little bit designing!
Here today you can see how I paint my nails with red, black & white.. Simple DIY Idea
DIY Easy NailArt Design
I dont have the product images which I have used here, but the whole thing is a tutorial/idea to share with you all..so you can try it easily!
You will need to have slim tip brushes with any matte nail colors.
I use Red, Black & white nail colors & applied with slim tip brushes!
first apply the red paint with regular nail paint brush & then wait a moment until it gets dry..
Then I applied black lines freehand. and put some white dots in the end. I also wanted to coat it with transparent polish with glitter chunks but the matte look was looking better.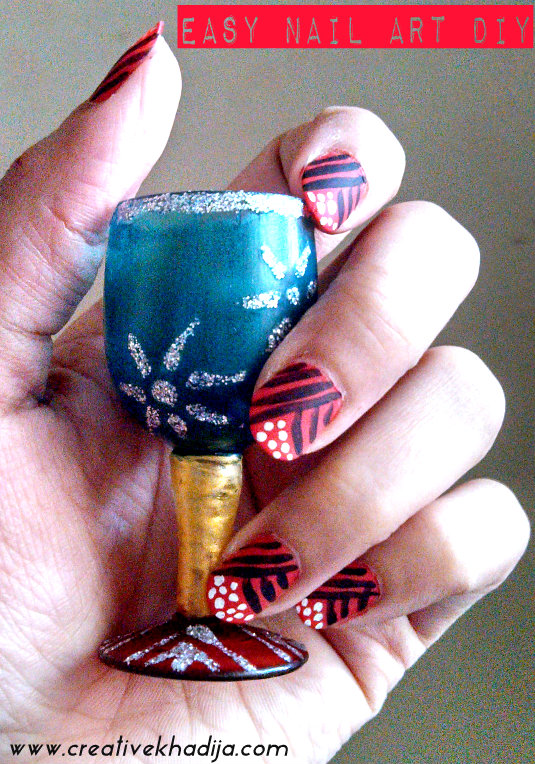 Here it is the final look. I hope you enjoyed this miniature glass design DIY in my previous article. Very simple..be sure to try..
It was just an experiment though but not bad.. I would like to suggest you all to keep experimenting & dont give up girls.. Nail art is not an easy job but when it looks pretty then everything is okay! haha..I dont wear nail polishes much, but whenever I am wearing a good nail color, I rarely go with simple & plain look..I just experiment & mostly it goes Right!! I usually experiment with glitter shades & chunks..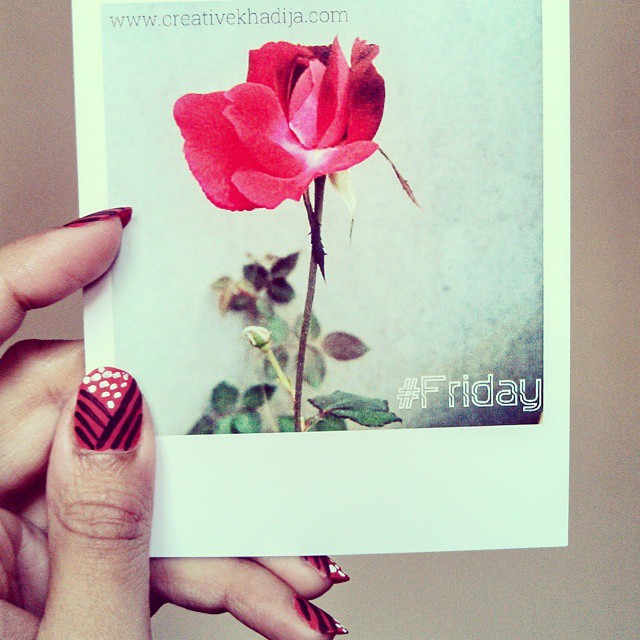 Polaroid prints collection is one of my hobby these days, I am glad to have Printl on board for this purpose, they are sending me prints of my instagram images every month all the way from Russia.. These days I am thinking about organizing these prints in a beautiful way..Let's see..
As I have so many Fashion & Beauty blogger friends at blogland & social networks..So I always enjoy their beauty tips & makeup products reviews! I am thinking about sharing a few of my beauty products reviews.. Let's see..
I hope you enjoyed having a look at this nail art design idea as well as the article!
Have a good day
~ Khadija