DIY
How to Make Ribbon Weaved Pillows-Cushions
I like working with silk ribbons in my textile design projects, I have been weaving handbags & wall arts with silk ribbons in past. It was fun creating with beautiful ribbons. Recently I made some black and white ribbon weaved pillows for black leather sofa of my client. That turned out so well, So I thought to share the making of that ribbon weaved pillow with my dear readers on the blog. I hope you will also like seeing what I have done. Let's see How to make ribbon weaved pillows-cushions.
How to Make Ribbon Weaved Pillows-Cushions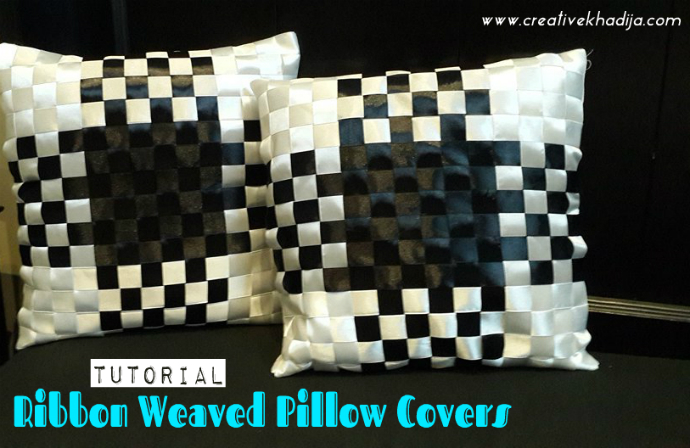 Isn't it looking perfect? I love how they perfectly done Alhamdulillah. These pillows are going to France!
I complete these within a week & sent to the customer. I was so happy to see her response When she got the package, Specially when she told me how her daughter excitedly appreciate the pillows. She sent me a voice message in which her baby girl was so happy to see these pillows on her sofa & having a cute message for me there. That made my day actually! Thanks baby Zenia! Love you dear girl.
So Here Today I will let you know how you can make a similar pillow/cushion for your sofa! Ribbon weaving is not a hectic job but it is very tricky! You can give it a try with any of your favorite colors. Here I have black and white because the leather sofa was black!
Supplies you will need :
Fabric – For Six Pillows

Ribbons – One inches wide 4 rolls

Board and Thumb pins
Needle, Thread & Scissors.
A pattern if you are following any, like This pillow.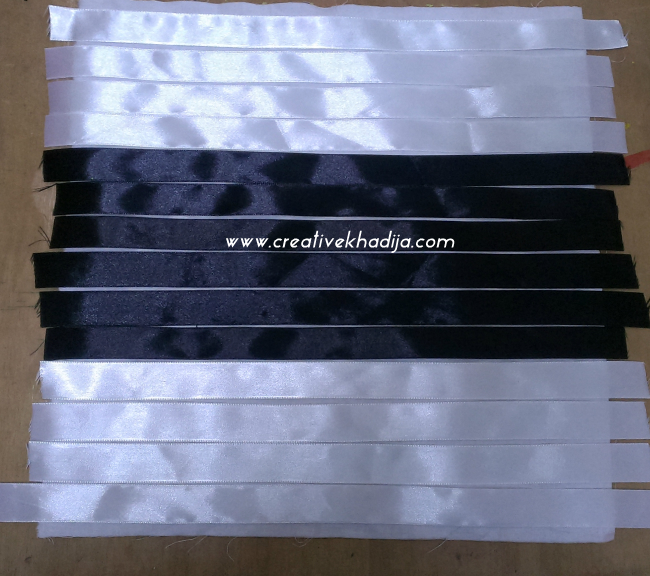 Cut the fabric for cushion covers, Then cut ribbons according to your cushions size & pattern.
Let's make it easy with step by step images tutorial. Let me know if anything is confusing :)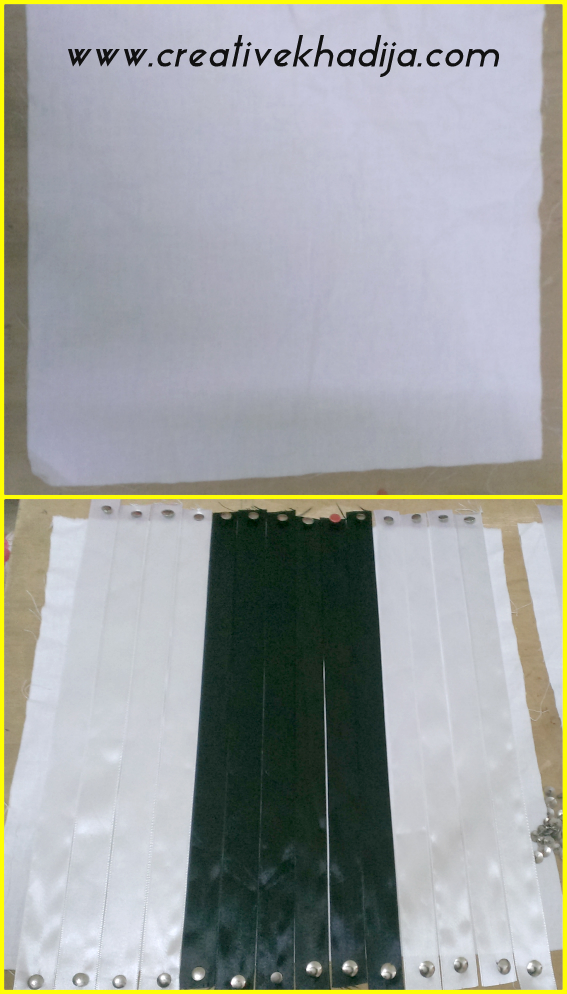 Let's start working on the front side fabric of the cushion! Put the fabric on the board & fix with thumb pins.
For making this pattern, You will need to put 4 white ribbon strips, 6 black ribbon strips and then again 4 white strips.
Use thumb pins for fixing the ribbons properly in the line. When you are done, Start weaving of the ribbon.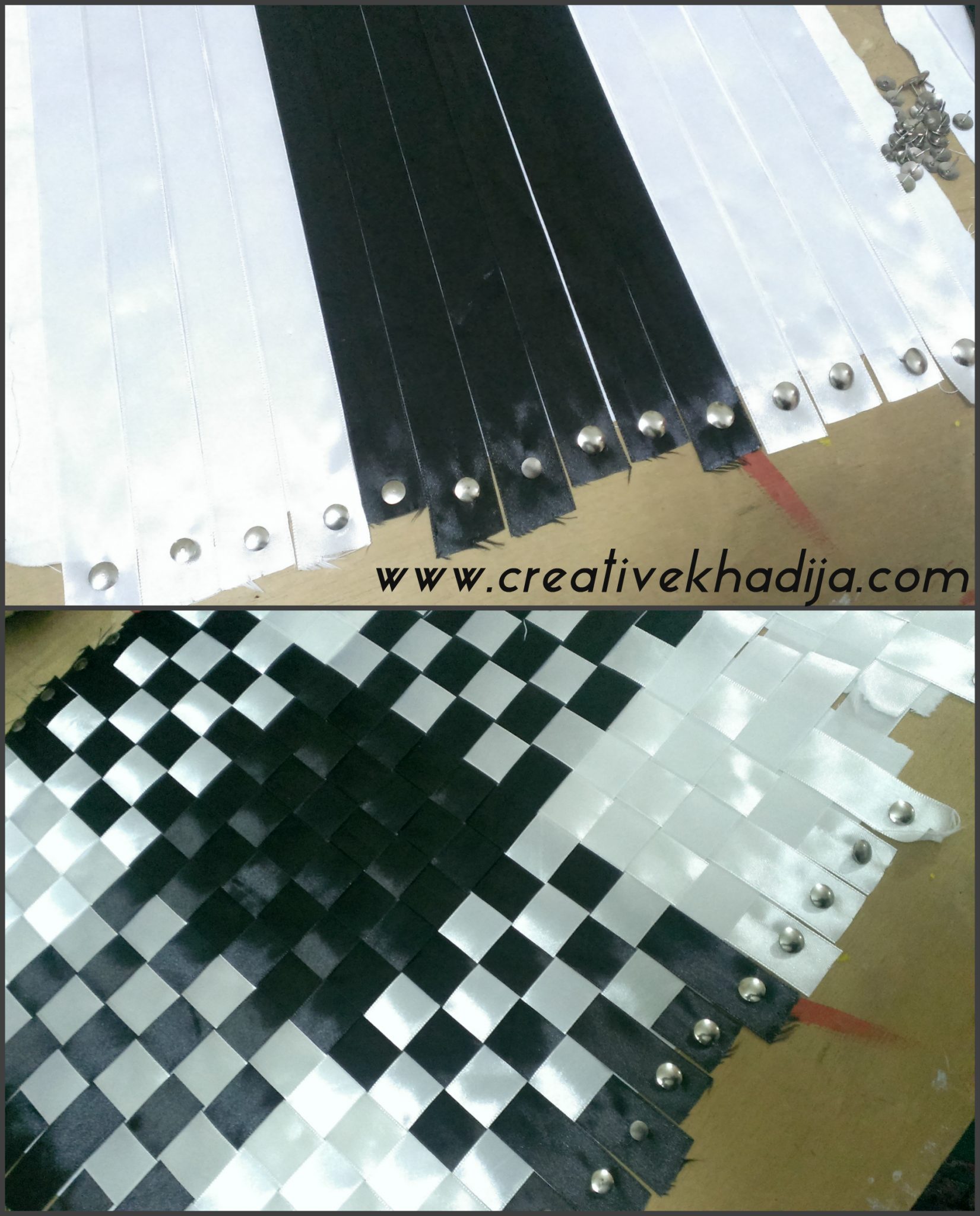 Here is the weaving project going on! Complete the weaving & be sure to fix it with thumb pins, otherwise pattern shape might be disturbing! Working with silk is not easy!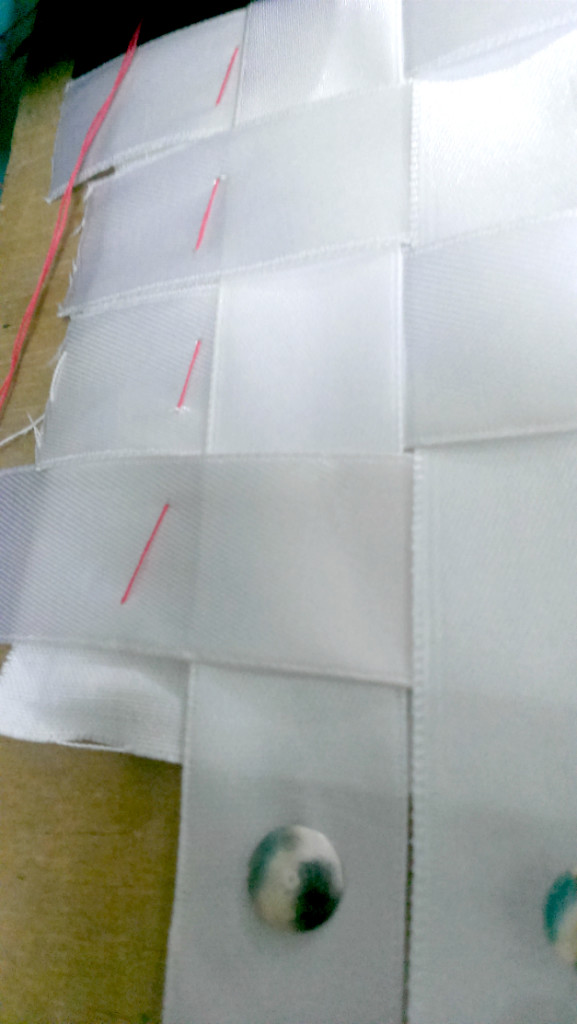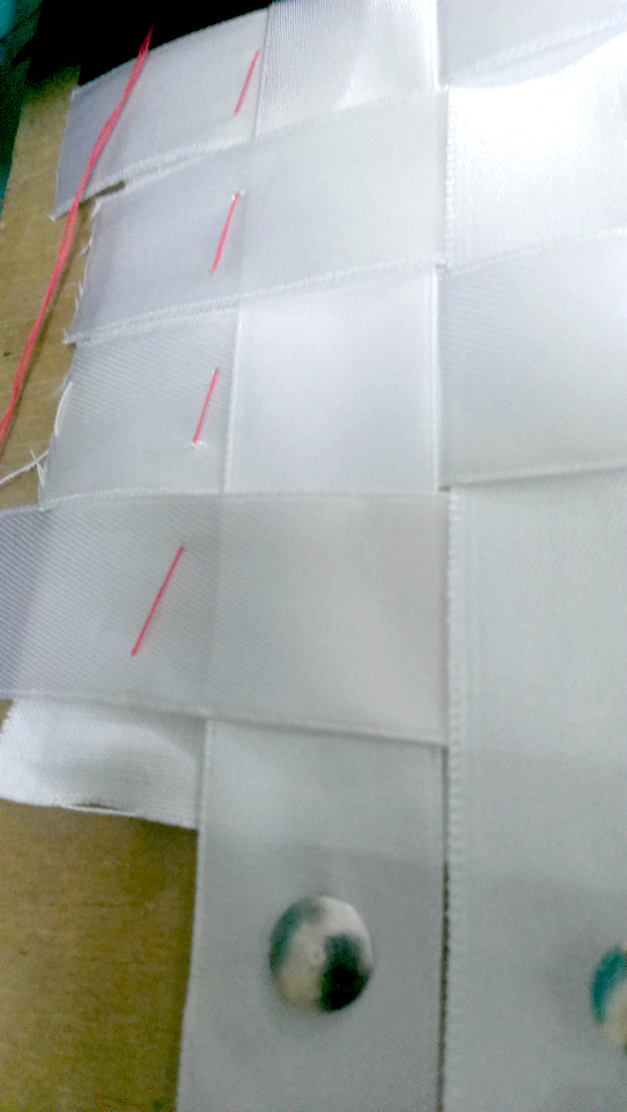 Here is the image before separating the fabric from the board. You can see base fabric in white color, Right?
Now next step is to make stitches with needle and thread & join the fabric & ribbons with a rough hem. So this will be helping you in removing thumb pins. Everything will be fixed right without making a mess.
After joining all the ribbons with the fabric. Now you will be removing thumb pins from the board.
Fabric Size was 15×15 inches. Ribbons strips size was 16×16 inches approximately. And we have to make a standard sized sofa cushion 14×14 inches when the sewing is done!
In next step, You will attach the zipper to the other side (back side) of the pillow-cushion. And then attach the front and back side together. Be sure to open the zipper when sewing the cushion & then turn the pillow outside.
Now loudly say WOW, It's done!! YAY (This is what I do after completing favorite projects of mine)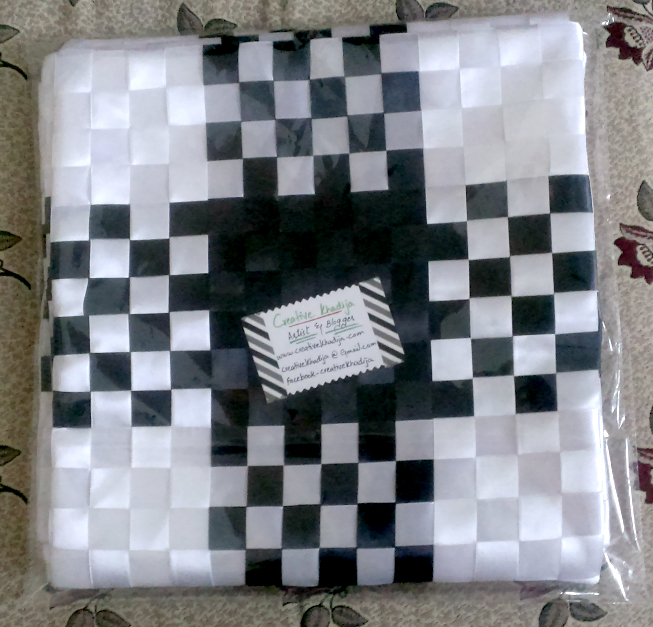 Then I pack the pillow covers & put a gift inside and definitely my business card too. (Yeah, my every customer get a free gift from me with their product) I put it in a box & it's ready to ship  :)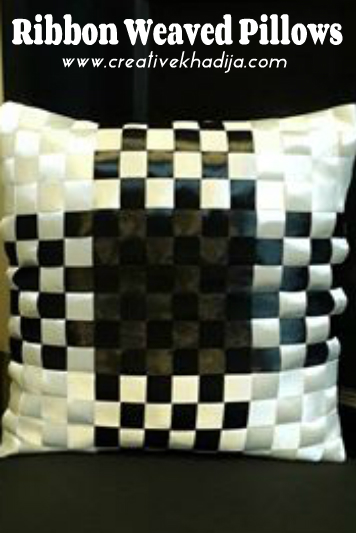 It looks more cute when I put the pillow on the sofa. As black & white is my all time favorite colors, So I like it even more.
You can have a look at my red & blue ribbon weaved pillow cover HERE
If you remember, Once I weave some ribbons with an already weaved handbag, Which look so pretty! Check that idea HERE and my another ribbon weaved purse HERE
I hope you liked my today's article. If I missed any step or you feel something confusing, be sure to ask again in comments. I would like to elaborate in easy words!
If you want to buy any ribbon weaved pillow cover or any painted or designed cover, You can buy from me directly! Visit my shop & have a look at more products. Feel free to contact if you want to buy anything!
Thank you so much friends. Feel free to share the article at your social media networks by using the buttons below the article or at sidebar :)
Have a great day friends.
Khadija ~