Guest Post
Transform Your Garden with DIY Outdoor Lighting: 10 Easy and Budget-Friendly Ideas
In this article, we'll explore ten easy and budget-friendly DIY outdoor lighting ideas to help you create a mesmerizing garden retreat.
Want to transform your garden into something extraordinary? Adding outdoor lighting is a great way to create an attractive atmosphere without breaking the bank. From whimsical fairy lights to charming lanterns, there are numerous creative DIY outdoor lighting ideas that can add a warm and inviting ambience to your outdoor space while showcasing its beauty during the evening hours. In this article, we'll explore ten easy and budget-friendly DIY outdoor lighting ideas to help you create a mesmerizing garden retreat.
Transform Your Garden with DIY Outdoor Lighting: 10 Easy and Budget-Friendly Ideas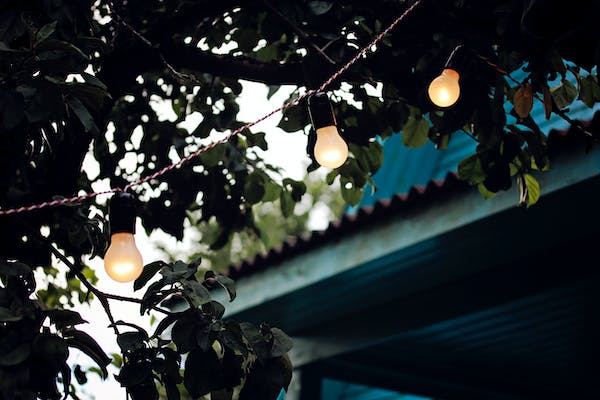 Mason Jar Lanterns
For a classic and charming effect, mason jars are an excellent option. All you need are some empty mason jars, candles or LED tea lights, and a sturdy rope or wire for hanging.
Place the candles or LED lights inside the mason jars, secure the wire or rope around the jar's neck, and hang them from tree branches or garden hooks. The soft glow these lanterns emit will instantly create a cozy and inviting atmosphere in your garden.
Solar-Powered Path Lights
These eco-friendly options are very easy to install. Solar-powered path lights use energy from the sun to illuminate pathways, flower beds, and garden edges.
Purchase solar-powered path lights from a local store or online, and simply stake them into the ground along your garden paths. They will automatically charge during the day and gently glow at night, guiding you through your garden.
Tin Can Luminaries
Tin can luminaries are a creative and eco-conscious way to brighten your garden. Collect used tin cans of various sizes and carefully punch holes using a hammer and nails.
Arrange the cans in a pleasing pattern, place candles or LED tea lights inside, and watch as the light shines through the tiny holes, creating a dazzling display of patterns and shapes.
Wine Bottle Torch Lights
Transform empty wine bottles into striking torch lights for your garden. Fill the bottles with citronella or lamp oil and insert a wick into the opening. Secure the wick in place and light it up to enjoy a warm, flickering flame that adds charm and helps repel insects during your outdoor gatherings.
Fairy Lights in Trees
To instantly add a touch of enchantment to any garden, string fairy lights in the branches of trees or along the eaves of your house to create a magical and dreamy atmosphere.
DIY outdoor lighting with fairy lights is a simple yet effective way to make your garden come alive after dark, perfect for relaxing evenings or hosting delightful outdoor parties.
DIY Fire Pit with String Lights
Create a cosy gathering spot in your garden by building a DIY fire pit. Surround the fire pit with comfortable seating, and then add a touch of sparkle by stringing fairy lights around the perimeter.
The combination of the warm fire glow and the soft glow of the fairy lights will make your garden the ultimate outdoor retreat for friends and family.
Paper Bag Luminaries
Did you know that you can use paper bags as luminaries? Use brown paper bags and fill them with a few inches of sand to weigh them down. Place LED tea lights or candles inside each bag, then arrange them along your garden paths. The soft glow emitted by these luminaries will guide your way and create a captivating display.
Upcycled Chandelier
Turn an old chandelier into an eye-catching centrepiece for your garden. Remove any electrical components and replace them with strands of fairy lights.
Hang the chandelier from a sturdy tree branch and enjoy how its sparkly glow adds an elegant and magical feel to your outdoor space.
Glow-in-the-Dark Planters
Create unique glow-in-the-dark planters to add an ethereal glow to your garden at night. Purchase glow-in-the-dark paint or stickers and apply them to the outside of your planters.
Place potted plants or flowers inside the planters and watch them come alive with an enchanting glow as the sun sets.
When to Get Professional Help
No matter how handy you are, installing outdoor lighting can become complicated if you lack the necessary skills and tools. If this is the case, it may be better to seek help from a professional lighting expert like Blingle. They can provide the best possible lighting solutions for outdoor spaces that meet all safety requirements.
Conclusion
Hopefully, these tips and ideas inspired you to spruce up your outdoor space. DIY outdoor lighting offers a world of possibilities to transform your garden into a magical and inviting retreat. From mason jar lanterns to glow-in-the-dark planters, there are numerous creative and budget-friendly ideas you can explore. When in doubt, don't hesitate to contact a professional lighting expert for help.
Additional Tip:
Remember, when installing outdoor lighting, safety is of utmost importance. Always refer to the manufacturer's manual before installing any lighting fixtures, and follow all instructions. Additionally, you should use LED bulbs or energy-efficient fixtures to reduce your electricity usage and help conserve resources.
P.S. – This post may contain collaborative links, all views are mine. Thank you for your support :)