DIY
Gift Pack Idea & Unique Stenciling
Hi All…
I did something interesting yesterday.I saw a Radish in vegetable basket,it was not fresh that's why Mom left it in the vegetable basket..well i Make a stencil & it was a little different..Let's check what i have done with this..
Gift Pack Idea & Unique Stenciling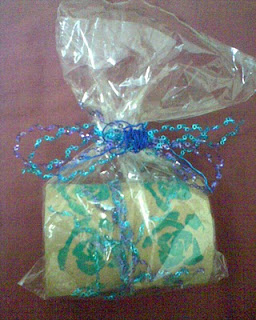 Check the Simplest tutorial…
It was natural stencil basically.
I simply cut its leaves & then applied color with brush on it & stamp on..isn't it interesting..??
Then I make a little gift pack of candies for kids…check this one..
Simply stamp this radish on a toilet paper roll tube

fill candies in the tube

use a transparent sheet wrapper..make a bow & tie it with glittery laces..

its ready!!!hmmm..i hope you will like it..
Have a nice weekend
Thank you!
Khadija