Hi All..
Eid-Ul-Azha(Our Religious Festival)is coming soon..I design an Eid Card few days back & now I am sharing this idea with you..i hope you will like it..I made some Eid Cards on previous Eid-ul-Fiter,& every one appreciate these cards..one of those was Paper Quilled Card & the other one was Jute Designed card..you can check these two's tutorials…
I am sharing today this Eid card with difference
You will need..
A disposable tray sheet
A paper cutter
brush markers of any 2,3 colors
Glue
Follow These Steps
Cut some pieces of the sheet
Paste these on card paper
make texture with any sharp knife or pen tip
I design with a scissor tip..any design you like,i am making a minute design..& the magic starts there.
.
& now complete the whole card by the same method..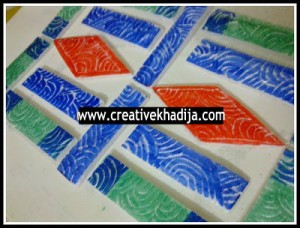 And its over…when it was two colored,it was fine but due to 3rd color,i think its not fine now..you can play with any other color..