DIY
DIY Accessory Holder/Hanger, Dual Sided Fun !
Assalam Alaikum(peace be upon you)!
I have some Jewelry collection which is mostly packed in jewelry boxes,Not in any organized way! I have DONE something!!,In my previous post,I reveal this creation,I was so excited when I make this Jewelry/Accessory hanger or Holder..whatever you would like you can say :)
If you will remember my post in which I talk about some Re-Recycling of my creations..so this post is a Reuse Recycling of one of my past creation!
DIY Accessory Holder
Its a Dual Sided Hanger,,front side is for hanging Earrings & back side is perfect for hanging necklaces, chains or bracelets!
You can see some nails here,these are weaving pillars basically! Its still a weaving frame too!the one side nails I am using for hanging chains & the other one is for rings! you still have some place too!
I place some hair catchers & a colorful cuff at empty space! too much fun!!
This hanger is a complete accessory holder now!
But you cant hang Big rings on its nails, (so I wear this big one ) This Red clay ring is My Handmade.I made some little dough flowers & arrange with some rhinestones around :)
Now its time to show you How I make this useful Organizer..holder..etc,, Lets have a look at tutorial now:)
YOU WILL NEED TO HAVE;
= A square frame..if any weaving frame is around it will be perfect!
My frame is already having nails on its two sticks,as you can see in these pics! but you have to fix some nails or hooks on it for hanging your thingies :)
= Jute fabric,
= A scissor,
= rough packing sheet & Mod Podge
(I will recommend my Pakistani Readers (who can't avail mod podge here) to take Movileth German Glue easily available everywhere in PK
-First I peel off the sheet from my frame! Actually it was a wall art before :)
-Cut the fabric according to your frame size,leave some extra 2,3″of fabric
-Glue it & dont worry if the fabric is hard to handle from corners or curves,when you will paste the paper sheet over it..everything will be hidden :) Yay..
-Paste two sides first & then leave it for 2 hours,until it will get 100% dry!
-Then paste the fabric on other two sides, Now the most important thing is to paste it tightly & stretch it well,if it will be loose,the frame will not look good!!so be careful about stretched fixing of fabric!
Now the frame is Ready!You can see on both sides jute fabric is perfectly pasted & almost dry!
Now you will cut some strips according to frame sticks size, so you will hide the all four sides with sheet :)
Now its Done, dont be late in hanging your earrings over it :)
These are a few things which i have made,you may remember my Leopard print earrings..hmmm
the others i will show you soon :)

This was my

Wall Art

frame..the canvas sheet was dirty now & I torn it :) now the frame have been converted into a useful thing, I would like to tell you that I have done my this purse weaving on this same weaving frame..its still useful for weaving too..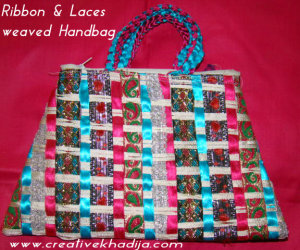 My Hand Weaved Purse
Weaving is just fun, & with ribbons,it was interesting too..tell me if you would like to see any weaving tutorial any day? I will use the same jewelry hanger+weaving frame for weaving any stuff :)
My today's post is getting so long, but I hope you enjoy :) Oh yes,I have shared a few upcoming thingies here at my hanger,will be coming soon!
Have a Well & Organized Day!
Have a good day!
Khadija