Hello All,
How is your winter going on? I am enjoying mine! doing lots of artistic/craftistic work & enjoying winters. Do you know why I am crafting many things these days? actually by next month, finals of my 3rd semester are going to start & then I will not be having much time for making things, so its good to prepare somethings before time. I like to write posts in blogger's drafts & I just click whenever I am busy but want to post something! Right..?
My Today's Post is another Sweater Restyle Idea (you can see my previous sweater restyle posts HERE & HERE, Its my mother's sweater, She wears this one rarely & it was almost an extra piec. One day I asked her about doing any experiment on it & she give me permission to do it (*usually she don't) hehe
No-Sew Sweater/Cardigan
One of my aunt give me some leather, she bought it for making a handbag but her health & little boy didn't allow her to sew anything. So she give it to me.
Have a look at this before & after image.
Now come to the easy peasy Tutorial/DIY..I am sure you will enjoy! if anything feeling hard, feel free to write me.
you will need to have a leather piece(must be thin)
-Scissor
-fabric glue
-circle pattern
-black sequins
-Cut 25 circles of leather in an accurate size of pattern(23 needed but extra is good)
-Make the shapes according to the directions below in diagrams.
-Start Pasting with any fabric glue,UHU is a perfect one for fabric but I am using this on sweater stuff first time,so I am NOT sure about its after wash condition..In picture 2,I am having needle & thread too(marked) ,so you can stitch too if you are embellishing on any brand new sweater..
I make these Diagrams with my *Finger Tip on my iPhone's screen..I hope you will understand easily!!
-cut circle,fold once in half & then fold again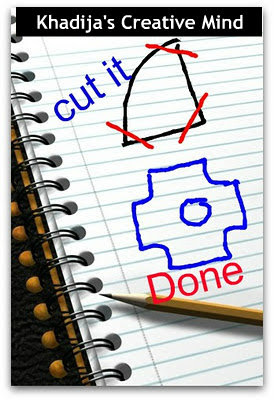 – Cut the little folded piece from all three sides & when you will open it will be in a cool shape
*TIP;
you can try the shape on any rough paper piece first, so you can save your leather from rough shapes!
For the little square shape,you will cut a circle simply in 4..you will fill the design easily with these..
I was trying to make something on arms but I think the design will get more thick,which will look odd..well I stop it just in front of the sweater/cardigan..
 So what do you think about my today's post? Would you like to try this for your sweater or cardigan..even you can try it on any shirt too..It will be the easiest gift for your Mom/sis/aunti/cousin/friend…etc..
This embellishment is wearable for all age groups too! & I know I have readers from 12 years old(Rapuncela from Poland) to 83years old ( LV from Texas). & so many in between :) every age group can wear this design(being a designer I will suggest it too :)
I am Lucky to have you all..I hope you will like my today's post..if anything is feeling tough, feel free to ask me :)
1=Lace Cardigan DIY
2=Net Fabric Sweater DIY
P.S- Cant wait to show you my newest creation..Jewelry/Accessory Hanger DIY…but wait plzzz!
Have a great day!