Hello Everyone,
Paper quilling is an interesting activity, whenever I am having little bit free time, I try this happily.I enjoy my gluey fingers while working & paper storm around me at table..I have done this quilling card for Mother's Day & of course for my sweet Mother. Its a last minute idea, I am sure when You will put any handmade card with your present for Mom,it would be so special :)
Have a look..
Mother's Day Quilling Card
My mother name's first letter is "S" so I make some S designs with quilling..Hearts are for showing Love & glitter is for adding some more cheers & shine in this awesome relationship :)
If you want to try this last minute idea, Lets see its Making..
– First you will cut some strips of paper as showing above in first picture
– Then fold & refold orange strip & cut carefully,see more instructions of cutting this ruffle strip HERE
– Role green paper strip & make a center as flower bud .
– Paste the ruffle strip around bud piece & complete,then press a little for making its proper shape of a flower! 
When you will complete making flowers,then start pasting these on your card.
When its done, you can add some glitter glue here for refreshing the card's look :)
I celebrate Mother's day DAILY :) by hugging my mom,by helping(sometimes disturbing) her while she is in kitchen,by loving her when she is waiting for me when I came back from university & specially I LOVE disturbing her when she is busy in watching NEWS channels & political talk shows…haha..I don't like seeing news until there is something special but its always hectic if you will watch any news channel for a few minutes..politics,corruption,lawlessness,load shedding & many other rude things are happening all around which is always painful..well leave it..
I hope you will enjoy my post,If you want to make any card for Mom,HERE are some ideas from me.Now check my previous quilling cards for getting more instructions :)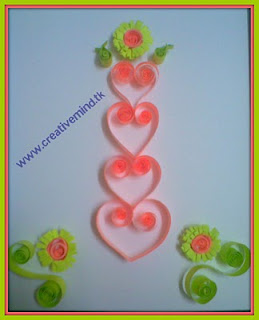 Dont forget to Enter my Blog's Birthday Giveaway open worldwide :)