Card Making
31 Best Father's Day Crafts for Preschoolers To Try Last Minute
Hey dear readers, Since you all know that Father's Day is just around the corner. I decided to create a craft post for this special day. Father's Day is a holiday celebrated in over 100 countries around the world. This year, Father's Day will be celebrated on the 16th of June. Fathers definitely deserve a special day dedicated to only them. So, we can celebrate the love we have for them and show them how important they are to us. This article is on 31 Best Father's Day Crafts for Preschoolers. Continue reading the blog to get some fun ideas: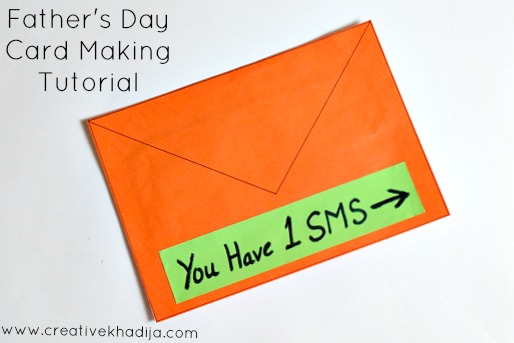 31 Best Father's Day Crafts for Preschoolers To Try
In this article, you will find over 31 different craft ideas that preschoolers can create for Father's Day, with little assistance from adults. These art activities for preschoolers can be performed in school by teachers. Also, the moms can help their toddlers, create these crafts, to gift them to their dads on the father's day. Continue reading to see the list of easy Father's Day crafts that you can make with your toddler this year.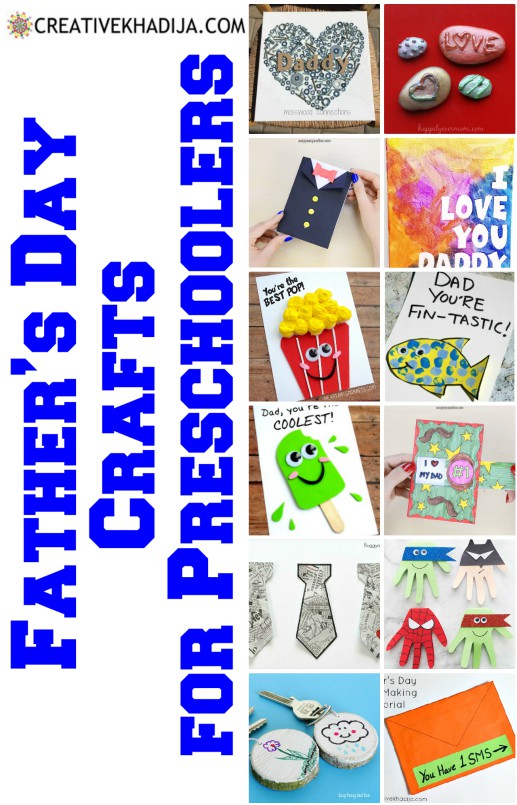 What is a better craft idea for a preschooler than making a card for Father's Day? This is one of the best projects for kids and you can give the toddler a complete choice to create the card however they like. These cards can easily be created with basic craft supplies and only require a little adult supervision.
For this easy pull-out style Hidden Message Father's Day Card, you will basically need the card template. Print it out on a paper and give it to the toddler to color it in. With the help of a scoring tool, scissors, and glue, you can help the child to create the card.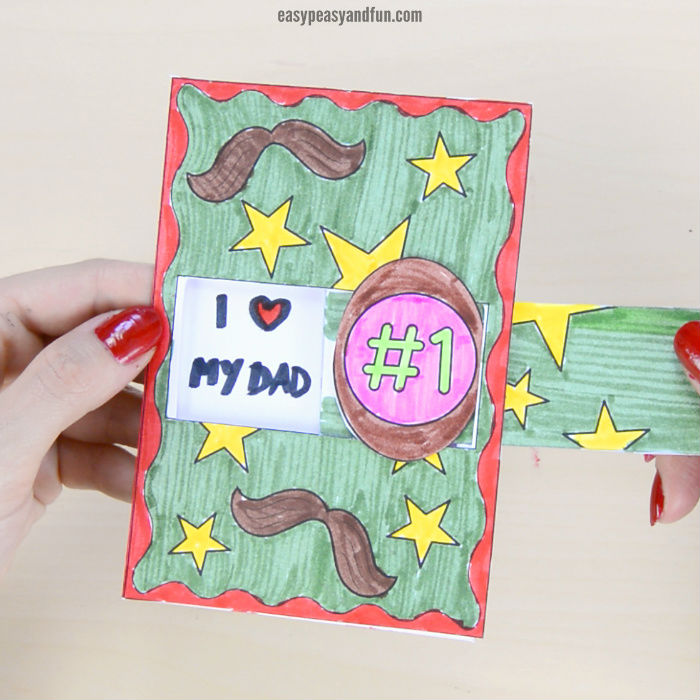 An excellent card idea for dads that are a superhero for their little ones. This Superhero Handprint Card can be made with card paper, glitter foam paper, googly eyes, scissors, glue, and a sharpie.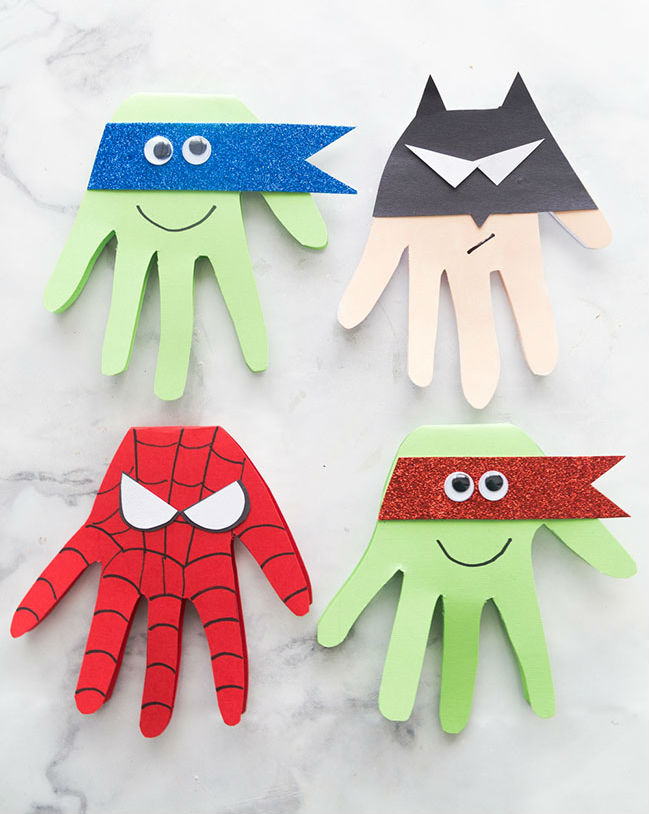 This Dinosaur Handprint Card is an easy DIY crafts ideas for kids. You can fill it with a special heartfelt message for Father's Day.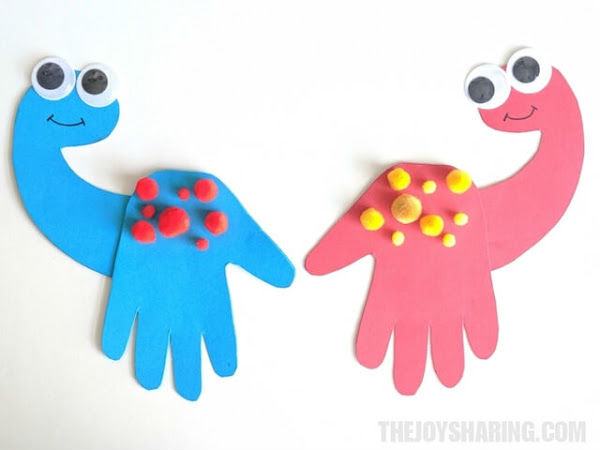 For this Father's Day Tuxedo Card you will need basic card supplies. Add a bow tie and a message inside to complete the card.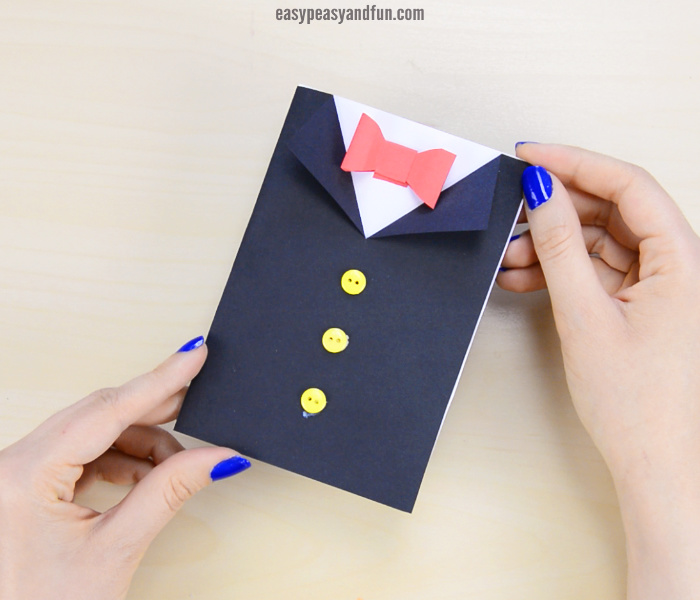 This Fish Father's Day Card with the " Dad You Are Fin-Tastic" message is truly adorable.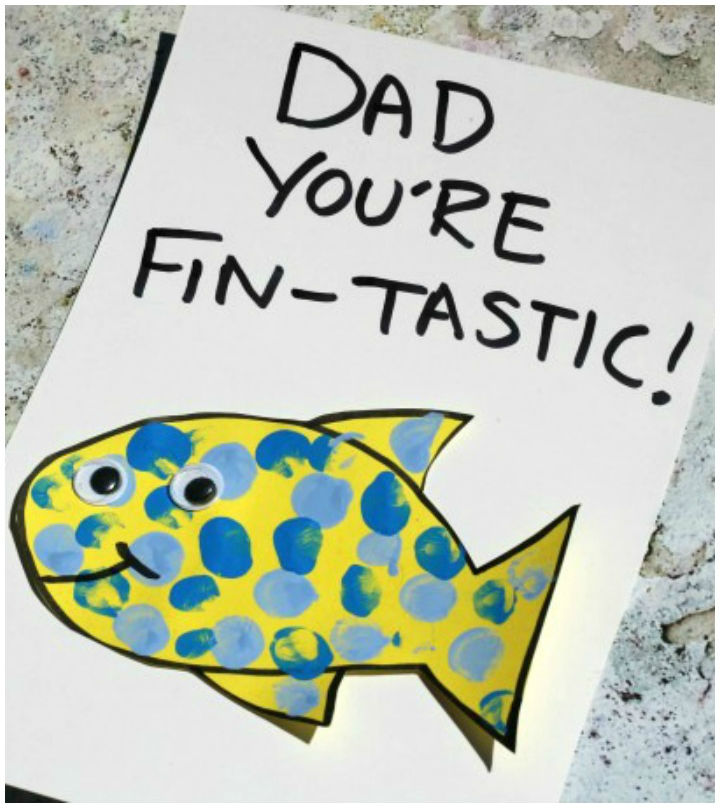 For this cute, You Are An Un-Bee-Lievable Daddy Card. All you will be needing is card paper, foam sheet, googly eyes, glue, sharpie, and scissors.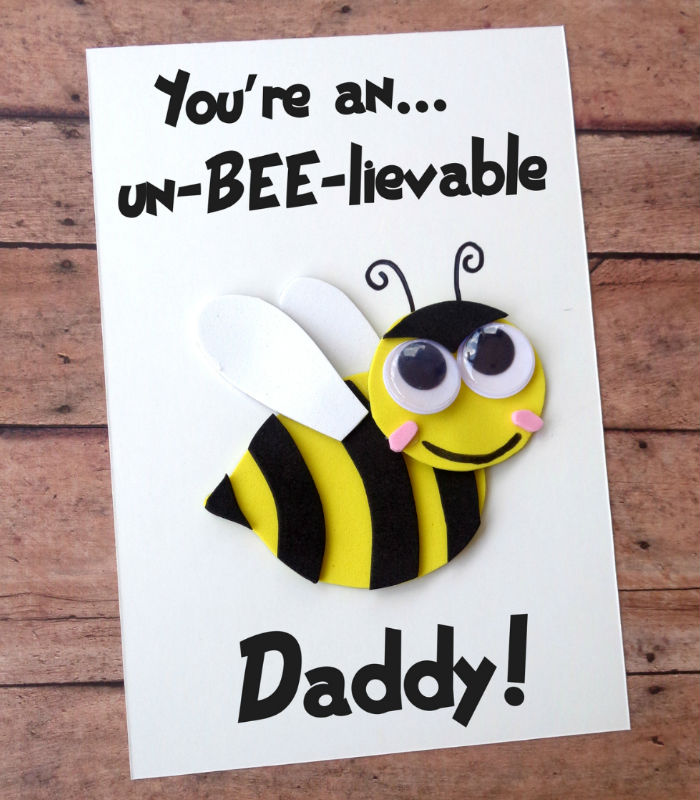 This Guess Whooo Loves You Owl Card with a hidden picture of your child will make a cherished Father's Day card that any daddy would love to receive.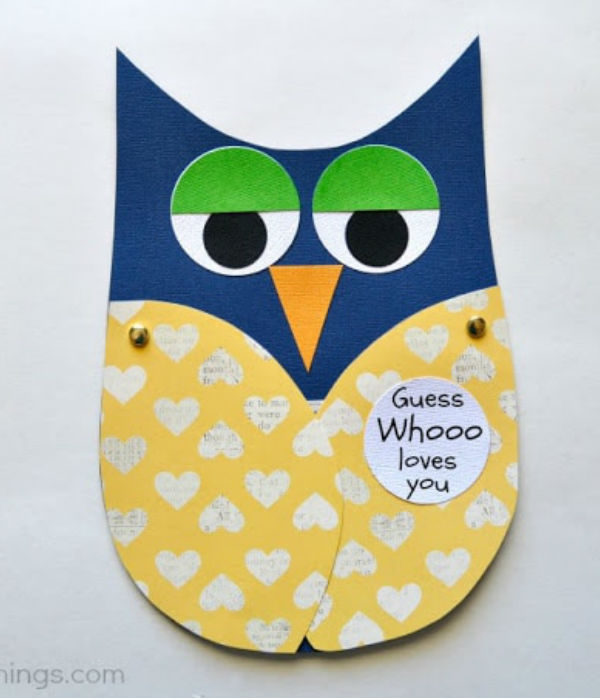 This Popsicle Father's Day Card with a special "Dad, You are the Coolest" message can be created using card paper, foam sheets, googly eyes, glue, scissors, marker, and a popsicle stick.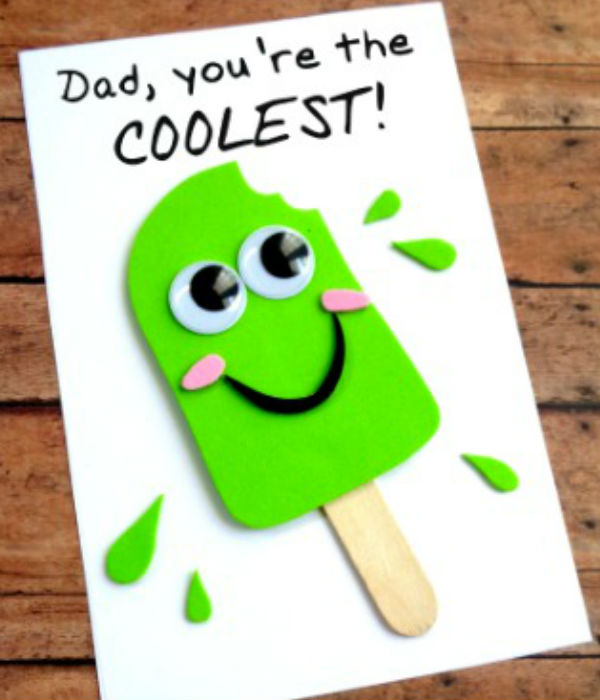 All this easy, You are the Best Pop Popcorn Card requires is glue, card paper, foam sheet, googly eyes, and yellow paint dipped cotton balls.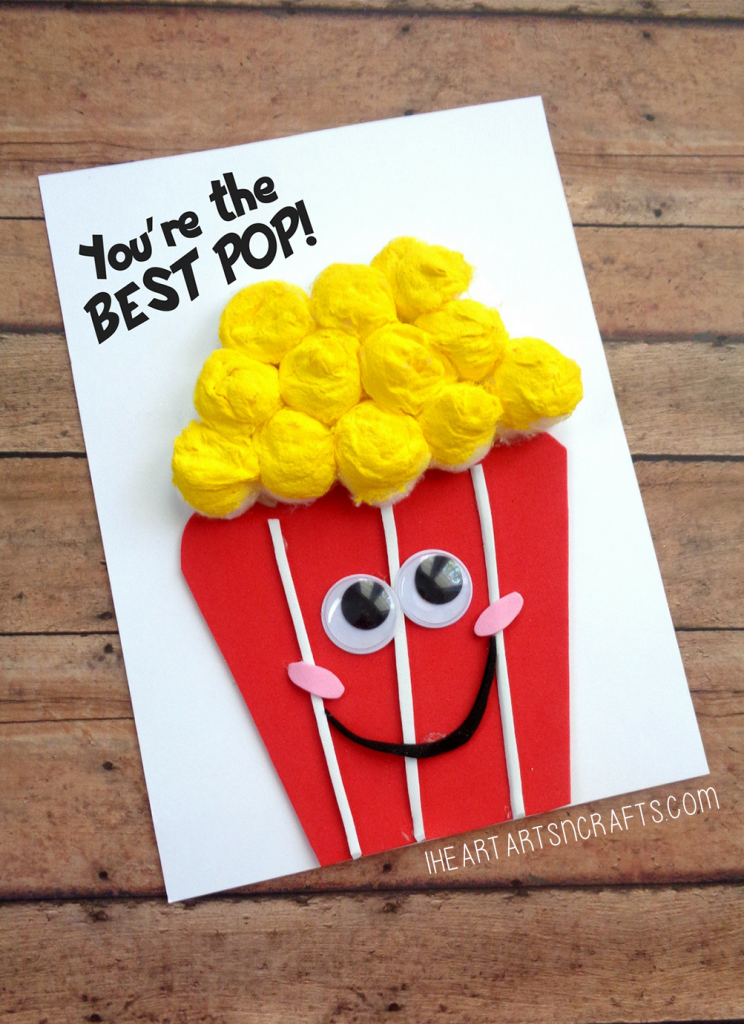 These Monster Handprint Cards will make a perfect Father's Day card from little monsters to daddies. Requiring basic craft supplies to create, like a sharpie, multicolor card stock, googly eyes, glue, and multi-colored pom poms.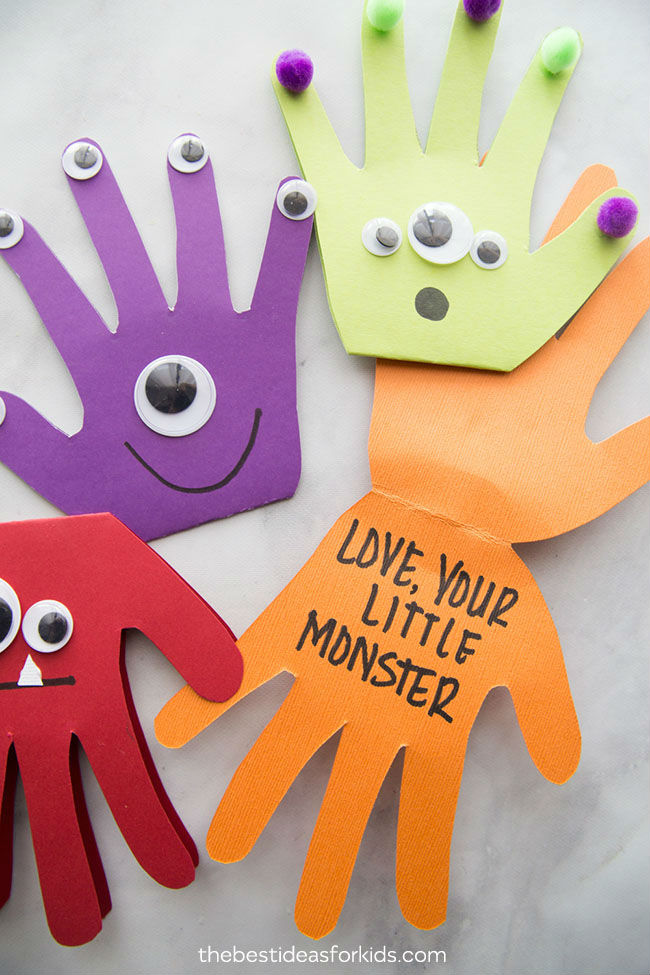 This Printable Handprint Card can be made in under 5 minutes. All you need to do is print the card template on a paper. Then, use paint to transfer your kid's handprint on the card. Tada! The Father's Day card is ready.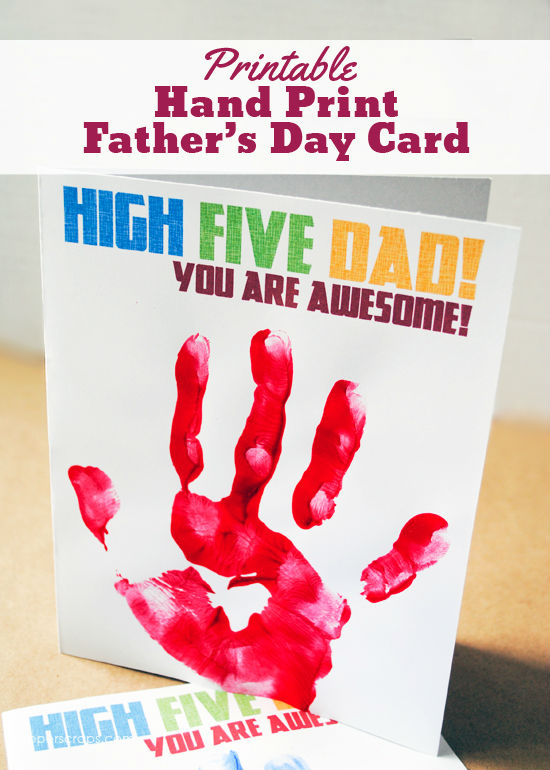 Best Gifts for Father's Day
You don't necessarily have to take your kid out to pick a Father's Day gift. Instead, you can help your toddler to create the best gift for his daddy at home. It will also be one of the best art activities for preschoolers and will allow the child to create something remarkable for Father's Day.

This Salt Dough Handprint Keepsake, which is also a candle holder, will make a perfect gift that the daddy can display on his office table.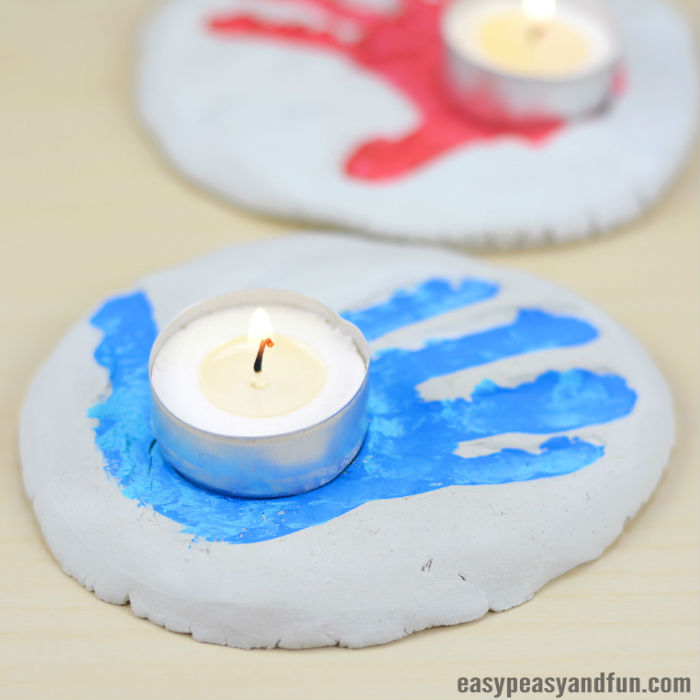 The Shrinky Dink Keychain with a butterfly cutout will not only look adorable, but will also help daddy store his keys in one place.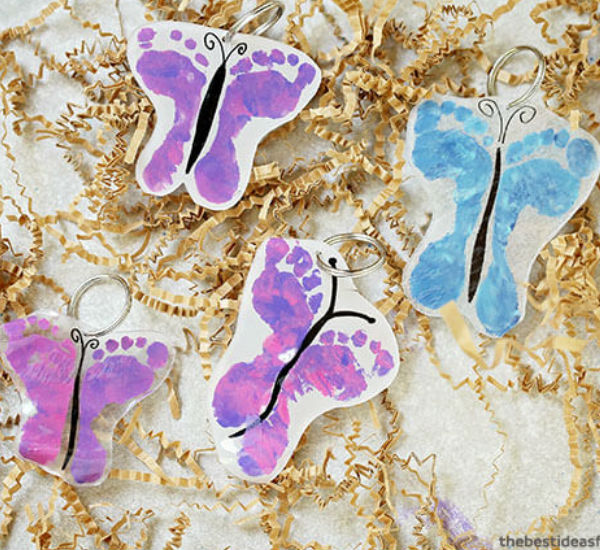 This Scrabble Tile Frame can be easily made with a wooden frame, scrabble tiles, and some spare buttons. You can complete the picture frame gift with a picture of the toddler and the father.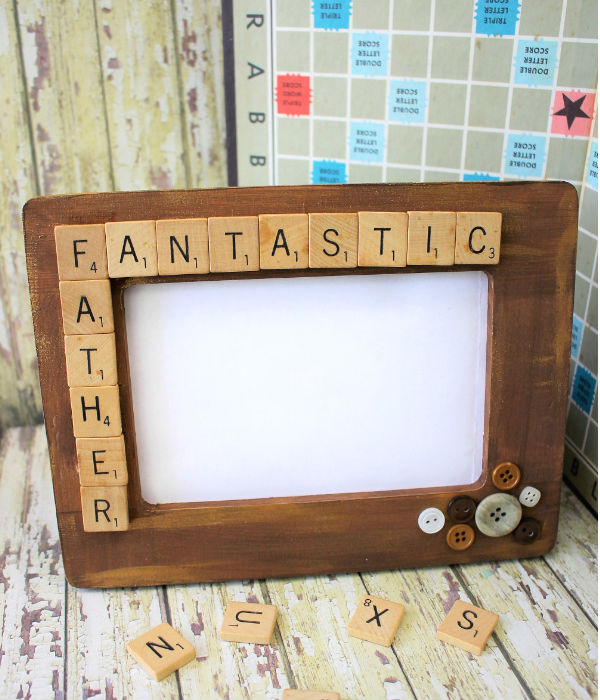 These Rock Paperweights can be easily made by applying a design on the rock using a glue gun. Now allow the kid to paint the rock using pearl finish paints to create these vibrant paperweights.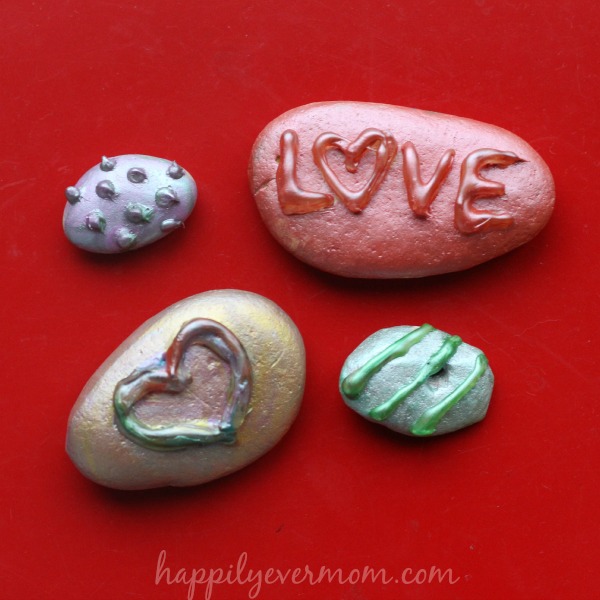 The Upcycled Nuts and Bolts Heartshaped Craft will be one of the best projects for kids. You can create it using spare nuts, bolts, a canvas, glue, wooden letters, and spray paint.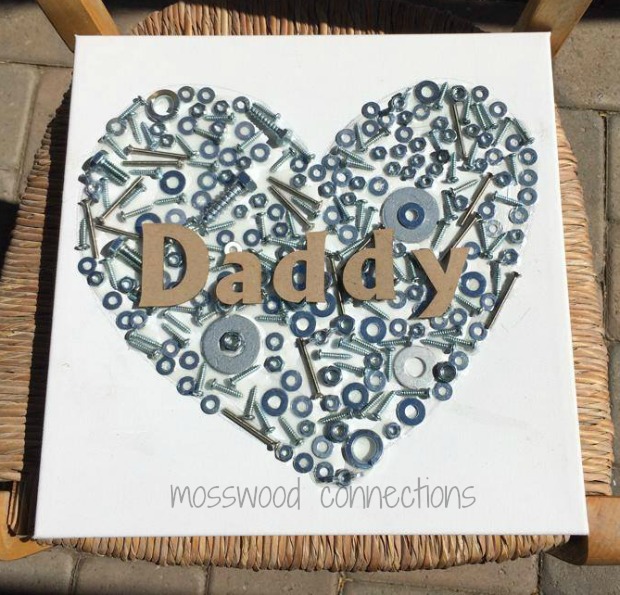 To make these Wooden Key Chains, you will need round-shaped wooden blocks. Apply white paint to them. Now, with the help of markers, allow the children to draw their desired art on the key chain.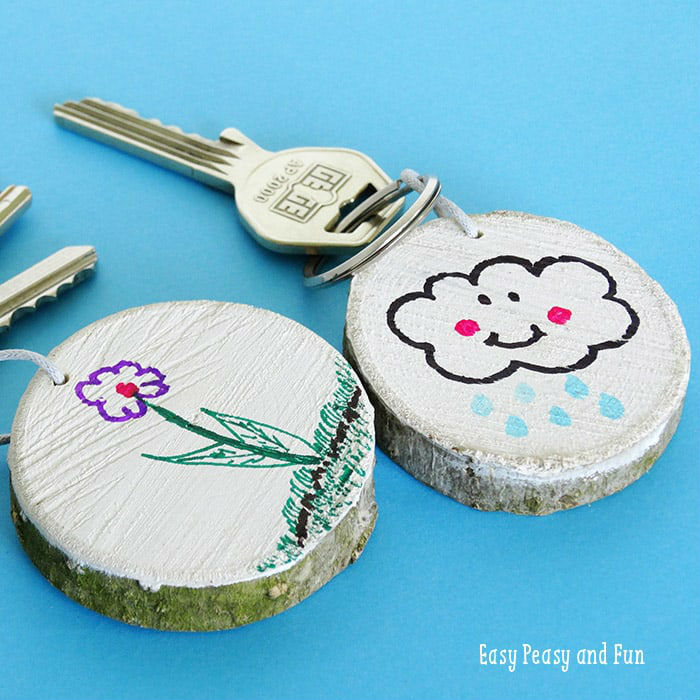 Excellent gift for a dad who is a construction worker. You can easily make this DIY Father's Day Hammer with the help of your child.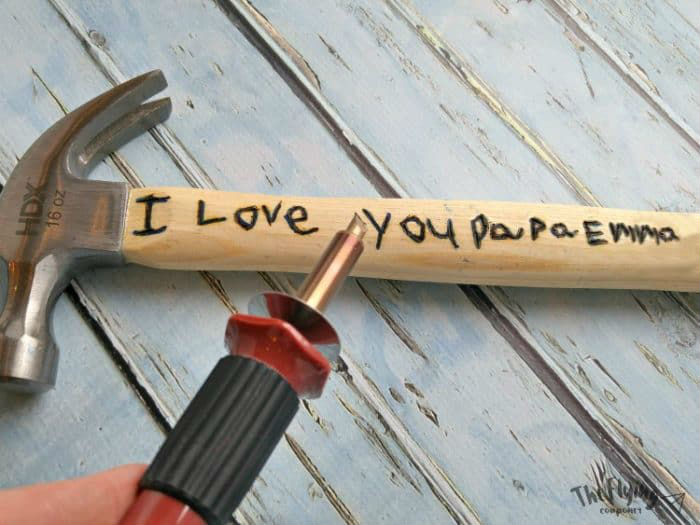 This Building Memories Jar will be a wonderful gift. Containing building blocks with all the activities written on them that the child loves to do with his father.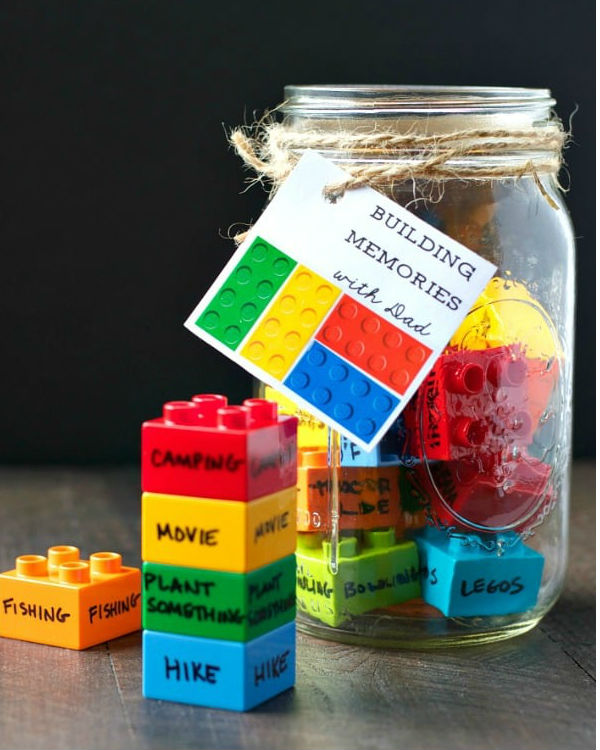 To make this Candy Beer Mug, all you need is a beer mug. Fill it up with candies and marshmallows. Write "Dad" on a tag and apply it to the mug, to complete the gift.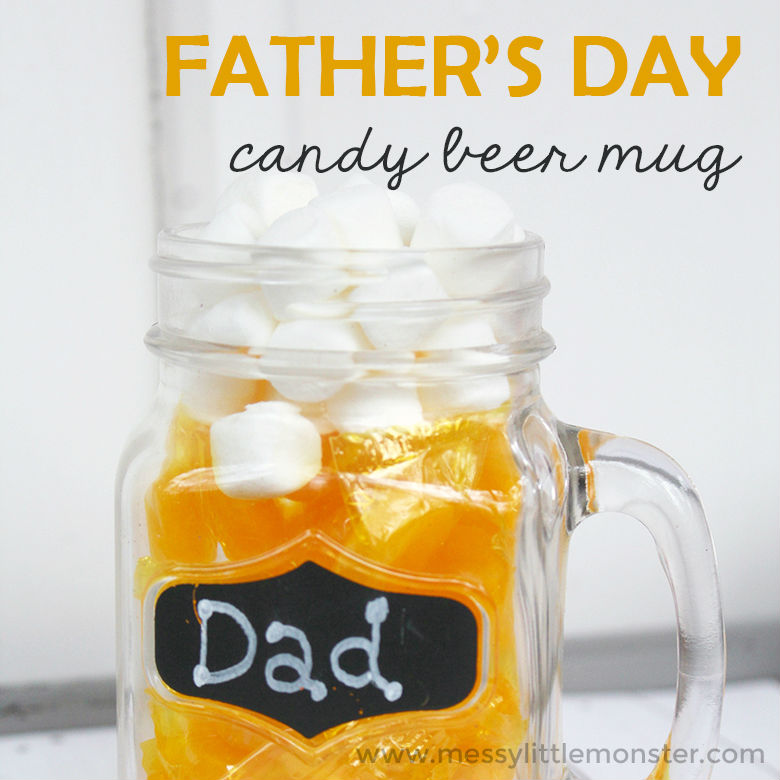 These Tie-Shaped Bookmarks can be made with a preschooler using a few supplies. All you will need will be cut-out from old newspaper, glue, and a tie-shaped template cut-out.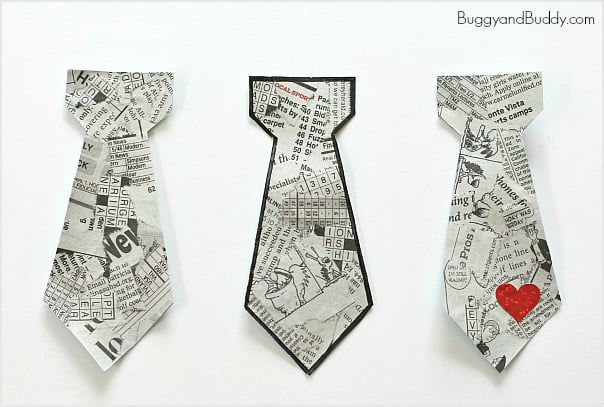 Father's Day Crafts using Paints
DIY crafts using paints make the best Father's Day crafts for preschoolers. Especially, for children that love to paint, it is the perfect time to let them utilize their painting skills to create something unique for their dads.

This Mess-Free Painting in the shape of a heart is super easy to create.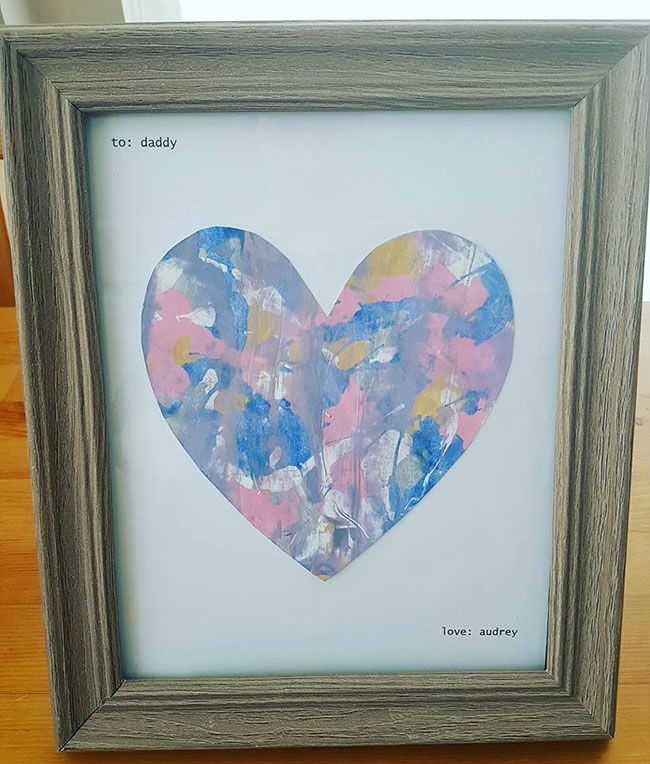 Some seashells, canvas, wooden frame, and glue is all that is required to frame this Handprint Art.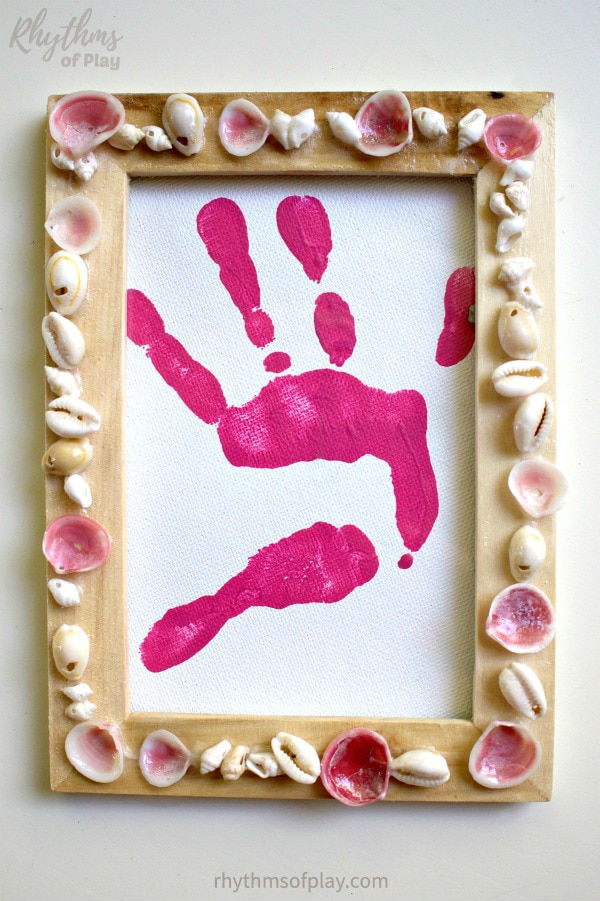 For daddies with building skills, these Personalized Hammers with paint strokes will make an exceptional gift option.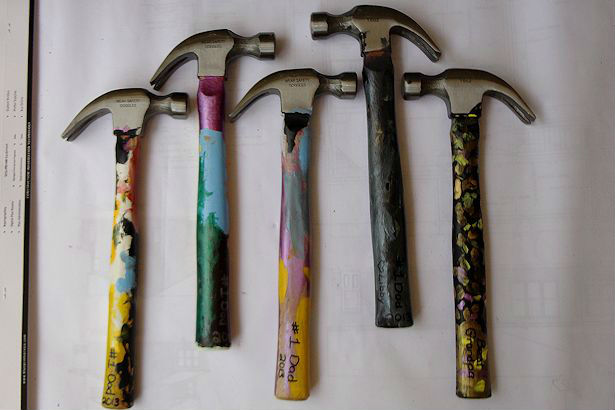 With your little assistance, the preschooler can easily create this Gift Mug and Bowl for Father's Day.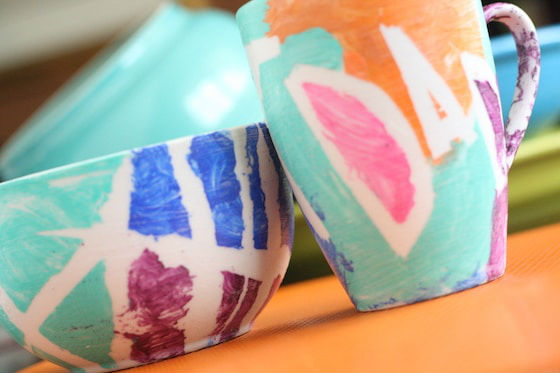 This adorable Love Sign can be created with the hand and footprint of the toddler.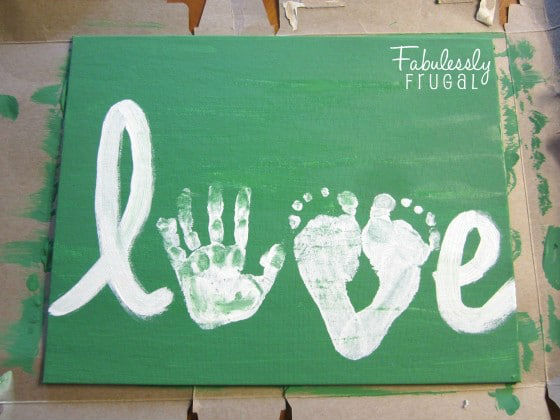 This Father's Day Painting, displaying the artistic side of your child will be a sweet present.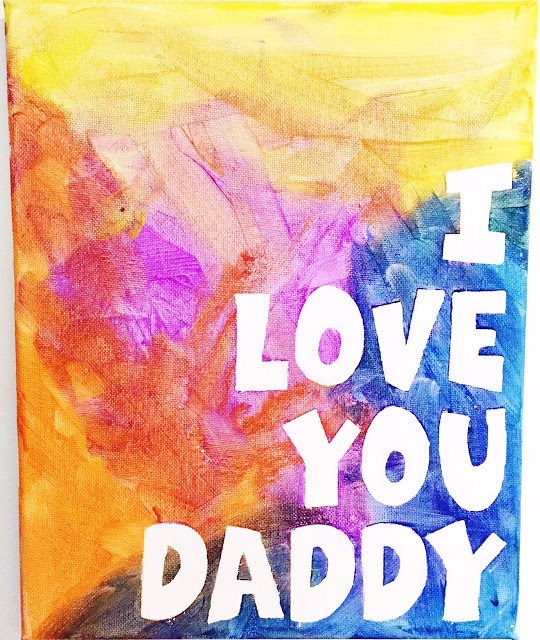 You can use this Toddler Finger Painting Tie to turn it into a bookmark for the daddy.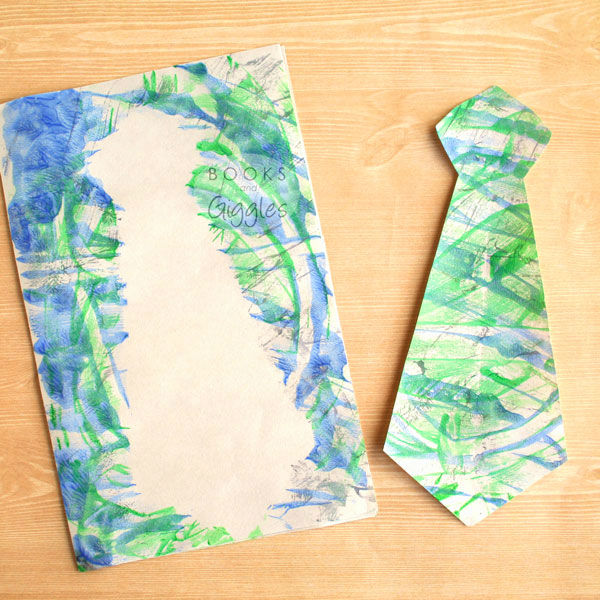 Create this easy, multi-colored heart painted Personalized Candle Holder with your little one for Father's Day.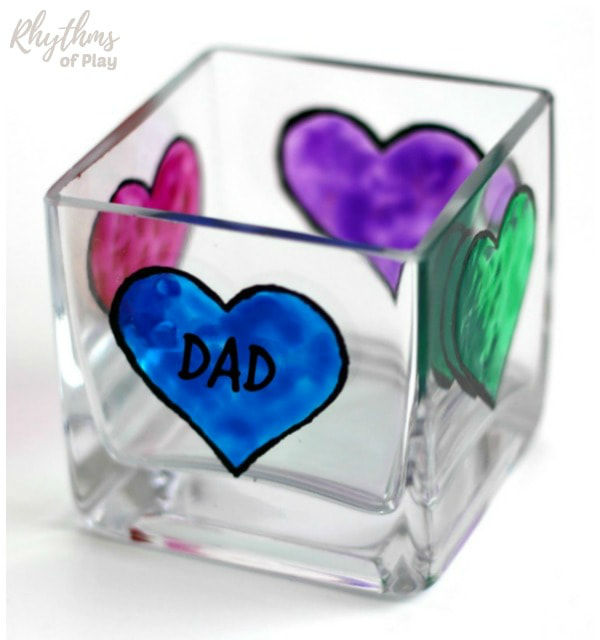 To make this easy 3-step Printable Gift, you need the template printed, stamp it with the toddler's handprints, and frame it.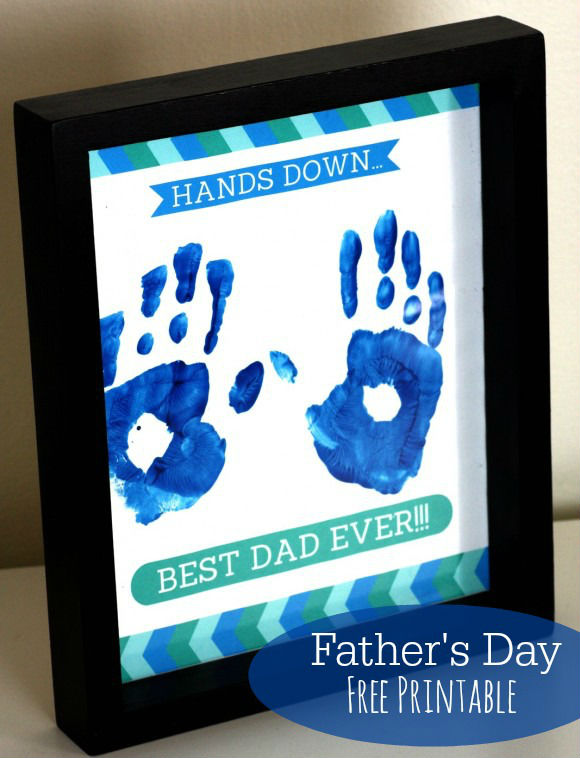 These vibrant Pour Painted Paperweights will be among must try Father's Day craft ideas for preschoolers.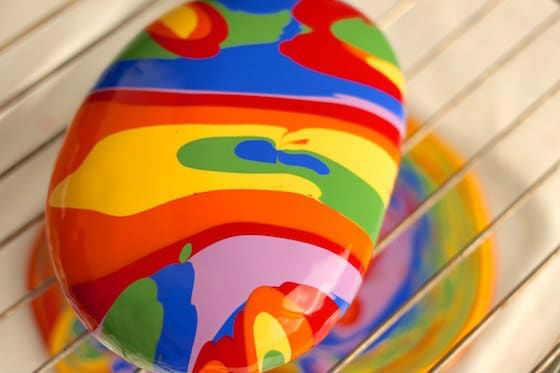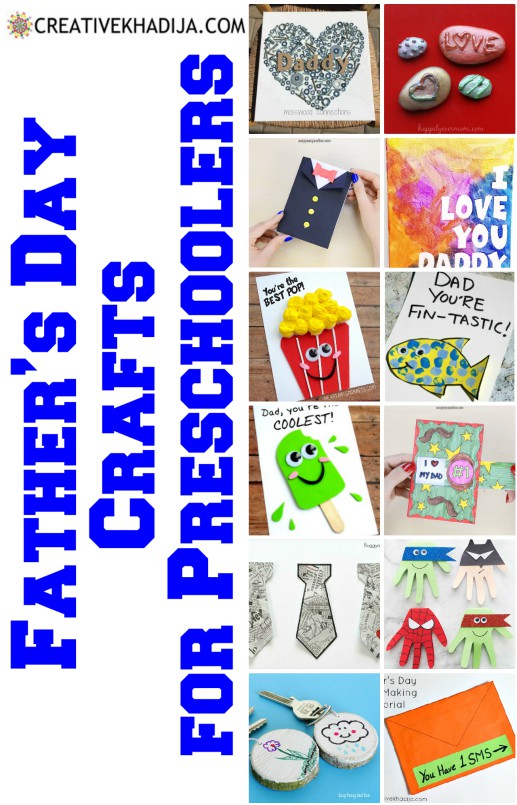 I hope you found this article on 31 Best Father's Day Crafts for Preschoolers very useful. If you decide to try any of these crafts with your kids, do let me know in the comments. I would love to know how it turned out for you.
Have a great day you all.