DIY
Eid Mubarak & Henna/Mehndi Designs
After the holy month of Ramadan, now Muslims all over the world are enjoying Eid festival. its filled with colors, family gatherings, food & fun with so many interesting activities..lots & lots of happiness with the blessings of Allah Almighty..
Now there is another necessary thing for girls which is Henna/mehndi on hands,arms & even feet too :) but I only apply on hands mostly..
Now see a few of my henna designs..oh yes, these are not just mine..a few of these are done by my sister as well..you can see kids hands..my niece is also a big fan of henna :)
Henna/Mehndi Designs
This above design is done by me but not today or yesterday..actually a few weeks back I share this design at my Instagram page..
My sister was applying henna on my palm & my Nephew was really curious about what these girls are doing so intricate..haha
This beautiful hand is my niece anum's hand..she like henna a lot but if we are not holding her hand for a few minutes until henna herb get dry, then later our walls & bedsheet have to face her designing :) haha..she is just Lovely!!
and here my hand is just looking so big..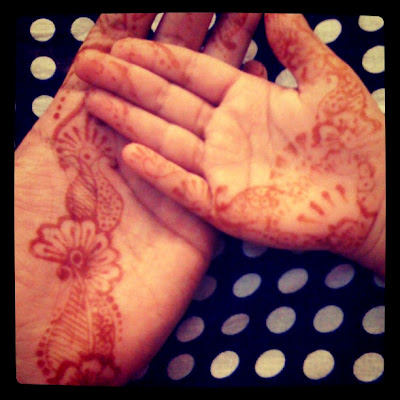 My hand with my niece's hand :) we r good friends
Here is another attempt but not so fine near me..
Above two designs are my latest designs..from chand raat..
I hope you will like my post..
You can also Check these previous henna designs;
Thank you..
Khadija ~