Hi All,
Do you like having beautiful designs & prints on the walls of your home? Well I like colorful walls.. For all of my readers who like wall art, here today I am going to share a beautiful plus colorful GIVEAWAY which will be suitable for your wall decore & the fun part is, its open Worldwide.. So All of my readers can feel free to enter..there we go!!
Sponsored Spotlight & Giveaway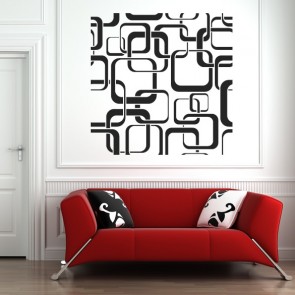 I am hosting today a beautiful giveaway of removable wall sticker for your homes! Its a wall sticker by Icon Wall Stickers. They have huge variety of colorful & amazing designs for your walls.. You can decorate your house walls with so many styles & varieties.. Your kids can get some colorful walls, teenagers can enjoy their favorite stuff for their room & there is some interesting variety for the living room & lounges.. So many possibilities & designs for your walls & you can choose any color & size of stickers from the categories; Home & living, wall quotes, kids & children, people & places, animals, fantasy, music, sports, hobbies, transports, seasonal & so many more from their given options.
Do you want to have a beautiful wall sticker of your choice for free? So come on & ENTER to win a sticker for your wall..So here is your turn now!
How To Enter…
1- Like & Icon wall Stickers & Creative Khadija on Facebook.
2- Comment below that you liked both & then tell me which sticker you would like to win.
That's it.. as easy as ABC.. isn't it?
For Extra Entries;
Follow Icon wall Stickers & Creative Khadija at Twitter.
Follow Icon Wall Stickers & Creative Khadija at Pinterest.
This giveaway is OPEN WORLDWIDE.. my readers from all over the world can enter happily!! I know previously I have had a few giveaways which were open to a limited countries & it seems not much fun! but now Everyone can enter..
I will be announcing the winner at 5th of December 2013.
Good Luck All..
Creative Khadija
I am Khadija Kiran, A girl blogger, content creator & digital marketer. I started this blog in 2010. It's pleasure sharing interesting stuff related art, fashion, food and lifestyle. You can enjoy my 350+ DIYs on this blog. I also sell my handmade art work. Stay tuned to see more!