DIY
GlassPaint Jar Vase/Organizer Tutorial
I enjoy recycling & reusing stuff more than creating something with any new material, Reusing & restyling oldie things are just fun! And the interesting thing about it, you don't need to worry if the result is not so perfect.. as its recycling! So I always recommend to reuse, recycle & restyle small old thingies, which you usually throw away!
My today's sharing is also a recycle and reuse idea but in a beautiful way! as its summers going on, everyone is using different juices & drinks, here at home Tang orange flavor is mostly favorite of all. One day I saw an empty glass jar of Tang in our kitchen cabinets, So I thought why not to decorate it with some glass paints, as I have some glass paints in my crafty drawers which can may be dry soon.. So its better to use them..
So here it is what I have done! have a look..
GlassPaint Jar Vase/Organizer Tutorial
I design this plain transparent glass jar with glass paints of blue & green & then used led of gold color. I just done it freehand & now its fine! And its not bad as a flower vase or any organizer too..
Well matter here with me is a bit different, my mother think I am saving junk & trash, So I can only place these thingies at home corners at my own risk.. haha.. she dont dislike these, but she just think its not good to see these everywhere at home! haha. well if your mom don't allow you to place this jar as a flower vase at shelf, then you can happily place it in your crafty area as an organizer for paint brushes or any makeup brushes or may be for the other organizer for little crafty things..
For designing a transparent jar with glass paints, you will need to have a few things only, A jar, Glass Paint (any color of your choice) paint brush & a led tube with tip.
First I wash the jar & dry it totally! then I coat the green color first, which was too light shade, so I apply blue over it & then it was OK.. then Wait for an hour until it gets dry! then I took the golden led outliner & started designing on it freehand.
Be careful while applying the base color, I notice the surface was having tiny dots of it & they usually dont disappear after washing, so be sure to work carefully!
And the design is done! I put some circles, dots & lines & made it quickly with some fun! isn't it looking good now?
I also thought to put a candle inside it, the thing in my mind was the Moroccan lanterns once I saw somewhere, they look so fun & beautiful.. so may be I will transform this organizer as a lantern someday! haha..
Well right now this jar is my new paint brushes organizer, so cute & shiny! And for all these paint brushes you can see in this jar, I am thankful to Plaid-USA who sent these my way & I am enjoying the brushes every time!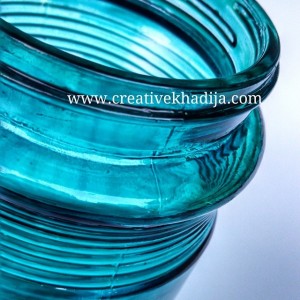 Here it is the sneak peek of what I share on my instagram gallery & my followers were curious to know what I have done!! haha
I hope you liked my today's post & if you are going to try this, be sure to send me your version for a chance to get featured at Creative Khadija.
You can see my other Glass Painting ideas & tutorials HERE & I hope you will like it too.
Have a great day!
Khadija ~