DIY
Empty Glass Bottle Recycling Creative Idea and Tutorial
Recycling and upcycling empty glass bottles is an interesting activity. To make our beautiful globe green, we need to recycle more. It is actually for our own good as well. I always try my best to reuse and decorate trash items. Every time I notice some reusable and upcyle-able bottle around, I like to design it. I have decorated many glass mason jars as well as soft drinks bottles. If you are a regular reader of my blog, you may already remember my recycling ideas. So today again I have a recycling idea for my dear readers. I am going to share an empty glass bottle recycling creative idea and tutorial. I hope you will enjoy it.
Empty Glass Bottle Recycling Creative Idea and Tutorial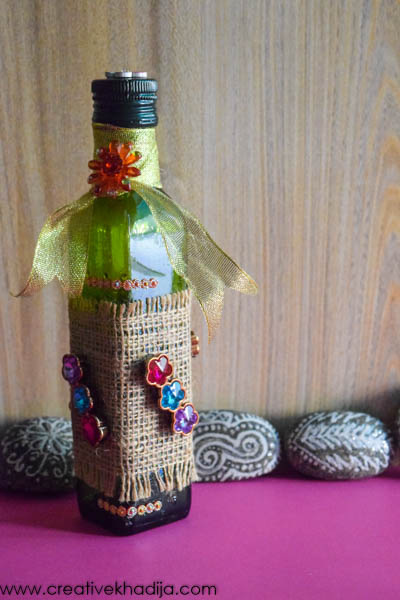 I saw this edible olive oil square glass bottle empty finally. I had my creative eye on it since when I saw this bottle (just like others having evil eye, I've got a creative eye lol) So when I saw this empty, I wash it, clean it and got it ready for some upcycling fun!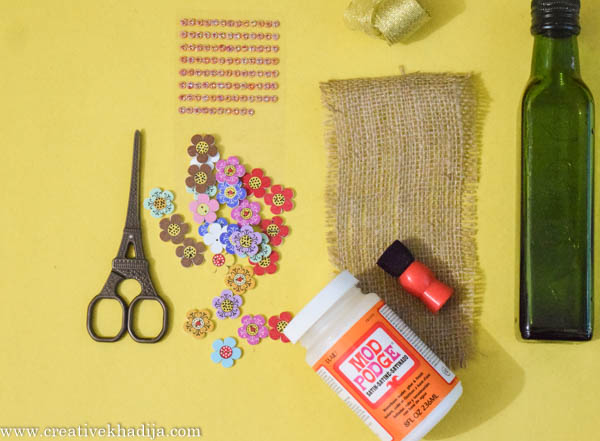 All of these supplies were already available in my craft stash. I bought nothing, but if you are a newbie crafter, you will need to have these supplies for decorating a bottle like this. You can also decorate with your available craft supplies as well.
Craft Supplies You Will Need:
Glass Bottle
Scissors
Burlap fabric
Hot glue gun
Mod Podge glue and foam brush. (you can use any other brush too)
Golden Ribbon, Rhinestones, buttons and plastic flower. You can select any from your available stash.
Empty Glass Bottle Recycling Creative Idea and Tutorial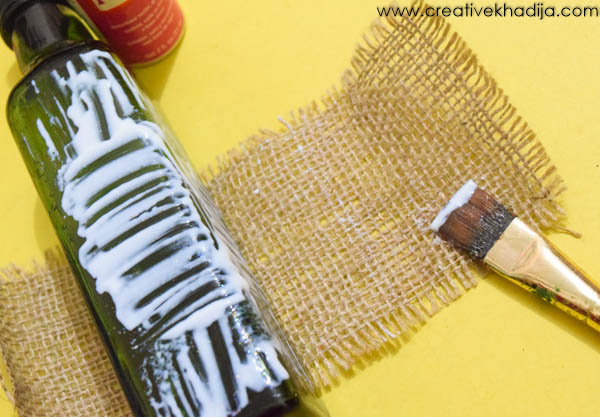 I am not using foam brush here, I use a regular brush as it's flat brush was fine for applying glue. Also I have used ModPodge sprinkle here which comes with glitter actually.
I cut a burlap fabric strip which will cover only the middle part of glass bottle. Pasted the strip on glass bottle with the help of glue.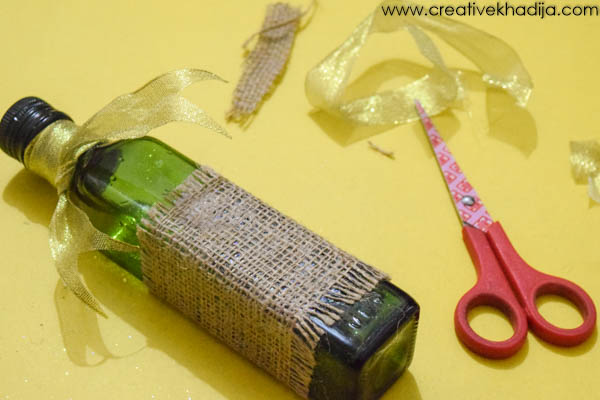 Let it fix for a moment. Then I knot a golden ribbon on the neck part of green bottle. Then I removed the extra glue from bottle surface.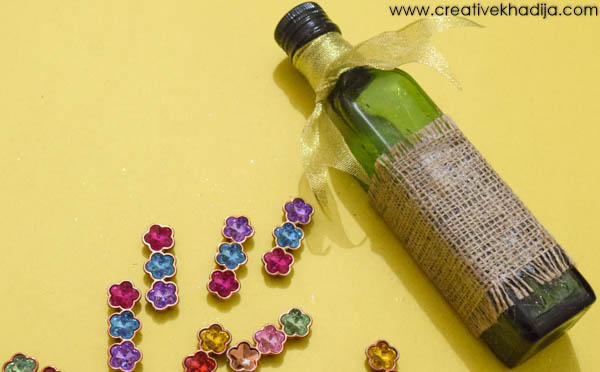 Let the glue dry so it will turn transparent. No white spots after that. Now with the help of hot glue gun I will paste the colorful rhinestones on the bottle.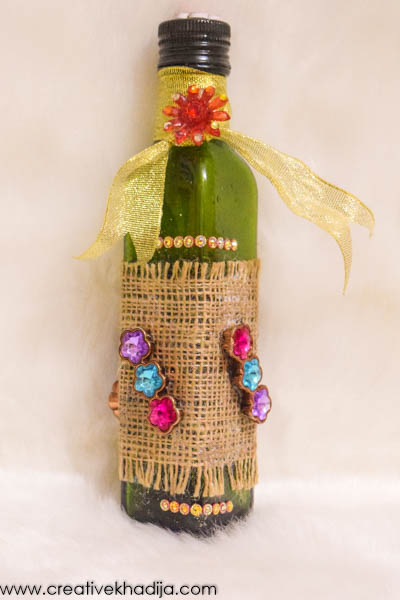 I've fixed one plastic flower on the top of golden ribbon knot. You can see some small sticky rhinestones too. It's ready now, just not completely dry actually. So be sure to let it dry!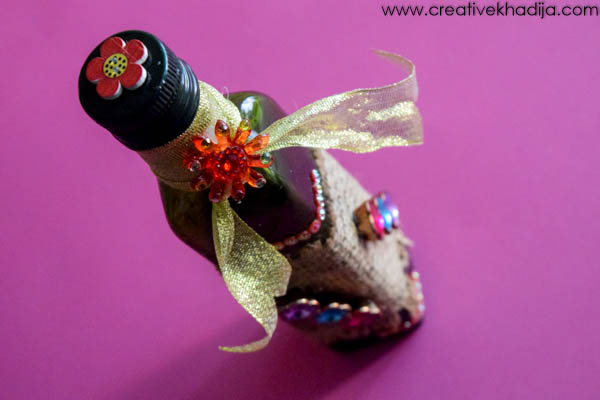 A button I have pasted on the bottle cap too.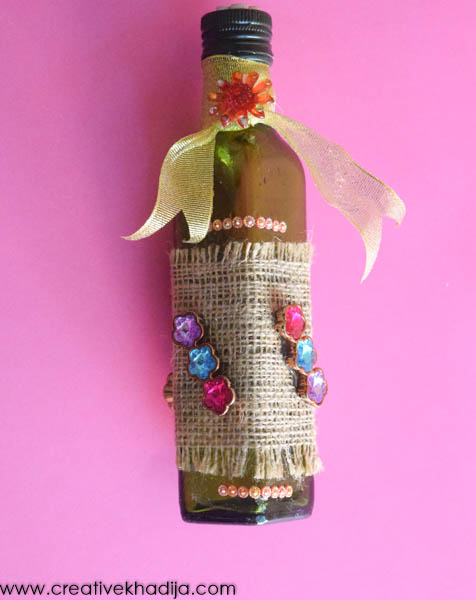 It's ready now. Looks good? at least it's not going to the garbage now. I am planning to keep it near my craftroom window. You can also remove the jar lid and put some flowers or stones in it. So many possibilities to spice up an empty bottle. Would you like to try any?
You can also have a look at some of my previous recycled bottles tutorials. I hope you will enjoy the archives too.
Empty Glass Bottle Recycling Creative Idea and Tutorials
Juice bottles decoration and recycling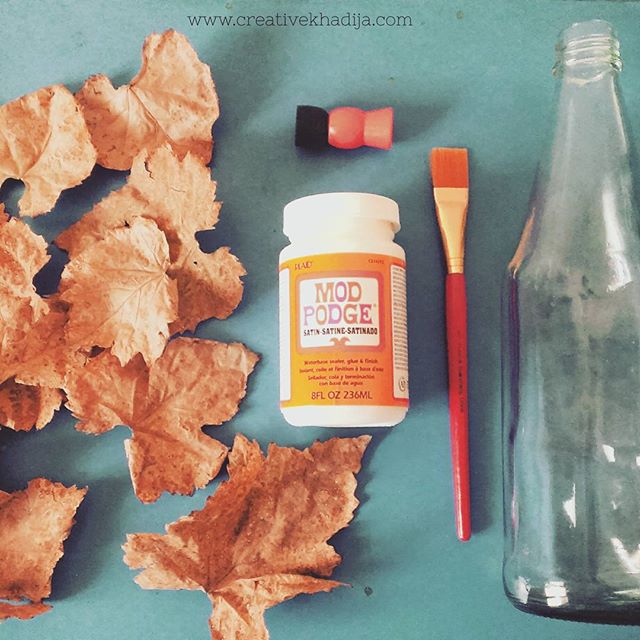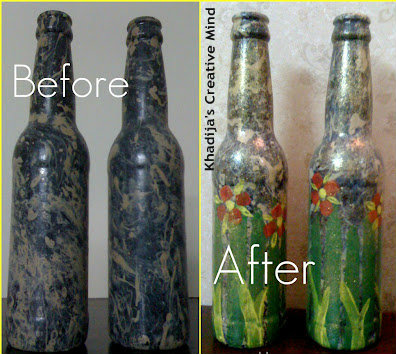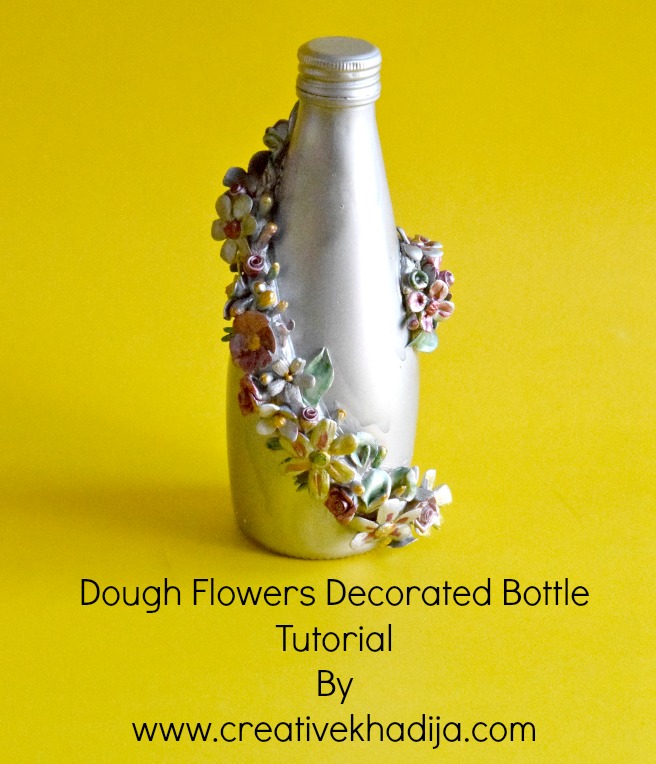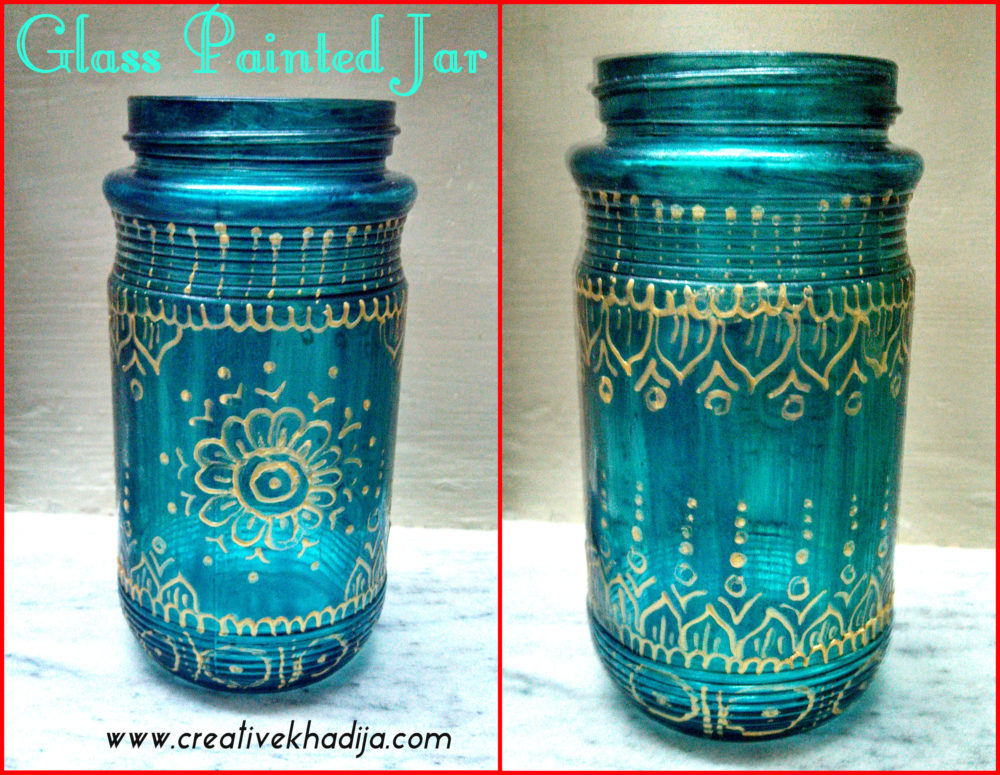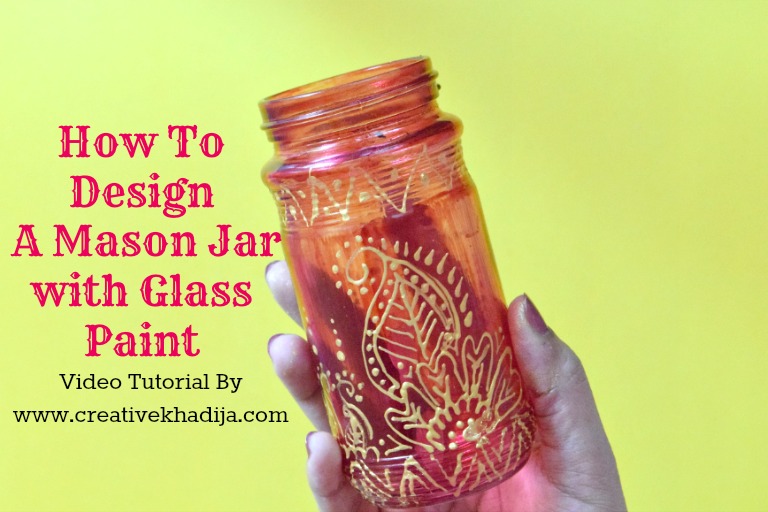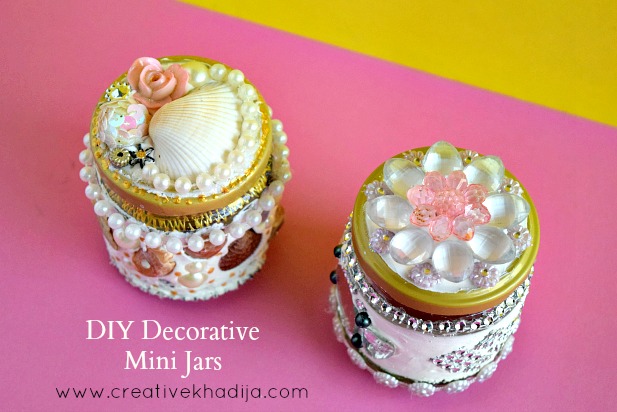 This fruit jam empty jars are now cute decorative accessory holders. DIY Mini Jars video tutorial. 
Aren't these empty glass bottle recycling creative ideas interesting? You can also decorate trash food jars in several ways! I hope my ideas will inspire you to try something. Go green and happy crafting. If you have any question, suggestion or idea, feel free to let me know. Looking forward to your feedback.
Be sure to share this blog post with others, use social sharing buttons on the sidebar.
Thank you
Khadija ~