My crafty corner is usually getting messy although I am always busy in arranging my crafty stuff! I have huge collection of my craft supplies which I am unable to fix in my cabinets, drawers & cupboards smartly!
I have made many storage solutions & containers in previous years for my crafty stuff specially, mostly are recycling & up-cycled containers, so here today I am sharing another storage solution container decorated with mod podge collage clay!
Decorate Accessory Container with Collage Clay
I decorate the plastic container with collage clay thick layer and then embellished it with flowers, beads, rhinestones and glitter. by the way it was a TP roll plastic container.
You will need to have:
Mod podge Collage Clay
Glitter
Mod Podge Sparkle
Decorative stuff for Embellishment
First I applied some glue on the surface of box/container, then Make a thick layer of collage clay over it. I use mod podge rubber spatula for applying the clay!
Sprinkle some glitter on the collage clay & then fix all the decorative stuff, I used fabric flower, pearls, beads, rhinestones etc.
Wait for 24 hours until it gets totally dry! then apply the mod podge because the sprinkled glitter will may be felling off, so Seal it & Mod Podge it.
Here I put my gift packing paper stash in container by rolling these. I use purple, blue and golden glitter for decorating this container. Its not looking so fine in the photo but it was more good looking at my craft table. I am so happy with the end result of this recycling!
As I am enjoying instagramming from last 3,4 years more than any other social network, So there I've shared this above image while working on this crafty creation & asked my followers"Guess what is this" mostly people think its Cake, others said butter, plastic of paris, oil colors, dough etc.. haha..So mystery disclosed today!
If the craft supplies are at their proper place, they will be more useful. As I have been shifted to my new craftroom, So these days I am setting up my new craft room..You know what..? I never think I have this much mess in the big cartons which I recently shifted in the room..Things are going more messy as I open the boxes one by one..my head is sticking there badly & don't know where time flies when I am sitting there! Anyways I will show you when its done!
Here are my other craft ideas with Collage Clay,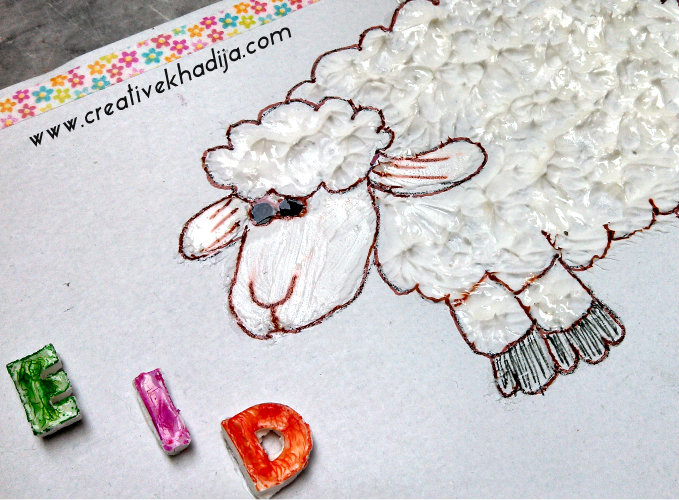 Eid Card Making
Headband Decoration
I hope you will like this idea & enjoyed the way I decorate this used container & made a new storage solution for my craft table. Make one for yours table & don't forget to show me your ideas via Emails & social networks by tagging #CreativeKhadija I always love seeing your creativity inspired by my work & tutorials. So keep sharing :)
Have a good day!
Khadija