DIY
DIY Glitter Key-Ring Idea
Glitter crafts are always among my favorites, I recently work on another glitter craft & it was easy & fun! You may remember when I got some Podgable shapes from Mod Podge, There was a transparent plastic Key too with some different designs. So I made a keyring with this pretty Key.. Have a look how I design this glitter keyring,
DIY Glitter Key-Ring Idea
Have you ever seen a Key in a Key? Okay..if no.. then check here today..haha
I made this Key-Keychain for my new craftroom door-lock. This might not be relevant hanging with any door, but it's okay with a craftroom door!
Before starting any project, I seriously not sure how I will be ending up with..But I were having some shimmery look in my mind though..That's the reason you may notice, my -You will need to have- list is usually different from the picture I show..let's see what's up today!
You will need to have :
Glitter Glue
Acrylic Paint (Black)
Paint Brush
Podgeable Key Shape
Mod Podge Dimensional Magic
I use Red glitter glue by Plaid, Simply apply the glue on Key.
Golden glitter glue combination is not bad..
I apply the glitter glue at one side of the Key & then waited for 15 minutes until it gets dry a little, then I painted the other side & hold it for a while..
Hang the key as I did. it will take more than half an hour, so it would be better hanging it this way! but Dont hang the key when its wet, otherwise the glue will be dripping towards bottom & will disturb the design!
After a couple hours, I paint it with black acrylic & when it went dry totally. I use dots & lines design.
I use a layer of Mod Podge DM on the key! So now its transparent and fine!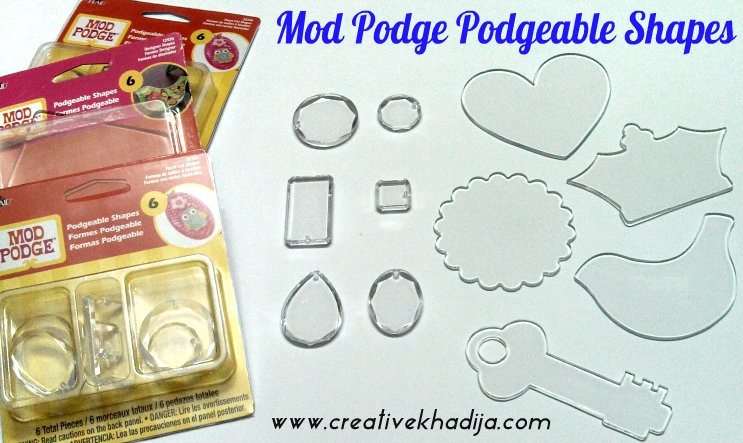 Here are the podgable shapes I have got from USA, Amy sent me these once :)
I have used one from above podgables & made Eiffel Tower Pendant.
So many tutorials & so much fun I have shared, when I look at my blog archives, it always makes me smile & happy to have a look.. Alhamdulillah :) I am glad my dear readers are enjoying my tutorials a lot. keep enjoying & giving your feedback! I am so happy when I see my work featured and published in magazines & blogland. Alhamdulillah(Thanks God) for every success & fun!
Have a great day!
Khadija ~