DIY
Clutch Refashion Ideas
I like collecting handbags & clutches, I also like reusing my old handbags with some redesigning. Colorful and fashionable clutches are available everywhere, but what to do if there is any simple or plain clutch..? definitely.. refashion it with some DIY fun! I design a plain clutch with a tiny effort, will take hardly 5 minutes & Done!
Clutch Refashion Ideas
It was looking so simple fabric clutch but I match some pretty stuff with it from my crafty stash & made it pretty in 5 minutes only! I want to show you how you can spice up an average clutch with a little bit embellishment.
There in my crafty stash, I got a marble button, beads patch, a beaded tassel and a glitter fabric flower. I place these on clutch one by one & checked how is it looking & which one is suiting better with the color.
Design a Clutch
Here it is the Before image..now see below,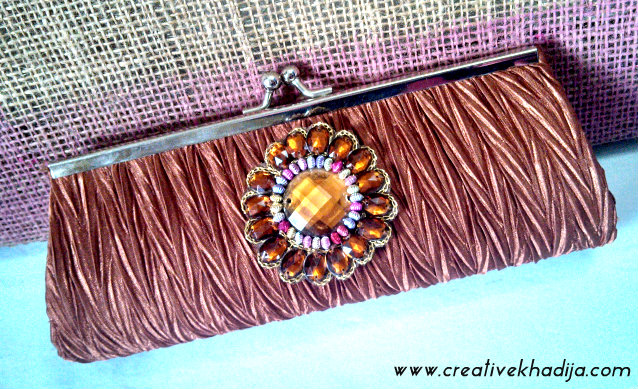 And its Done! how is it??
I fix these tassel at a side but as they were heavy..So I skipped this.
Here is the Glitter fabric flower, it was not easy to paste or stitch it over the clutch, So this idea was also ignored then.
Finally I fix the bead & rhinestones patch with glue gun! Patch was thick & not easy to set it properly over the clutch. but I managed to do it with a little bit effort. I hope you liked the easy & simple idea. I am always looking for decorating simple things with a little touch of creativity!
You can see my other Purse & Clutch refashion ideas as well. Let's design & reuse ordinary stuff with your creativity! I bet you will be loving your DoItYourself ideas. Don't forget to show me if you have done something like this :) would love to see your ideas.
Have a great day!
Khadija