Hello Everyone! Holy month of Ramadan is going great here Alhamdulillah, although weather is going hot day by day! but having many blessings too with loads of happiness & goodness Ma'shaAllah. I hope my Muslim readers all over the world are also having a blessed and happy month of holy Ramadan!
My today's post is filled with some really interesting goodies which I received from one of my bestie Amy Anderson.. is there anyone who is not familiar with her Mod Podg-ED Website which is rocking from years..Yeah Amy of Mod Podge Rocks. She is the one who is giving me Mod-Podge Dose from years..I still remember the very first starter kit along with the shirt ..( so what if that was bigger in size..!)
So here today I am going to show you about what I recently recieved from USA.  Have a look at the Review..
Mod Podge Gifts From USA
So many goodies in one crafty box! Yay!! the packing of products was so neat and the products are also pretty fine!
I bet you are reading about Mod podge collage clay on blogs these days, I were also checking & curious to know more about it.. so here it is.. I can't wait to try something with these. there are different nozzles of different designs..Fun!
Clay is in different colors too..very smooth and fine!
Here is a fun task to do.. Fill in the Blanks.. yeah! these metal blanks are waiting for me to fill these! can't wait to try something fun with these too..
Here it is the pretty pouch filled with some basic goodies which are necessary for a mod podger or any crafter, Scissors, applicators, Brushes & scale/sand paper stick..and the pretty pink silk pouch bag!
And here it is my most favorite stuff, Mod Melts.. Yeah..fun way to create something cool! easy, quick and ready! The user kit is also helping, in this kit you can see a placing rubber material mat and accessories.. everything is helping while working with glue gun! no more finger burns or the other mess with glue strings.. yahoo..
one thing more, These mod melts tubes are thinner as compared to regular glue gun silicon tubes ( available in Pakistan) So when I got these and notice that they will not be working with my regular glue gun which is wider than this one size.. So here I use my Creative Mind & take help with a flame lighter.. and yeah I have done it.. it was working fine! no pain.. no gain.. right? well I will show you my first try/experiment with mod melts but later.. that was really cool..
Here are some pretty templates of some shapes and alphabets too, these cards templates will be really helping in different kind of crafts..they will be helping me a lot in my crafting and as my sister-in law is interested in sewing,(she is having a little baby girl) so I bet she will be enjoying these in her sewing experiments too.. sharing is caring! isn't it..?
Here are some beautiful stencils & stickers.. OMG how cool..
Different types and shapes of paint brushes are always fascinating me more, and here are the cute brushes from Plaid crafts..for decoupage and for dodge..the foamic brushes are so fine! would love to work with these..
Decoupaging in vintage style is interesting and here I have got these books filled with many sheets and designs for decoupage.. I like the different landmarks and buildings images.. the podgeable papers are cute.
So here is a sneak peek of what I have in my mind about using these two things, podgeble papers with transparent Shapes.. charms.
These podgeable shapes can be used for accessory making as well as random crafting, so many ideas and pretty shapes! waoo
Mod Podge is an all time favorite craft glue, transparent and smooth.. I have got some in big bottles this time..along with some Dimensional Magic and some glitter.. and seriously I have a LOVE STORY with glitter.. shhh.. don't tell anyone..haha.. I will be disclosing it by myself.. yeah.. I love my hands even more when they are messy with glitter & sparkle while crafting! its in my nature I guess.. as the meaning of my name ( KIRAN ) is Shimmer/Sparkle & rays of hope/shine.. So I bet I am hopeful/shiny & sparkly  just because of this reason! hahaha.. ok..okk.. so much rambling now!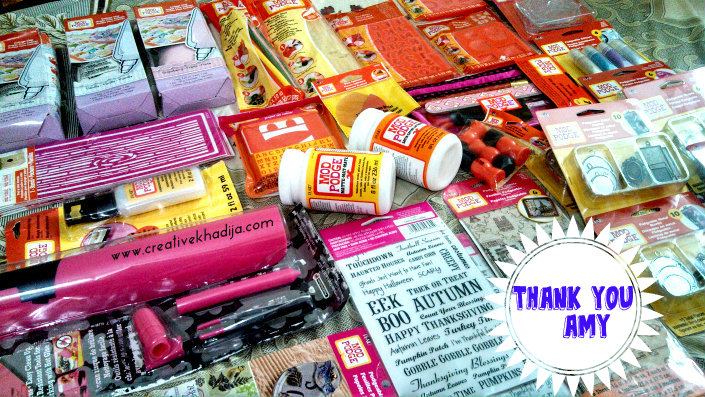 A very BIG Thank you to my dear friend Amy who sent me these gifts from USA, I know its not easy to ship these many things with weight and pricey items.. but She is really sweet and helping in sharing these fine formulas of Mod podge and Plaid crafts with me. Lucky me to get these awesomeness in hand as a gift, so many of my readers are always asking me about the availability of mod podge glues and crafts in Pakistan but sorry girls, Mod podge is not yet available here in Pakistan.. I have talk to Amy/Plaid about it & I hope they will be spreading it here in Pakistan for my Pakistani crafters..
These craft supplies are so fun! I would like to create with these on & off & would love to share my reviews! I hope you will be enjoying my up coming crafts with mod podge.
You can see all of my previous Mod Podge Creations & Tutorials HERE
Have a great day Friends..
Khadija