Eid Mubarak to all the Muslim Ummah all over the world. Alhamdulillah Ramadan month went awesome, Time flies seriously! The month passed so quickly & Finally Eid day is here. I grab some time today specially for sharing the beautiful Henna-Mehndi designs on my hands.. So have a look at my palms & hands filled with mehndi tattoo. I hope you will like the designs.
My dear friend applied this henna tattoo on my hands, I usually apply henna at my one hand mostly, but this time my both hands are filled with beautiful tattos of henna-mehndi.
Eid Mubarak & my Henna-Mehndi Designs
Mehndi Designs for Eid 2015
Chaand raat Mehndi designing
Henna tattoo color on my hand after washing the henna paste.
Mehndi design!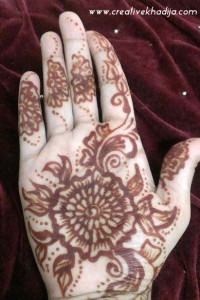 My big hand..haha :p but nice color and design.. isn't it?
I hope you enjoyed my random update of henna-mehndi tattoo designing. My Eid day spent too well Alhamdulillah. one of the best Eid of my life so far. I enjoyed a lot with my wonderful family and amazing friends. Life is all about living in these wonderful moments & enjoying to the fullest :D Alhamdulillah I am having great time by the grace of Allah Almighty! Even more optimistic about life as well :)
See some more designs here!
Have a great day everyone! enjoy Eid day with your precious family & friends.
Thanks!
Khadija ~