10 Creative & Arty Gifts For Children This Christmas
With so many children that still love making things themselves, be it making things from scratch or building items that have already been partly made, I thought it would be a great idea to show you my favorites.
It's great for children in that they gain a sense of achievement, confidence in their own ability and most importantly they have fun.
My friend has twins and the little boy is amazing at puzzles and reading, whereas the other twin struggles in these areas, but she is amazing at crafts, drawing and writing. We all are different and it's good to embrace these differences with a variety of toys.
I have picked a number of items that are great for children this Christmas for a number of reasons. They help with children's creativity, dexterity, and many of the items are environmentally friendly, which if explained to child is another great area for them to learn about.
Mood board Of Creative & Arty Gifts For Children This Christmas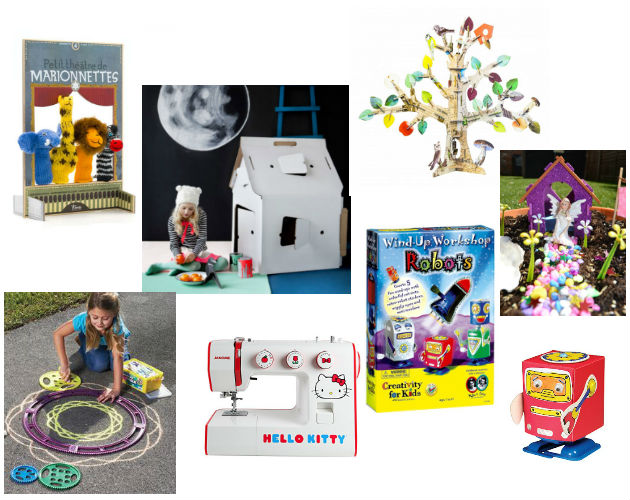 My three favorite from the mood board image above are the child's sewing machine by Janome Sewing Machine, as not only is it fun, but it is a great skill for both boys and girls to learn.
My second choice would be the Casa Cabana White play house made from recycled, biodegradable cardboard found here, which would not stay white with our children – I would encourage them to decorate it by purchasing paints, crayons and items to stick on the outside and inside – if they so choose!
My third favorite is the Fairy Garden that enables children to create a magical indoor fairy garden. If you'd like to find out more, I've also managed to find a great review of the Fairy Garden here. Plus if you're up for the challenge there are many tutorials on how to make your own Fairy items on Pinterest.
The Totem City has been awarded the Best New Products award in 2008, and I can see why.
It's no ordinary model, as it fits together like a puzzle but in 3D, and each piece is printed on both sides with characters, swords, secret symbols and not forgetting dragons!
This one toy can be made into four styles and I bet with a good imagination it can be made into items of your child's choice.
For those who like to choose environmentally friendly gifts, the Totem City is made from recycled & biodegradable cardboard.
Meccano 'Build Your Own Robot' G15 KS

On a different level is the new Meccano 'Build Your Own Robot'. You may think it is a big leap to place it under crafts and art, but Meccano is the art of building. The definition of craft is: An activity involving skill in making things by hand. Meccano is a great item to gain children's confidence in making things.
Just because the model construction kit isn't being made into a train, crane or car doesn't mean it isn't still Meccano. It's Meccano for the 21st century!
My partner often states that if you want children to feel comfortable with computers, programing and engineering, start them young, although I guess that could be said for many skills.
This is definitely an exciting way to encourage children, as how great would it be to build your own robot that follows instructions and tells jokes!
P.S This post may contain Affiliates links.