Let's upcycle the clothes you can't bare to throw away. I love fashion, so shopping and playing around with clothes and accessories is a big part of my life, but every so often it is good to have a wardrobe clear out and spring clean.
You always come across some hidden gems that you had forgotten about – and then there's the things which have never worked, but you just can't bring yourself to part with. Maybe it's a beautiful printed top, bought in a bazaar in a far flung, exotic country (that on closer inspection, is totally inappropriate now that you are home) – or how about that fabulous vintage dress that's unfortunately made from a cloth so hot that it could make you faint!
But even if you won't wear it, can you really just throw it out..?  NO!  Most garments can be reworked or reused in some way, rather than going to landfill; give it to a friend, cut out the best part of the print and put it in a picture frame, cut it up for dish cloths, or make some of Khadija's beautiful cards or make patchwork which is super on-trend at the moment.
So, after my own Spring clean, I have a pretty bunch of cast offs…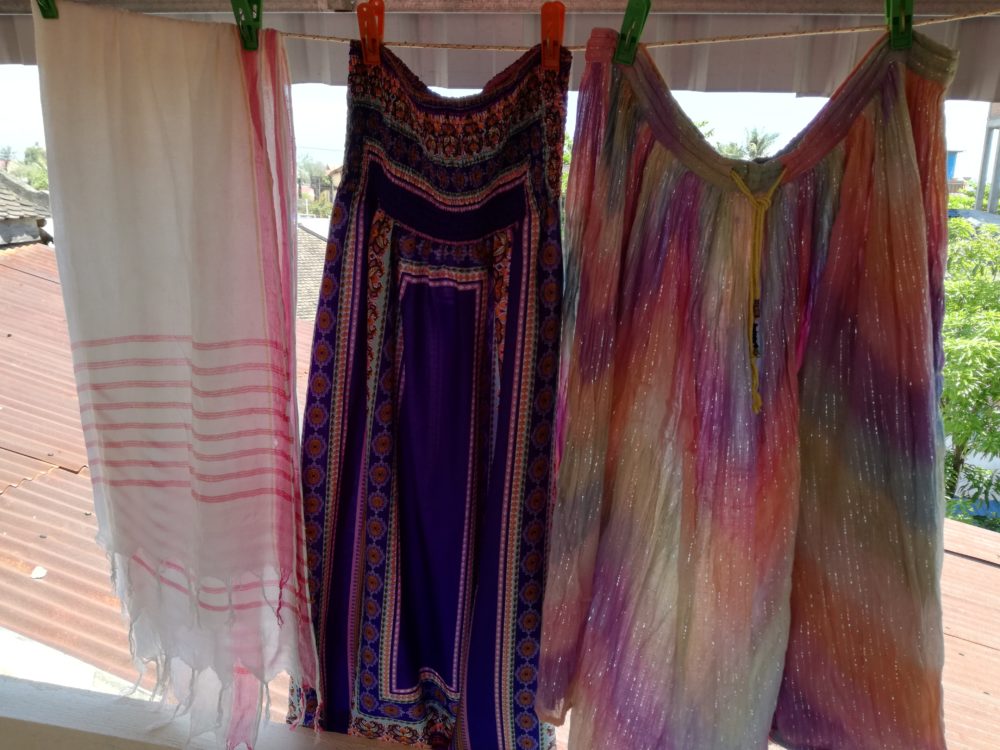 A rainbow skirt, which I will give to my friend, a printed silk maxi dress that I can transform into a T-shirt and a skirt, a designer dress which I can sell, a shirt that I never wear (I made it short sleeved and transformed the sleeve into swishy tassel earrings, and this white sarong, which I'm going to make into an easy peasy shirt dress today.
Simple shirt dress pattern
A sarong is perfect for this project as it is already hemmed and is already the perfect length, but you could use almost any fabric that has some drape – crepe would be beautiful for winter, and silk would be fabulous for any time of course!
You will need
1 yard of Fabric – or approx 72" / 38" deep
(Or to make the same shape shirt you can use fabric just 22" deep)
Pins
Scissors
Needle and thread (or sewing machine)
Tape measure or ruler
A belt or ribbon to accessorize
 Directions
Lay the fabric out on your table with the hem facing down.
Fold the fabric in from the top left and do the same on the right, leaving 10 inches of the fabric in the center for the neck and pin both 'shoulders'.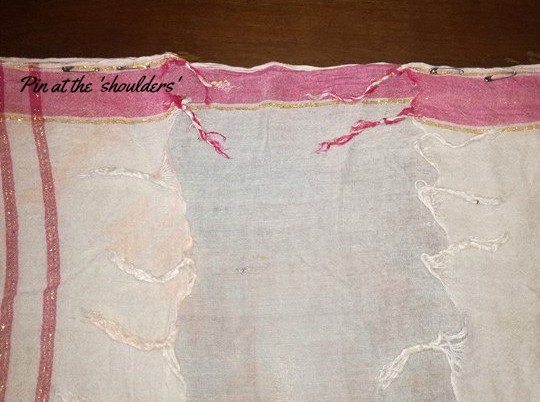 Stitch 3 inches at each shoulder.
Turn it the right way out.
And that's really all you have to do!!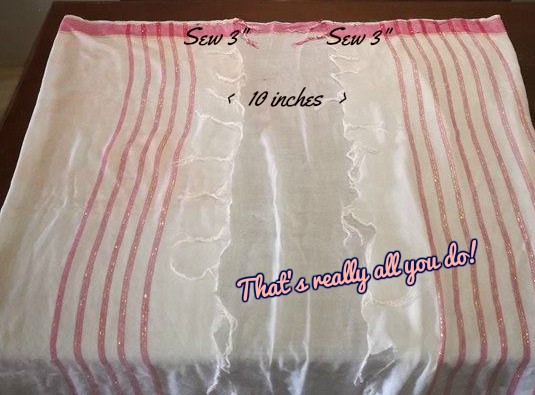 Now you can wear it in a number of ways…
Hippy style, loose over jeans and a tank top
Belted on the hips, or waist as a dress
Grecian style, back to front and loose at the back
Knotted at the waist as a top – it works back to front style too!
This is a guest post submitted by Gilly Guigley, Who is a freelance writer and contributor to https://www.easyprices.com/
P.S – This post contains sponsored link, Thank you for your support.