Getting your first sewing machine was probably a very exciting experience, but even for experienced sewers, getting that new model with all the new features is still a enjoyable time.  There are many great brands of reliable sewing machines to choose from starting with the basic machine to the fully computerized models.  You can also get specialized machines for embroidery and surging. Purchasing the best model can be a bit of a challenge because there are so many brands, models and features to choose from, but I'd recommend you stick with the tried and true brands and read lots of sewing machine reviews online.
Here are six popular sewing machine brands.
            Janome:
Janome is on the cutting edge integrating computers into the sewing machine.  Janome was the first company to develop a computerized sewing machine for the home back in 1979.  They were also the first to offer a professional emboridery machine for the home sewer in 1990.  There new state of the art model offers a real time connection to a PC to edit embroidery designs and stitch combinations.  Of course Janome has a full line of sewing machines for the beginner through to the expert level sewer.
            Brother:
Brother makes many many products other than sewing machines including fax machines, printers and computers.  Brother sewing machines are affordable and reliable and come with the latest features.  Brother also makes, embroidery, quilting and surging machines.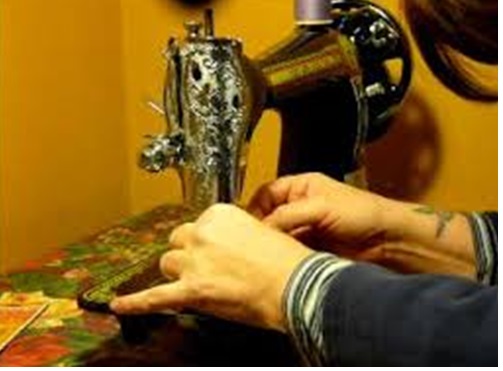 Singer:
The first name I think of when I think of sewing machines is Singer and rightfully so, Singer is the most popular sewing machine brand.  Singer makes affordable, stylish machines for the home hobbyist.  Like most brands they also have computerized models and even one that works with the new Windows 8 operating system.
            Pfaff:
My mother used a Pfaff when I was growing up and that's the machine I learned on.  She still uses it to this day.  Pfaffs always seem very heavy duty to me and precision made.  Pfaff is made in Germany and they also make embroidery and quilting machines for both professional and hobbyist sewers.
            Bernina:
Bernina sewing machines are very contemporary and cutting edge.  They are known for high quality precision machines.  Bernina is a Swiss company and they also manufacture embroidery, sergers, overlocker machines and produce sewing software.  Berninas tend to be on the expensive side, but you do get a quality machine.
            Husqvarna Viking:
Huqvarna started out as a gun factory, but when orders for rifles started to fall in the late 1800's, they started manufacturing sewing machines.  Husqvarna is a Swedish company and like Bernina they make cutting edge, contemporary machines.  They have a full model line that will appeal to the beginner all the way to the professional.  The Husqvarna is also a higher end machine.
            Conclusion:
This is a great time to be in the market for a sewing machine, there are so many models to choose from with so many great features.  I tend to lean toward the models with all the electronics, but I'm kind of an electronics freak, you may just want a model to get the job done.  In any case, you can visit Sewing Machine Review to read reviews and recommendations for many models of sewing machines.
This is a paid guest post submitted by the writer. Thank you for your support.