Guest Post
First Birthday Gifts They Will Remember
The first birthday party has become a major milestone in the life of every child (and his or her parents). Celebrating when a child reaches one year is a popular, longstanding tradition in many cultures including Japan and Latin America. Now the rest of the world has caught up with this popular event. Since the first birthday is such a high-profile event, shopping for an appropriate gift is that much more challenging. While most people will stick with gifts of toys or clothes, one-year old children are at a key stage in development that calls for appropriate gifts that can help them as they grow. Here are the top gift ideas to make sure the excitement of your gift lasts long after the big day.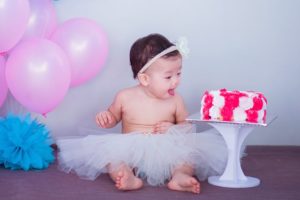 Learning Tools
By the time children reach 12 months, they are beginning to recognize the world around them and develop key skills. Help promote their exploration of the world. Items with the child's name can be a great keepsake and provide a chance for parents to begin introducing words and colours. Try personalised bibs. Children at this age are still lacking the coordination to neatly feed themselves so bandana-style bibs can add a fun, age-appropriate flare while making clean-up time easier.
Interactive toys that encourage stacking and sorting skills are other great options. As children learn to recognize colours, shapes, and sizes, learning toys can give kids a great chance to develop their skills, in a quieter, safer way that planning with kitchen pots and pans.
Art
One of the best ways for kids to learn colours and develop spatial skills is to try creating their own art. Giving children art supplies is a wonderful way to encourage their love of the arts at an early age. To spare the parents excessive clean-up, there are markers that only colour on special surfaces so they won't leave stains. Modelling clay designed for little hands is made to be stain-resistant without drying out too easily.
Consider giving a play pad along with the art supplies or an apron. This can help keep the art supplies in a controlled area and off clothes and furnishings. A box of supplies can make it easier for children to remain organized. Don't be afraid to buy art supplies that the child may need to grow into. Make sure your gifts are safe for young children but allow them time, as they mature, to develop new skills become comfortable with different types of art supplies.
Music
At this age, children's brains are developing many skills, including musical abilities. Introducing them to music at this age can help them at this critical time. While toys that play musical tunes, they aren't challenging to children and don't provide great opportunities for development. Look, instead, for musical instruments that allow children to create their own music and own tunes. Keep in mind that for the sanity of the parents, electronic devices that play music need to have a volume control. Quality is also an important consideration. Often because they are for children, people make the mistake of purchasing cheap quality musical instruments, assuming they children will break them soon or become bored. Unfortunately, these inexpensive toys tend to be out of tune and lack the proper tonal range. In order to develop an ear for music, children really need to be exposed to musical devices that are in tune, preferable with the notes labelled so they can learn the musical scales as they grow older.
P.S – This post contains affiliates links, Thank you for your support.