Guest Post
Do You Know Your Study Space Needs to be Revamped?
Choosing to pursue your library science degree means you are opening a wide variety of career doors in your future. You'll be able to take that degree and work in such areas as data analysis and management, competitive intelligence, and even information architecture. The problem is that first you need to graduate the program and actually earn that degree.
Having Troubles with Your Master of Information Degree Program – Maybe Your Study Space Needs to be Revamped?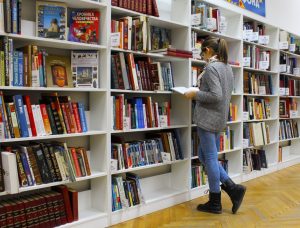 If you have decided that pursuing your masters of library science online through a school such as Rutgers Online was the best choice for you, then you probably were looking for flexibility, the ability to work on your own schedule and get the program done as fast as possible. So, what happens if you're running into problems? What if you're not getting your assignments done on time, or you're not getting the marks you had hoped for? Did you ever stop to think about your study space? Is it really an ideal set-up for learning?
Here we'll take a look at how to create a perfect study space that encourages learning, and helps you to do the very best you can.
Set Up a Dedicated Space
While it may seem like sprawling your notes and laptop out on the kitchen table counts as a "study space", when you're working on an online degree this just isn't going to cut it. You need to be able to have a dedicated study space that allows you to sit down comfortably, spread out as needed, and be free of distractions such as the TV and common rooms of the house.
Because not everyone has a spare room that they can convert into a study, it may be necessary to get a little creative in the placement. Things such as closets, pantries, and alcoves can be converted into the ideal study space.If possible, try to pick a spot that gets at least some natural light, as this can help to perk you up. Keep in mind that you may need to build your own "desk" for these types of spaces since they won't likely fit a traditional sized one.



Stock it With the Necessary Items
The next step should be to stock it with the necessary study items. This means notepads, any books you're using in your course, pencils, erasers, your laptop, and some sort of task lighting so you can work in the space no matter the time of day/night.
Include Greenery
Here's a tip that many people look right past, but in reality it can make a huge difference to your health and mood. Did you know that having houseplants help to improve the quality of the air in your house? Why not add a small houseplant to your desk such as a cacti or aloe plant. They are low maintenance and they will be working to keep the air clean.
A Better Space to Study Means More Productive Studying
By making some small changes to the area in which you study, you will be helping to make yourself that much more productive which will reflect in your marks. A trend has been developed among the students to obtain A-Level tuition for good result.
P.S- This submitted guest post contains sponsored links. Thank you for your support.