Body & Skin Care
17+ Essential Cosmetics to Create Basic Makeup Look
I have come up with a list of products that are useful in creating easy makeup looks. These are the beauty essentials every girl should own. Continue reading for 17+ Essential Cosmetics to Create Basic Makeup Look.
A basic makeup look that makes you feel confident is a necessity in today's world. Just like you won't go out without combing your hair or brushing your teeth, I believe it's important to put on some makeup before leaving the house. It is taboo that makeup is magic to transform your look and make you look like someone you are not. However, you can be light-handed with your products and look representable. I mean even skin tone, no dark circles, blushed cheeks, thick lashes, and rosy lips never hurt anyone. So, I have come up with a list of products that are useful in creating easy makeup looks. These are the beauty essentials every girl should own. Continue reading for 17+ Essential Cosmetics to Create Basic Makeup Look.
Essential Cosmetics to Create Basic Makeup Look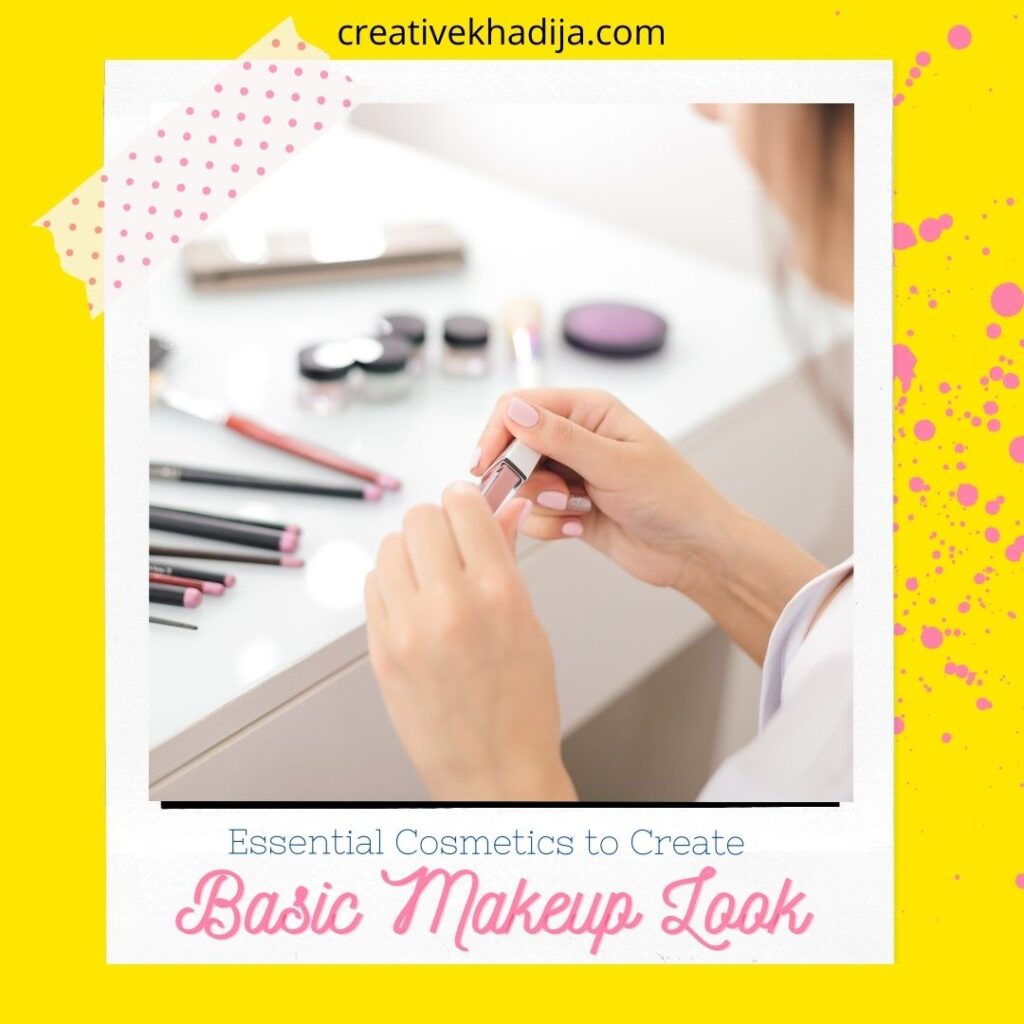 Face Makeup Products for Basic Makeup Look
Starting with eye makeup or face makeup is a personal choice. For me, face makeup is always first. Here are some makeup products for the face that you absolutely need for a flawless basic makeup look.
Primer | to cover open pores
Primer is usually the first step of makeup application that ensures your makeup looks better and stays longer. Maybelline and NYX make some of the best primers for different skin issues. So, whether pores are your problem or an oily T Zone, you can find great affordable options.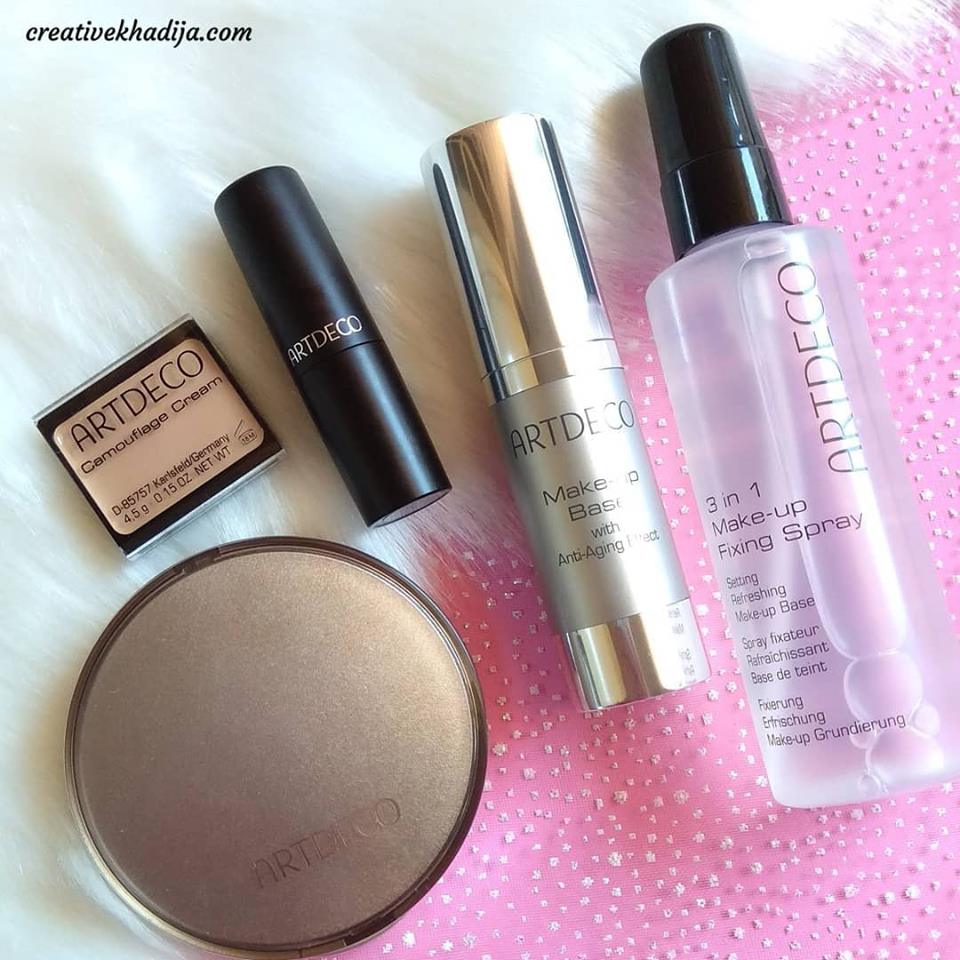 Foundation
You must be still following the myths of how BB creams are the god-sent beauty product. However, BB creams are simply useless. What you really need to invest in is a good foundation. With a foundation, you can use it as little or as much as you want. Mix in a moisturizer to lighten the coverage of the foundation.
Make sure your foundation is an exact match to your skin tone and is designed for your skin type. Maybelline makes one of the best foundations for different skin types. You can get a foundation from the Maybelline Fit Me range for daily wear or occasion wear.
Concealer
Foundation is going to cover all your imperfections. However, for heavy-duty coverage like dark circles and acne, you need a concealer. Maybelline Instant Age Rewind Concealer is a budget-friendly product to create a simple makeup look. Dab it on the problematic area and blend it away with a sponge or a brush.
Powder
You might have heard the myth that powder is only designed for oily skin. No matter what skin type you have, the powder is essential for setting makeup. You won't want your foundation or concealer to crease or settle in your fine lines. Use a product like Maybelline Fit Me powder to set your makeup and avoid oily skin.
Makeup Setting Spray
Whether you are going for easy makeup looks or something fancy, makeup setting spray is a must. It will not only elongate the life of your makeup but will also avoid the powdery texture that you might have after makeup. NYX Matte Finish Setting Spray is a good option for oily skin, whereas, for dry skin gals, MAC Prep and Prime Fix Plus is a miracle spray.
Beauty Essentials for Perfect Cheeks
Once you are done with your face makeup and the base is ready. The next step is to concentrate on the cheeks. Cheeks are important whether you want a basic makeup look or something glamorous. Here are some essentials cheek products you should have.
Contour
You are not going to have chiseled cheeks and a prominent jawline like Angeline Jolie without a little effort. Contouring is something that is going to define your face and make it look slimmer. You can use a cream contour or a powder contour for this purpose. E.L.F Cream Contour Palette has three perfect brown shades for an excellent contouring job.
Bronzer
Once you are done with the foundation, your face might look a little dull. Bronzer is what is going to give the shadows to your face. With a warmed-up look, your face will look much healthier. For a soft bronzed look, try the L'Oreal Paris True Match Lumi Bronze It Bronzer.
Blush
When you are discussing the cheeks, it is impossible to forget the blush that brings the rosiness back to your face. There are a whole variety of cream and powder blush products that you can get from different brands. One of the best options for blushed cheeks is E.L.F Jelly Pop Flush Blush and E.L.F Blush palette.
Highlighter
Highlighting your face and giving it dimensions is a step you can't miss. Milani Cosmetics Baked Luminous Glow Highlighters are best for a basic makeup look or glammed easy makeup looks.
Basic Makeup Look Products for Eyes
Eye products are the most important ones as they can completely reform your look. Since eyes are the most sensitive part of your body, it is important to invest in quality beauty essentials for the eyes.
Eyebrow Products
When it comes to designing eyebrow products, Anastasia Beverly Hills and Benefit are the brands that are forerunners in the game. There are pomades, gels, powders, and pencils that you can use to fill in your brows. Usually, powders are best for more natural-looking brows.
Eyeshadow
When it comes to eyeshadows, there are hundreds and thousands of options to choose from. Several brands make the most pigmented eyeshadow palettes with different color schemes. From shimmers to matters, glitters to cream eyeshadows, the textures are unlimited.
Mascara
Mascaras are designed to give the desired length and volume to your lashes. Maybelline makes some of the best affordable mascaras. It is important for easy makeup looks and transforms your eye makeup to the next level.
Eyeliner
With eyes looking like the feline creatures was a trend that arrived to never leave. Eyeliner defines your eyes and gives your eye makeup perfection. Available in gel and liquid form, it is important to go with a long-lasting waterproof eyeliner. For a good budget buy, try out the Massarat Misbah Perfect Wear Eyeliner. It is ideal for sleek defined eyeliner looks.
Eye Pencil
Eye pencils are a magical product that gets less credit than they deserve. From soft eyeliner looks to lining your water line, eye pencils are great. You can also play with colors and use colored eye pencils for simple makeup looks that are also funky.
White Eye Pencil
Ever dreamt of having big eyes like your favorite anime character? The white eye pencils are an amazing product to achieve your dreams. Use a white eye pencil in your waterline to make your eyes look big. NYX Faux Whites is a great pencil to achieve the look.
False Eye Lashes
False eyelashes instantly amp the look. Making your eyes look romantic and appealing. If you are planning to add fake eyelashes to your beauty bag to easily create a basic makeup look for a special occasion. Try the Ardell falsies. The brand makes a great selection of false eyelashes that are beginner-friendly and natural-looking as well.
Beauty Products for Lips
Even a basic makeup look requires the use of a lip product. Depending on what type of formula and textures you prefer. There are hundreds of brands out there that offer lip products that you would like.
If you love lip balms, check 8 Best DIY Lip Balms in 10 Minutes.
Lip Liners
Lip liners are not only important to outline your lips and give them a shape. They also make sure your lipstick doesn't bleed. Lip liners increase the longevity of your other lip products. They are also suitable for overlining and making your lips appear bigger. Rimmel lip liners are smooth, pocket-friendly, and very long-lasting.
Lipsticks
There are so many different formulas of lipsticks available with different finishes. You can choose from cream formulas, liquid lipsticks, or the regular twist style solid lipsticks. When it comes to making the best lipsticks, Wet n Wild makes some of the best available at drugstore prices.
Lip Gloss
If you prefer shimmery or glossier lips, lip gloss is the best option. NYX has a wide variety and formulas of lip glosses that you can select from for easy makeup looks.
Note: These images are sourced from Google, The credit for the images goes to their respective owners.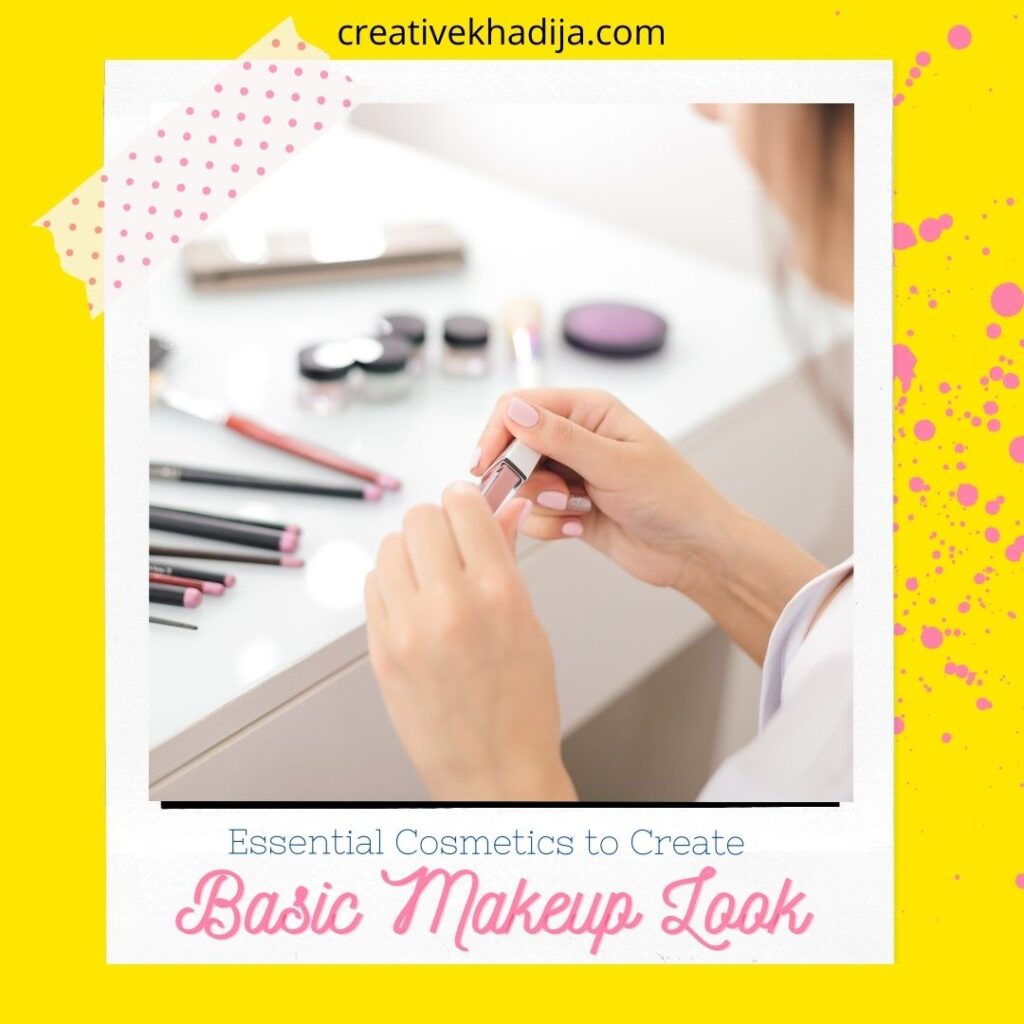 I hope you enjoyed reading today's article on 17+ Essential Cosmetics to Create Basic Makeup Look. Let me know what is the essential beauty product for you that you always have in your purse. Drop a comment if you want to see more makeup-related articles. Follow me on Facebook and Instagram for the latest updates.
Have a great day!
Khadija