DIY
Gift Box Tutorial From Tin Pack
I was working in kitchen last day and there i was throwing an empty tin box in the basket but suddenly i thought its not bad to make something new from this junky one…
So i save it and today i make an exciting gift box from a useless tin pack..
would you believe it was just a tin box…
Lets check out its recycling
Gift Box Tutorial From Tin Pack
You will need these supplies to decorate this ordinary rough box..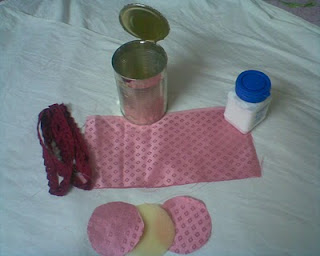 A tin pack
fabric of desired size
transparent glue
Lace and flower
Apply the glue on tin and Paste the fabric..
Complete it like this but you must make cut in the fabric to open the cap
Fold it inner side
Then cover the cap with one foaming piece and two fabric pieces for both sides…
Paste the lace to hide its edges..
Let it dry and complete…
Start pasting on tin body..
And its almost ready Paste the ribbon flower on top and its ready as a gift box….
I will be making this as an organizer, but its not bad as a gift box too..what do you think?

Enjoy other Recycling Ideas & Tutorials
Have a good day!
Khadija