I went for shopping a few days back.these days temperature is about -1,-2..well after completing my shopping i saw a simple off white sweater there,suddenly i thought about its restyling…so i bought that sweater…my
previous sweater restyle
was appreciated by my readers..so i thought to do it again…would you like to see my effort…??
Sweater restyle #2 & off white color obsession
Now check its simple tutorial…
You will need just a net fabric lace & needle & thread…
Definitely a sweater
Start The Fun by following these simple steps…
I am using needle & thread for its stitching because the lace was so thin & sometimes i am not good in sewing with
sewing machine
because it was gathering at the same place so i use my hands for stitching it…if you can stitch nicely you can easily use your sewing machine..
I fold the lace under the collar & finish it…
Then i use the lace on the collar,i also want to use this lace on the pocket but that was not looking nice…mixing with the strait lines…that's why
& I have done it…How easy…hmmmm
Do you want to see my Shopping…well i will like to show you because i bought another ready made designed sweater ..Being a young girl mostly i dont like to wear light colors but this time i have two off whites…hmmm..I dont know why i was obsessed by off white color…even i bought my shoes in off white color..haha
This is my shopping
I like these decent beads
& my off white shoes too… haha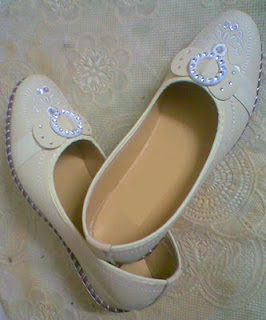 Well i hope you will like my this simple sweater restyle #2…if you like it..i will think about sharing another sweater restyle..
Have a smart day ahead…