Today I will share an easiest refashion of a jeans/denim jacket, I hope you will enjoy this DIY because its a cheap & easy way to reuse your ordinary, older boring wearing stuff with a new look & style!
So lets see what I have done today!
Jacket Refashion with Mod Podge Fabric

I know its not looking good Without me Inside :) I try to model it but the pic was outstanding Bad. So excuse me for this boring look. May be next time?

Here is the before image of the plain denim jacket.

Now move on to the simpleidea to spice up an old denim jacket with mod podge fabric and some fabric patches.

You will need to have;
A jacket or shirt
Motives from any cotton fabric
Scissor
Mod Podge Fabric
Cut all motives you want for your jacket, & then paste these with mod podge fabric glue, you can use any other fabric glue as well.

Let it dry & then again apply a layer of Mod podge for some more perfection of edges plus some shine too & you have done!
I was going to add more designs here but I notice if I will fill this with designs,it will not look good! So I finish my work by adding just 6 pieces on the front of jacket.
*Note* You can also sew this patch but I was unable because I have pockets of jacket under design, if I will sew over it, then where to add hands in cold? Right? hehe!

*You can also embroider its sides with blanket stitch.
Don't worry if you are unable to find mod podge around :)
Now what do you think about my today's Idea? feel free to write me your words about it.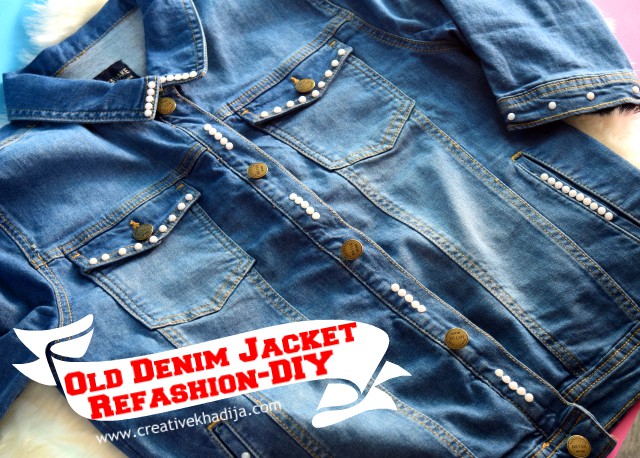 You can see my other denim jacket refashion Here.
Thanks
Khadija