Again today i am sharing some Henna designs..but today there is something new in this post instead of my new designs. check some previous Henna Designs..?Click HERE & enjoy previous henna posts
As you all know in my all henna posts,all designs are by me without using any pattern & you can see only my own model hands,but today in this post you will see a hand which is not mine..yes..i catch a model hand for a moment..a sweet heart hand of my Mother..
Can you GUESS among these ,which one hand is not mine??
Well she mostly avoid applying henna by me,she dont like my intricate designs,she always want thick designs..
A few days back i was in mood of henna application but my hand was already colored with this,so i take my mom's hand & apply :)
Now check out some designs,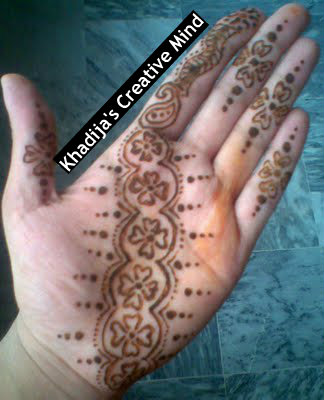 2
3
4
5
6
7
 Any Guess now..??
well Its all for today,in future days i will share some super nice & wonderful henna designs which will not be mine..yes,actually my sister is an awesome henna designer,she lived in another city(Lahore)  i will request my sister to make some designs for my blog &..hopefully she will like to share!
Thank you!