DIY
Eid Day & My Sister's Creative Henna Designs
After the Great Holy month of Ramadan, now its time to say AlhamduLillah (Thanks God) for all the blessings we have enjoyed last month..So now we are enjoying our Eid festival.a very colorful day with lots of eating & outing fun :)
I am wishing you Eid greeting with a delay of one day , i write this half post last day but the day was extraordinary busy specially whenever i sit in front of my PC..iPhone was busy at my on & off phone calls of friends & family..so this is a bit late posting!
Our Eid Festival is about 3 days celebrations..so we are also having lots of fun today and tomorrow!!
This festival is so colorful ,specially for girl's,we wear colorful dresses with matching bangles & Jewelry.you know whats the most important thing for girls at this day?hmmm Definitely Henna filled hands :)
I am sharing today some designs which my sister have done last month! today i will not share my own chand raat mehndi designs..i dont wanna mix up all.. All these designs are from My sister Erum who spent her kids vacations with us last month, so i request her to apply henna on hands for my blog,so lets check some designs from sis Erum ..
Eid Day & My Sister's Creative Henna Designs
The cute hands in this above picture, one is my sister Erum Aapi's hand & the other little lovely is my niece Anum's hand :)
Now its mine :)
After cleaning the hand with water,the result was like this !!
and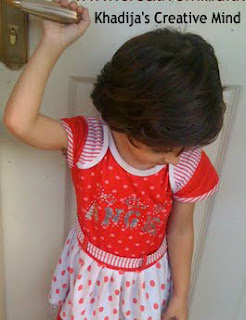 Well i will share the whole story of Anum's this pose in my next CUTE post, i hope you will enjoy..
Its raining from early morning & i am enjoying the day because last day it was hotttt but now relaxing :)
Have Fun,