DIY
Truck Art Inspired Clay Pots Painting Tutorial
Have you checked my post about Pakistani Truck Art? my post was featured on many cool blogs, I notice this colorful art was unique for outsiders specially! I am always a proud Pakistani.
My Today's post is a colorful post which is inspired by Truck Art..I was thinking about sharing any DIY about truck art designs..there are so many ideas but i have done two clay pots with you right now!
A few days back i saw these two rough pots in my dining area, these were so simple..(although i made these Simple 3 months back) these were in white color & there were green n black hand painted bamboo drawing by any Chinese artist..actually i received this as a gift from my friend at my birthday!
within a few months, the white color get dusty & was not looking so perfect..the surface was sandy so dust fixed in it..although i clean this on n off but at the end one day i paint it with spray paint & they get shiny & cool…
I always like shiny things, last day in class my friend saw my glittery shoes & ask "why you like shiny stuff too much? most of your accessories are shiny" & you know whats the fact i told her?
i thought my blog readers may also have this question any day so why not to tell you all this Secret..
I reply my friend that I like shiny things most & the only reason behind this is MY NAME..my name is Kiran & its meaning is SUNSHINE or any thing which shine like a SUN :0 so Its compulsory for me to love Shine :)
I am too talky today! now move on to the post!
These are clay pots & i design these with poster paints,
The end result..
 Now move to the complete How-To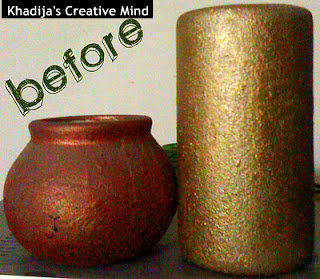 May be a few lovelies like the before image more then "After" (as i like ,,hehe)
 Before starting my work, I did some free hand paper work but i make totally different from this..haha
i am sharing this just because of those friends, who will not like my version, so there is an option to follow my above pattern if they like :)
well first make sketch!
easy way!! Just follow the above steps..
I make this design without keeping any pattern in mind :) i just think & apply! my paper work is useless here..ohhhooo
Ignore my free hand mistakes, i know zigzags are not perfect!!!
Apply Mod Podge now!
I have done it..
What do you think..is it looking like truck art motives, i make these vases late night & i saw the blue color was dry & i cant apply blue..well i think blue was necessary here & without blue its not Rocking!! well i complete it..
I hope you will enjoy my tutorial & the colorful pots too..
Have a lovely day!!