DIY
DIY Fall Flowers & Make an Organizer
How is your fall season going on..? mine is going great with some fun.well I did some recycling with toilet paper roll.Now Get Set Ready for an another Creative post about fall !!
Its one of my favorite recycling stuff! haha..the Toilet paper roll tube. Have a look at my crazy, cool creation!
DIY Fall Flowers
Seems interesting??
Want to know the How-To??
Ok  definitely, Have a look below !!
You will need 3 paper roll tubes
Scissor
Steel thumb pins or board pins!
card paper Packing material
———————-Process——————-
Cut the tubes from center & cut several strips with TWO tubes!
turn the sides of strips inner as shown above
Make all strips corners curved & rolled
then arrange these as you can see above!
at the end punch the pin & glue it too..
The flower is ready!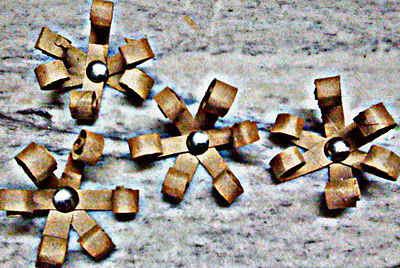 I like editing
This is the basic idea, Now you can use these flowers for so many purposes, like wall decore, photo frames border, you can make a bouquet as well & fill any vase with these flowers, as fall flowers!
so many ideas..now its over to you..how you make something! be sure to inform me whenever you make anything inspired by Creative Mind. I will like to feature your effort here at CM.
Now check My further Effort.
You will take a card paper packing sheet, then cut it according to your paper roll tube, & paste it..
Pin the flowers with roll tube as above picture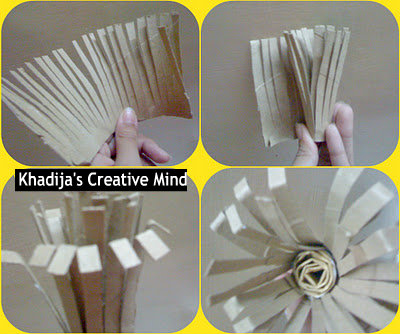 For making the flower with paper tube, you will cut the tube from center & make several strips with a single base
Now roll the card & turn the edges a little
I forgot to add a step here, you will take a paper & roll it n add it as a central bud of flower!
The other flower is ready Now!!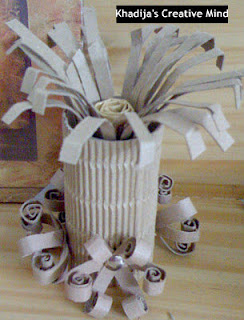 I think its ExtraOrdinary fall showing in this above image ,hehe
I want to add a few colors…
Its a bit better !!! I think so…
Well I have shared both versions, you can also paint it with any spray paint, or u can apply poster colors too!
I hope you will enjoy this idea & it will be unique..Thanks for your visit (in advance)
Enjoy your day!
happy Fall everyone..
Khadija ~