Card Making
Paper Quilling Card Tutorial (Handmade Eid Card)
This week my schedule was a bit messy! I shift my crafty material from my so called craft room to my upstairs study room. my mother was forcing me to throw many recycled things in garbage..& i really throw a few things OUT but i fix several things in boxes nicely.I was thinking about re-recyling too..hehehe,I will show you someday about my re-recycled stuff :) I hope you will enjoy !
I was not having internet access for a few days too, all cables were plugged off because of house paint going on!
If you would remember I make a few Card Paper Files, i make this card with the scrappy stuff of those files, :)
I like paper crafts & quilling is the most beautiful form of paper craft, I love the intricate shapes,So have a look at my today's colorful post!
** Remember, this quilling is without any tool..totally handmade :)
This was the final look of my scrappy stuff card:)
I place flowers in this position just to check design(its not pasted in above pic)
you will need these things for making of this card,
colorful card sheet(i m using turquoise)
———Process———-
Cut some strips of paper with cutter, don't cut with scissor plz!
if you are trying quilling first time, you may draw some lines at paper for perfect strip cutting!
 Take a strip & roll it with your finger & toe, make a little roll & glue it,(follow above directions)
then you will press the roll for making its Diamond shape :)
Glue the ends & now you are ready for pasting these on cards
Now cut a few strips,then fold & cut minutely,then you will stretch the strip so it will be a ruffly strip!
do not cut it till the end..
Take the rolled central bud & wrap the ruffled strip around it !
Wrap the ruffly strip & glue at the end
simply press with thumb & you will see a beautiful flower :)
now its ready for pasting on your card!
Now start making the card! you have done the accessories of card above!!!
now lets see the card making!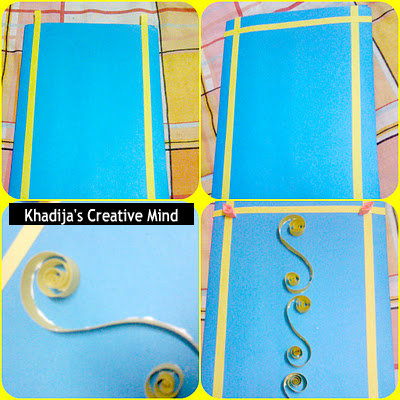 I paste strait paper strips as a border, you can also cut with designing scissor!
make this S shape design with strip!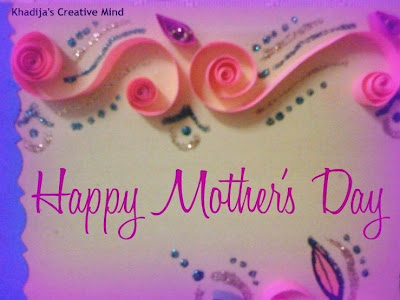 You can place the little things as you like, I place these roughly just to check other versions,but finally i come up with the strait design!
Now My Favorite Thing ~ Edited Pictures ~
 This above one is my favorite :)
Tell me if you would like to know about these Picture Editing Tutorials..? I have shared a post about how to signature any image, so if you feel my way to explain How-To is easy, you can write me, i will like to share any photo editing tutorial :)
You can also check my previous paper quilling card tutorials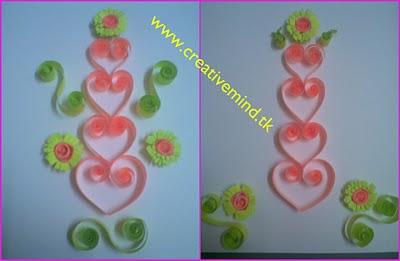 I hope you will enjoy my today's post, excuse me for my busy routine! but I always try to keep in touch with you all..
Its totally a handmade card, you can present quilled card to your family & friends, at festivals too..Muslim's Holy Festival EID is coming soon, I will definitely make some more cards for others & i hope you will also enjoy making of these cards!!
Any Question? feel free to write your words in comment form, i will definitely explain more :)