DIY
Grow Love In My Style-Mug Recycling
Hi friends,
I don't want a single/specific day for celebrating Love(valentine's day is here)..well I don't know what do you think about this,but its my random thinking..I always LOVE & CARE everyone. 24/7-365 *(*
I am excited to share my today's post..In my this post I am having a message..What do you think..can you get my message?
Mug Recycling
Honestly today our materialistic life is like a dry branch…We really need to grow some Love at these dry/rough branches/ways of life..So why not to start from today..?Its never too late..
Are you ready for growing some Love in my latest style…?Lets grow over Stones & dry branches(troubles & worries) No matter what is happening outside :) Let it Grow *(*
The above mug I got after breaking my coffee mug(showing below)..but now(Luckily) Its broken..a tiny crack is visible here in it..So I am ready to do something Lovely with this :)
Now I hope you want to see a brand new idea & its tutorial..So lets see what I have been done :)
You will need;
4 colors of Paints(I use folkart from Plaid)
Mod Podge Sparkle( sealer)
patience during its making :)
I was not having pink paint,so I mix a few red in white color for the light pink shade..you can take pink otherwise..apply & wait until dry!
Then I add some red glitter paint over it(I think it was better without glitter)the creamy look was also fine!
lets draw the wording Grow with green outline & Heart with red color.
Fill the outline & write the message"GROW LOVE" & then fill the space with some doodles!
Important thing now!
After completing design, You Have To Seal It With Any Sealer & as you know I am a fan of Mod Podge..So I apply Sparkle :)
Some glass stones are STOLEN by me from my brother's fish aquarium..Sorry my poor fishies..I hope I didnt hurt any of you :)
If you are in a mood of stealing colorful stones from your fish aquarium,be careful, Dont disturb any fish..
Check my Mod Podged Stones Tutorial for this purpose!
I cut this dry branch of grapes plant from backyard..it was Not totally dry,I cut it & fix it in center of mug..place firmly stones in a mug,then I cut a few colored paper hearts & green buds,Not leaves..
& Its Done..An easy way to grow something useful :)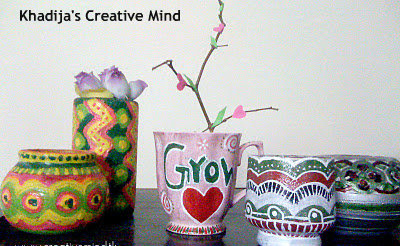 The above are a few of my hand painted pots,One pot I haven't shared yet,I will share soon!
If your relations are going in a poor situation,This will be a perfect gift for your "Someone Special"..A gift with a silent message is perfect!..So who is going to try my idea..?raise your hands..& send me your inspired creation & Get Featuredat Creative Khadija.
Have a Lovely Day Everyday!
Khadija ~
p.s..Thanks for wishing me at my Birthday..You all are so sweet ~