Glass Paint
Hand Painted Spring Designed Bottles(Recycling)
Today I am going to share a super easy idea of painting & recycling..I think these days I am sharing many hand painted things, I hope you will not mind my hand painted creations..right?Lets see what I have done..
 Is there anyone who is not familiar with this soft drink bottle??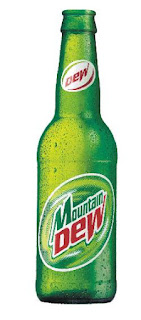 I think mountain dew is available world wide,So anybody can try my tutorial..you can also try this idea with any other bottle too !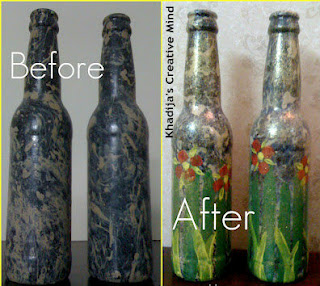 A few years back,I paint these with marbling technique,so dew bottles are looking like grey marble bottles ..
During house paint,when my mother was throwing these bottles in garbage,I take these back(as usual)I was thinking about recycling,,so Finally I have done it :)
I paint these with spring theme..you may remember this spring decoupage plate
Now check this latest tutorial..
Bottles

Plaid acrylic Paints & brushes

Mod podge or glitter extreme glue
1- Make some irregular lines with green color like grass bushes.
2- Use brush tip for making this red spot
3- Add some yellow bushes too & flower center as well.
4- When the whole paint will get dry,apply a thin layer of golden glitter glue
When it will be dry,the shine will look amazing :)
 I make these bottles as a pair with this Spring Themed Decoupaged Plate
So what do you think..? If you will try this for your mental or for giving away someone,I bet nobody will be able to know about these mountain dew bottles :) shhhh..I promise I will not tell them :)
Dont be late in trying your own version & be sure to show me your effort for a chance to get featured here at Creative Mind :)
Have a Lovely Day