DIY
DIY Paper Lantern with Henna Designs
Hello Everyone, Its 1st of January..First day of year 2013 & the first post of this new year is Live now! I wish you all a very successful year ahead..
My Henna designed paper lanterns are appreciated much by my friends, & I like designing these! A couple days back I thought to design another paper lantern with some variation. so I did it by using glitter and rhinestones this time.Tell me how is it looking..
DIY Paper Lantern with Henna Designs
You will need a very few things if you want to create a paper lantern for your home.
1- designing skills. 2-henna or any paint 3-Markers 4-Glitter 5-Rhinestones 6-doubleside tape 7-Paper sheet
Draw any motifs free hand or with any tracing.
Let the paint/henna dry & fill the designs with colored markers and glitter.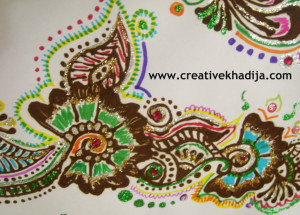 add some glitter beauty in it..I use glitter glue.I share this above image at my instagram page & everyone liked this sneak peek..
paste some rhinestones in design.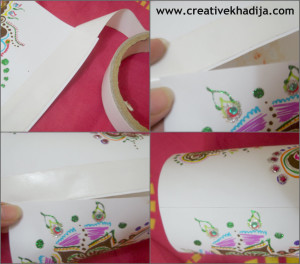 For making its shape, you will use double sided tape & carefully make a round lantern.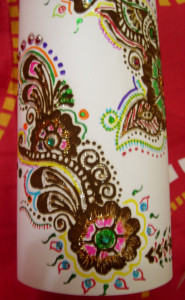 And its done..
Here it is..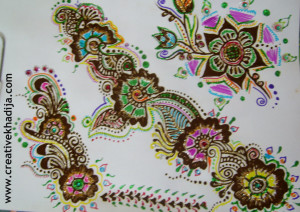 Before it was this plain henna designed paper sheet..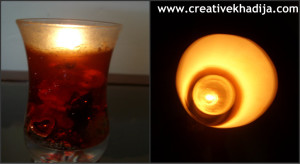 Once I made a gel candle in glass, if you will notice minutely, you can see a bride & groom in the candle..& a heart too. I put this ceramic couple in glass & then pour some gel & glitter with a heart shape bead.
place the paper lantern over the gel glass candle.do not place around any other candle, because its paper & the flame may cause anything wrong..so be careful plz.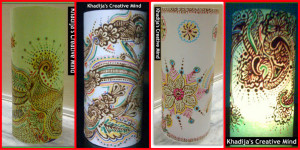 Here are a few more Paper Lanterns from my archives.
Have a nice day!
Khadija ~