2012 is about to End now..its my 3rd year at blogland & this world is full of Fun really..I have amazing creative people as my very sweet friends from all over the world  & all of these are super smart bloggers as well.In 2010  I just create a blog but I was not sure how to work on & how to start it properly.So I didn't concentrate at blog.. in 2011 when I start it a bit properly, I was a newbie..so I did lots of blunders here,( I laugh when I read my older posts from that time.how bad)like poor quality pics, rough captions & really weird post writings..hehe.. but 2012 was going good when 3 months back I redirect from blogger to wordpress & its still going on,although not so fun as I was doing before.(this redirection is really disappointing for me for some reason;( but a good thing is, I have 3/10 Google page rank..which is good for a newly redirected webpage.
Today I will be sharing the recap of 2012.. Tutorials & top posts..I always feel so good when I read your appreciation & sweet words..they filled my heart with lots of happiness.. now enjoy the recap below,
Recap Of 2012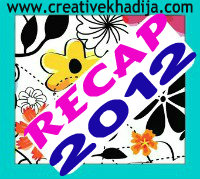 January 2012
Embroidery On Leather, Cell casing designing, DIY Necklace, Mug Paint & Design.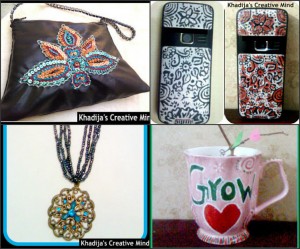 February
GlassPaint Masjid-e-Nabwi, Jacket Refashion, DIY WallArt, Henna/Mehndi Designs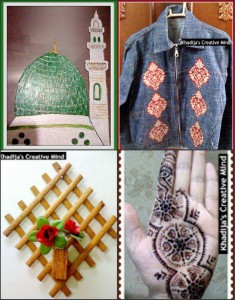 March
Modpodged Nails, Plate Decoupage & Paint, Upcycled Bookmarks, Painting on Glass. Painted/Glitter bottles, Pistachio shell Vase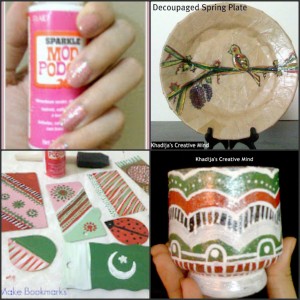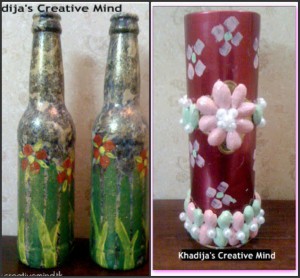 April
Silk Painting, Tray decoupage, Spoon Designed Mirror, Leather painted earrings/pendants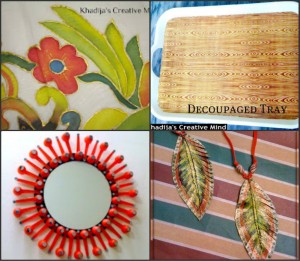 May
paper quilling card, Leather flower, DIY Bling Glasses, Designed Journal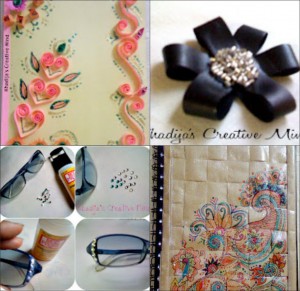 June
Design Hairclip, Faux Cell casing, Floral jewelrybox designing, anthro's Inspired necklace, Stones Earrings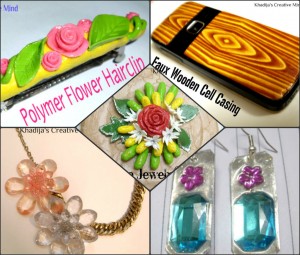 July
My Sketchbook, Dough earrings, Designed Stones

August
Islamic calligraphy, Coin Earrings, Henna designs, Handmade Earrings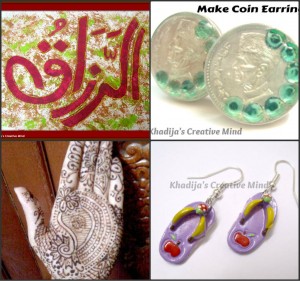 September
GlassPaint Calligraphy, Mobile Charm, vase decoupage

October
In October,I was almost away from blogland, because my two brothers got married during that month. but I was drafting two posts & then I share these just with a click from my iPhone.
Tissue paper flowers, pistachio cuff,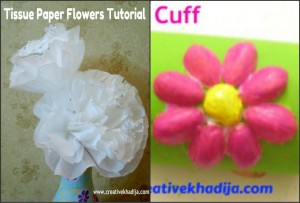 November
Quilling card Ideas, Egg carton flowers, Photo frame Tutorial, glass Paint on Jar.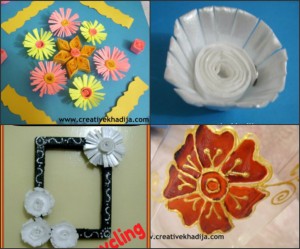 December
Quilled accessories, Dough/Clay Pendant, Dough Making

I can't say anything about my blogging journey in 2013 but I can hope for the best..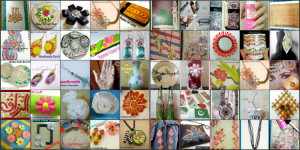 Huge collage of almost 50 tutorials of 2012!
I hope you enjoyed my year  2012 creativity & random sharing but now its time to cheer up for the 2013 with some more fun filled creativity..wishing you all a very nice ending of 2012 & a happy start of 2013. All the best to everyone.stay blessed..