During my Textile design studies, I learn several techniques about fabric art & design. a few of those were Tie& Dye, Batik, screen printing, fabric painting, different types of embroidery, zarri work, needle hook work, weaving, applique, quilting etc.. Once I were having a project in which I was assigned to create something by using maximum techniques I have learnt. So there I work on this wall art piece.. Have a look..
Mixed Media Wall Art
In this wall hanging, I have used about 25 techniques of art & craft..including some different things from mix media as well.. It was a white canvas & I paint & paste lots of things over it..Have a look at its detail.
In this picture, I am sharing a view of rural area & a village scene. in right corner I am showing water with glass mosaic & the stones made by clay. then I paste orignal grass but spray painted with green.. the two ladies are holding mud water pots & wearing tie & dye+silk paint dress..the house is made with applique technique & there is a small well also visible..
The hut is made with quilting & the roof with jute..the plant in mud vase is ribbon work embroidered..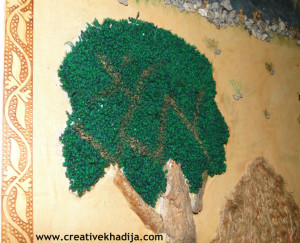 Here it is the tree & thick leaves are needle hook embroidery work..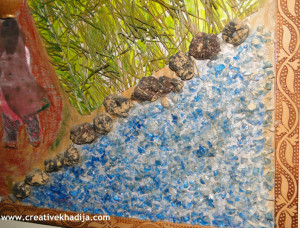 Marbled Clay stones..I use black color which mixed with white n the look is grey now!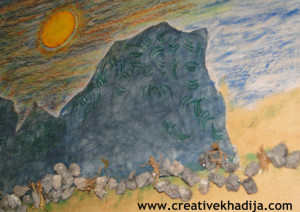 Hills with batik technique..and some original small stone pieces.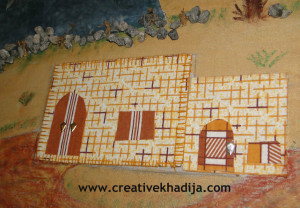 and this little house with applique technique. I made a mosque with ribbon weaving  & the hills are done with batik work. I paste these things on the board & then I fill the area with some little stones along with hand drawing. just to fill the extra space on canvas. I use oil pastels, glass paint & fabric paint/led as well..
Have a nice day!
Khadija ~