DIY
Glass Painting (Upcycling)
I am going to share another post about glass paint, I liked doing this art form but whenever I try this freehand its results are not so cool mostly,and now about this one..I am not happy with its end result, actually it was a cracked glass but I thought it would be better to make it useful after some glass paint,can be used as any organizer or holder..
Glass Painting
isn't it weird..? the colors I choose are not so good.
For trying this, you will need to have just glass paints & the led out liner.
First wash & dry the glass, and then it would be great if you will draw any pattern first, actually I missed doing this paper work & that's why result is silly.. I design it totally freehand actually..
it will take a couple hours for getting dry, you can use it as any accessory holder or organizer.As I will be doing..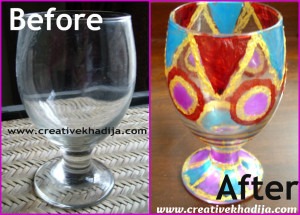 Here is the Before & After image.. tell me honestly which one is better..?
Have a great day!
Thanks.